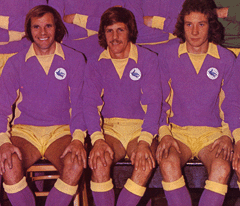 One similarity between the 1978/79 season and the current one is that they both saw a cold snap which started around Christmas and continued well into the New Year. This time around, City have been luckier than many others in that they only lost the one home fixture throughout the recent freeze – we weren't so lucky in 78/79 though as a more severe cold snap saw us go more than two months without playing a home league match.
On 23 December 1978, goals from Tony Evans and Dave Roberts had been enough to secure a 2-0 win over Fulham at Ninian Park, but, when you consider that the previous eight matches had seen a return of just two points (gained from home draws with Crystal Palace and Sunderland), then it shouldn't come as a surprise to learn that this was yet another season from that era which saw us involved in a relegation battle at the foot of the old Second Division.
Things were looking really bad for City at that time. Jimmy Andrews had been given what was big money to spend by City standards in the summer, but his two £70,000 plus signings had not been successes – striker Mickey Burns came from Newcastle but lasted just six matches in which he looked nothing like the player who had starred for the Geordies, before he returned to the North East with Middlesbrough, while Wales International defender Dave Roberts arrival  from Hull saw him look the part when he got on the pitch but frequent injuries meant that little was being seen of him.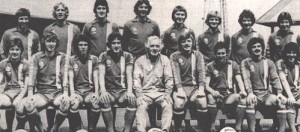 Instead, it was gangling striker Gary Stevens and left sided midfielder John Lewis, each signed for very small fees from non league football, that made far more of an impact in the team than the pair of expensive newcomers, as City suggested for a while that they could put right yet another miserable start to a season, but successive three goal defeats, at Newcastle and at home to Charlton, saw Andrews sacked and replaced on a caretaker basis by long serving centre half Richie Morgan who was eventually given the job on a permanent basis.
That win over Fulham was Morgan's first as a manager and was enough to lift City off the bottom of the league, but the three away games that we were able to play before facing Orient at Ninian Park on 24 February showed the enormity of the task our apprentice boss faced. While a goalless draw at mid table Burnley on 30 December was a decent result, it was sandwiched by two thrashings which could be added to a number of heavy away defeats the team suffered that season. Losing 5-0 at promotion hopefuls Brighton on Boxing Day was bad enough, but when City conceded five second half goals in going down by the same score at lowly Cambridge United in mid January, the alarm bells were really ringing.
However, Richie Morgan was given the funds to try and improve his squad – while the sale of David Giles and Brian Attley to Wrexham and Swansea City respectively for a combined fee of £50,000 helped balance the books somewhat, the truth is that £10,000 more than that was spent on Norwich left back Colin Sullivan before the prolific lower league striker Ronnie Moore became Cardiff City's first six figure singing when joining from Tranmere Rovers for £100,000.
Both of the newcomers made their first starts in that game with Orient and they were joined by 17 year old youth product Linden Jones who slotted in at right back on his City debut. With the influential Alan Campbell also back after a spell out through injury and Phil Dwyer moving to centreback to displace Albert Larmour, it was a much changed, but more solid looking outfit that recorded a vital 1-0 win courtesy of John Buchanan's goal.
It was on their travels though that City had really struggled that season as thirteen games had only produced one win (at Wrexham) and two draws so far, but at snowy Blackburn, City came good in a big way against one of their rivals at the bottom of the table as they made light of Linden Jones' red card to win 4-1 with Ronnie Moore amongst the scorers. Three days later, things got even better as the team turned around a 1-0 half time lead for hosts Leicester through goals by Dwyer and Stevens.
Three successive wins had lifted City out of the relegation zone as they surveyed things from the relatively lofty heights of eighteenth position in the twenty two team Second Division and this was reflected in the first ten thousand plus gate of the season for the visit of Newcastle United. With a squad that included  Peter Withe, Terry Hibbitt and internationals Mick Martin and John Connolly, Newcastle had some big name players in their ranks, but they were second best in most departments on the day to a City side that was playing with a confidence which would have been unimaginable only a few weeks earlier.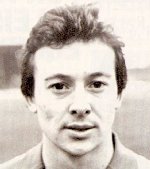 The big crowd, by the standards of that time at least, saw City get the reward their first half control deserved when Ray Bishop put them in front. Bishop was a small but quick striker who was often compared to the more celebrated Tony Evans – he was signed for a nominal fee from Cheltenham Town (who were a non league outfit at the time) in 1977 and proved to be good value for money as he scored thirty one times in hundred and twenty seven appearances in all competitions for City. Bishop stayed with the club for four years before being sold, allegedly for disciplinary reasons, to Newport County for £10,000 and, from there, moved on to Torquay for whom he played for a year or so before dropping out of league football in 1983.
A more even second half saw the visitors level things up when their Scottish former Everton winger John Connolly netted, but Gary Stevens, who was to score a superb volley when the same opponents visited Ninian Park a year later, popped up with a close range goal that ensured a fourth straight victory.
Although the 1975/76 team twice had runs of four successive league victories (both coming as part six game winning runs in all competitions),it had not been done at this level since 1970/71. An injury time Buchanan equaliser at Charlton to secure a 1-1 draw at least kept the unbeaten run going for a fifth game, but then three successive defeats threatened to undone all of the good work. However City, with Jones proving a gritty competitor, Sullivan a calming influence and Moore a hard working team player whose lack of goals didn't cause anywhere near the comment it did the following season, were to finish the campaign in fine style as an unbeaten run of eleven matches saw them finish in the dizzy heights of ninth – being given all that money to spend obviously helped, but Richie Morgan deserved a lot of praise for a very good first season as a manager.
In saying that, in my opinion, the 78/79 team weren't a patch on the current team, but neither were the Newcastle side back then compared to the one we will face at their place tonight. However, the team from thirty one years ago was transformed because the manager had the chance to spend money just when he most needed to- despite all the talk beforehand, the current manager has been denied that opportunity. Our goalscoring power, especially away from home, still gives us hope that we can get something tonight, but, if we do, it will be with what, on paper at least, looks the weakest central midfield we have fielded in ages – in 1979 City were able to secure a fourth straight win in a pretty straightforward manner over an ordinary Newcastle outfit, if we are to go one better than that tonight, then I think we will have pulled off our best league result in decades.
March 10 1979
Cardiff City 2 (Bishop, Stevens) Newcastle United 1 (Connolly)
City Healey; Jones, Pontin, Dwyer, Sullivan; Grapes, Campbell, Buchanan; Bishop (1), Stevens (1), Moore sub (not used) Evans
Newcastle Hardwick; Brownlie, Barton, Nattrass, Mitchell; Walker (sub Suggett), Martin, Hibbitt, Connolly (1); Withe, Shoulder
HT 1-0
Att. 11,116