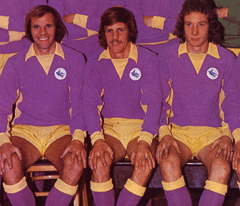 I suppose it's quite topical at the moment to talk about the coldest you have ever been at a football match. If it goes ahead, then perhaps tomorrow's game will be a contender, but it will have to go some to beat how cold I felt while watching us beat Blackpool 1-0 on 12 February 1969. On the basis that it is the only game I can remember after which I have made such a claim, that match has to be the one at which I felt most cold while watching.
It's strange how you don't remember much from games played quite recently whereas some matches from forty years or more ago are recalled in some detail and this Blackpool match falls into that category – I'm sure mainly because it was so bloody freezing!
City played their home midweek matches on a Wednesday then and four days earlier they had been featured on national television as their 5-0 win over Oxford United was broadcast on Match of the Day mainly because so many games were postponed that weekend
The sight of both keepers wearing track suit bottoms at the Grange End gives the clue as to how hard the pitch was in places that afternoon, but my memory of the Blackpool game was that it was hard throughout. However, what made that night so cold was the bitter wind that kept a really sharp frost away.
Thinking back, I probably associate that match so much with the temperature it was played in because, for reasons I cannot begin to explain, my friends and I decided to watch the match from the small bit of terracing that was just above the walkway at the corner of the Bob Bank and Canton Stand. This must have been the part of Ninian Park that was most open to the elements as it was set back a long way from the pitch, didn't have a roof and we would have felt the full blast of the north east wind behind us – it was the sort of place that would have felt cold on a June afternoon!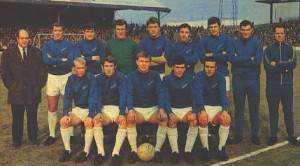 There is another reason why I remember the game and that was that, just about for the first time ever, I came away from a match raving about the performance of an opposing player. At the age of 13, I tended not to notice how players in the other team were doing, but that night I came away thinking I had seen a real star in the making.
Because the game was played in pre Rothmans Yearbook days, I am unable to give the full Blackpool team that night, but they had some fine players in their side back then like former England full back and captain Jimmy Armfield who had been a member of England's 1966 World Cup winning squad and the late Alan Suddick, a very talented midfield player who was rated at the time as one of the best players around never to play for his country, but it another central midfielder, the young Scot Tony Green, who impressed me so much.
Blackpool had signed Green from Albion Rovers for £15,000 in 1966 but his transfer value had rocketed in the past couple of years. I came across a piece on the net from that time describing Green as the hottest property in the Second Division and he certainly looked it that night, but with his side getting promoted the following season, he stayed with them longer than had been expected until he signed for Newcastle for £150,000 when Blackpool were relegated at the end of the 70/71 campaign.
That move got Green into a Scotland team that was much stronger then than it is now, but, after only playing thirty odd matches for the Geordies, he picked a serious knee cartilage injury which forced him to retire at the age of just 26 – since then Green has earned a living teaching maths and has been a member of the Pools Panel since 1975 (he's going to be busy this weekend!).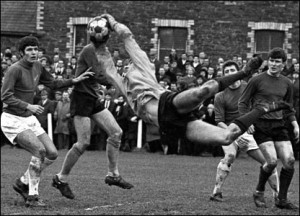 Although I mentioned that I could remember this match pretty well, I am afraid that doesn't stretch to the goal we scored. John Toshack (who was a rival to Tony Green for the title of most coveted player outside the top flight) got it and I am pretty sure it came quite early on in the game, but whether it was one of his trademark headers or not, I haven't a clue. I can remember though that the second half saw Blackpool putting the City defence under a lot of pressure and there were quite a few occasions when an equaliser looked to be on it's way, but the visitor's finishing did not match the quality of their build up play – it wasn't just the cold that had me praying for the final whistle that night!
The win consolidated City's hold on second place going into the last quarter of the season as, for the first time in the five years I had been following them, they were putting in anything resembling a promotion challenge.
No one could have imagined that this was going to happen when City followed up a dismal 4-0 home defeat by Crystal Palace on the opening day of the campaign with a 1-0 loss against Charlton at Ninian Park and a 3-1 reverse at Norwich, but, after finally picking up their first point in a 3-3 draw at Bury, four consecutive victories hinted at what was to come.
A great run of six wins and a draw from seven matches before Christmas pushed City firmly into the promotion race and gates increased dramatically as the prospect of First Division football took hold – the weather had been largely responsible for the dip in attendance to 16,415 for the Oxford match, but it was back to a more typical 24,229 for Blackpool's visit.
As to why City should have improved their league form so dramatically, well the establishment of the Carver/Bell full back partnership certainly helped as did the introduction of Mel Sutton into the midfield. Also, although he was outshone by Tony Green that night, moving Barrie Jones (the most skilful player at the club at that time in my view) into central midfield from the right wing improved the team, but the biggest factor in the improvement had to be the way that Brian Clark and John Toshack dovetailed so well to become one of the best striking partnerships in the division.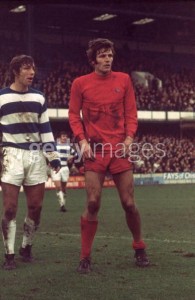 The hard working and unselfish Clark was a great foil for the 19 year old Toshack and he scored nineteen times himself, but with a total of thirty one goals in all competitions that year it was his locally born partner who tended to get all of the headlines and Tosh's best season so far ended with a first full Welsh cap when he played, and scored, against Scotland in a Gary Sprake inspired 5-3 defeat by Scotland at Wrexham.
The win over Blackpool gave City thirty eight points from thirty one matches (it was two points for a win then) and they were certainly right in the mix at that time. Therefore, it has to be said that their final position some nine points short of a promotion spot was a big disappointment. As to why they tailed off like they did, well I would say that there were parallels with the current team in that they were too inconsistent – for example, I saw us win 5-1 at eventual bottom club Fulhan in my first ever away game, but when they came to Ninian Park in late March with City still in with a great chance of going up, they were 2-0 winners (have a look at Fulham's away record that season if you want proof of what an awful result that was!).
From that point on, the team seemed to lose belief and they only picked up another three points from their remaining five games to finish with a record that didn't really reflect how well they had done for the majority of the campaign.
The City team virtually picked itself at the time and so, just as now, the squad could have done with more depth. Although Steve Derrett proved an able deputy for Brian Harris who missed much of the campaign through injury, there wasn't good enough cover in other areas for the regulars when they were missing. In saying all of that though the 68/69 side matched the 70/71 team in finishing in the top six position that we would gladly accept at the moment – although there are plenty of grounds for concern currently, perhaps the 2009/10 Cardiff City side can take a step towards a similar finish to their counterparts from forty one years ago with another win over Blackpool in freezing conditions tomorrow!
12 February 1969
Cardiff City 1 (Toshack) Blackpool 0
City Davies; Carver, Derrett, Murray, Bell; Sutton, Jones, King, Bird; Clark, Toshack (1) sub (not used) Phillips
HT 1-0
Att. 24, 229