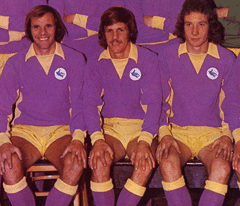 Last night you posted the following on the Cardiff City.com messageboard regarding the planned supporters protest before the game with Middlesbrough on Saturday;
"I believe the widely advertised protest is fundamentally flawed.
The protest is against the board and that includes the man who heads a group who we hope will provide the stability we all hope for. What sort of message do you want me to deliver to the Malaysians or for that matter any other group.
The questions asked have been answered at last weeks EGM and been widely publicised. There are no unanswered questions in my opinion. There are questions people dont like the answers to but no unanswered ones.
It is interesting that the person organising the March VOTED AGAINST ME BUYING THE HOUSE OF SPORT SITE which released much needed money into the club. If I had not taken on this LIABILITY the club would already be in Administration, so whats the logic in voting against that motion unless you want to drive the club into Administration. There is no gain in this for me and even after the deal I remain the largest single fit out contractor creditor .
Also if the purpose is to bring down the board then again you are driving the club into Administration because there are no ready replacements. The supporters groups should work with the club, not against it even if you dont entirely agree with it AFTERALL ITS ALL WE HAVE GOT!!!!.
I urge people not to let this get personal and pull together to find a solution, FORGET PERSONAL VENDETTAS and stop and think of what your actions could bring. Please work to attract the investment or even change of ownership but please dont send out the wrong message as we could all live to regret it."
The first thing I want to say is that I believe you are the only person on the current Board of Directors and amongst the major shareholders of the club whose primary motivation in becoming formally involved with it was to see Cardiff City become a better football team – whereas all of the others have come on board primarily for off pitch reasons, my belief is that, first and foremost you wanted to see on field improvements. It is also completely predictable that it is you out of all of the other, in many cases richer, partners you have at Cardiff City who has come forward with the funds to proceed with the House of Sport project.
You were placed in an awkward position at last Wednesday's EGM – I for one, don't blame you for not coming out against Peter Ridsdale then and I still have a lot of respect for you as someone who genuinely does have the best interests of the club at heart.
In essence, you are still one of us – that is someone who is a lifelong supporter of Cardiff City and you also fall into the category which includes those of us old enough to have followed the team through the awful decades which were the 80s and 90s. I believe I am right in thinking that you were a regular at Ninian Park during the times when the club used to occasionally attract crowds in the 35 to 50 thousand range and so you will have seen at first hand the potential support it has. However, when you consider that latent following and the large catchment area that it can draw upon, I feel it is fair to say that, in league terms at least, Cardiff City have been the biggest under achievers in the Football League since 1962 when they last played in the top flight.
I think you could well agree with me that the term "long suffering" may have been first coined with Cardiff City supporters of our vintage in mind because in nearly fifty years of following the club, I can honestly say the lows have comfortably outweighed the highs I have experienced during that time. If you are a City fan of a certain age, you know all about watching poor players in awful teams struggling against the might of Halifax, Maidstone, Scarborough and the like – we have had it tough down the years.
By total contrast, these should be the good days for supporters of the club. After all, you can now go along to a brand new stadium to watch a team play in the upper reaches of the Championship and we only have to go back two years to remember our FA Cup Final appearance, so why is it, that supporting the club at the moment is such a miserable experience?
There has been much discussion on messageboards as to whether the new ground lacks "atmosphere" or not. I don't believe it does, but what I would say is that, certainly since Christmas, there has been a muted feel about the place because I am afraid that Cardiff City has become a football club with a real feelbad factor to it and it seems to be getting worse by the day.
For example, what does is say about the mindset of a football club when it's manager and chairman become involved in a stand up row in the dressing room after a game, when the manager sends someone along to a post match press conference to read prepared notes on that game, when members of the press or whole groups of journalists employed by a certain media outlet are banned by the club and when books written by a supporter deemed to have upset the powers that be are taken off the shelves of the club shop?
For a while at least, the team were able to keep minds off all the bad news to some extent, but in the last two matches in particular it has begun to look as if they have become caught up in the malaise that has gripped the club and so, I hope you can appreciate that some City fans are beginning to ask where is the fun in supporting a club like ours at the moment?
You might have noticed that I have not mentioned winding up orders, HMRC, season ticket schemes which don't deliver what they promised, Chairmen who tell us that the taxman is just "rattling our cage", months old transfer embargoes which were only confirmed by the club last week, undersoil heating that hasn't been connected, a pitch that disintegrates because it isn't having the right lighting applied to it, a Chairmen who earns exorbitant wages and bonuses and yet admits  to not telling a potential investor about a winding up order, unpaid bills to local small companies who are now struggling to make ends meet, unpaid bills to the FAW relating to matches played nearly four months ago (which must endanger the chances of Cardiff City Stadium being allocated further internationals), a Board of Directors which bases future financial plans on receiving investment which still hasn't arrived and a level of debt that runs into tens of millions – I did this purposely because I wanted to keep what I said away from financial matters as much as possible.
The point I am trying to make is that supporting the club is a thoroughly depressing experience at the moment and, with the team playing as they are currently, it is hard to see any sign of light at the end of the tunnel. The supporters I know are angry, anxious and confused about their club for a variety of reasons and it is against this background that I ask you to try and think back to that time before you got involved at Boardroom level when you were just an ordinary punter like the rest of us lifelong supporters are. If, say , twenty years ago there was a demonstration arranged against the Board by supporters unhappy with the sort of issues I have outlined above, wouldn't you have been on that march or, at least, agreed with the principles behind it?