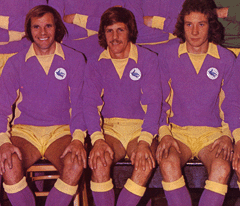 In the aftermath of Wales miserable 3-0 home defeat to Serbia last night at a Cardiff City Stadium that was just over a third full, there were, obviously, some harsh words spoken on the messageboards. When criticism was, rightly in my opinion, directed at the FAW for their part in the ongoing struggles of the Welsh football teams at, it would seem to me, all levels on the Cardiff City.com messageboard, someone calling themselves  "dalseren" posted the following in defence of the people charged with running the game in this country;-
"I posted six months ago that the FAW were holding elections and suggesting that as you all want to change the FAW you should stand for election .
How many of you had the balls to do it
NONE OF YOU
Easy to criticise – do something about it rather than hide behind your keyboards
Ps You have to know something about football and get involved with all clubs in Wales not just one club in Cardiff. The time involved is significant and unpaid and you will get lots of abuse from people that don't know what you do but think you spend your life in expensive hotels or on trips abroad
I will expect to see you all standing for Council next election to get rid of the dinosaurs.
The dinosaurs in the meantime have
- invested £ 20 million pounds in Welsh grounds over the last 10 years but because you only go to one you wouldn't know about it
- Have the best national training facilities in Europe at Newport as per Michel Platini used by all ages from U17 to Seniors (Men & Women )
- have coach training facilities the envy of Europe attended by many former players
- have installed and approved more 3G pitches than any other country in Europe Ensuring that young players get access to pitches in all weather
Organised the European U19 Women's Championship in West Wales last month
(you all went of course ) and got rave reviews from all the teams and EUFA
-have more players and clubs at Youth level than ever before
What a bunch of tossers – John Cleese – Life of Brian – what have the Romans ever done for Juddea"
A couple of immediate things occur to me, first it's not very classy to call people who have a different opinion to you tossers. Second,  if someone as high profile as Peter Ridsdale, who stood for election to the FAW in 2007, cannot get enough votes to get elected, what chance do any of us tossers have of winning if we "had the balls" to stand for election – that Ridsdale link gives a hint to the sort of cronyism which sees the same old faces returned year in, year out.
Moving on, I've got to admit that those items listed by dalseren are quite impressive, but, sadly in many respects, they count for little in the eyes of the vast majority of Welsh men and women. If someone were to conduct a survey as to what people thought of Welsh football, I daresay the majority of those who answered would say that it was doing well, but this would be based on the exploits of Swansea City, Newport County and Cardiff City three clubs that, in many ways, do not exist as far as the Welsh FA are concerned.
However, if that survey was conducted into the state of Welsh International football, then, especially if it took place this morning after the dreadful few days we've had, it would I'm sure show widespread anger and frustration at the ineptitude of the whole thing – that is out of the minority still bothered enough to care about our national team.
This may not be particularly fair given what dalseren points out, but it's the way of the world. The national team are seen as the flagship for the organisations running a sport in any given country and the success or failure of those teams tends to be a barometer as to whether those organisations are seen to be doing a good job or not.
Now, Wales has many disadvantages when it comes to competing on the world football stage – it's small population, an unusual domestic situation where the best teams in the country do not play in the domestic league and a Welsh establishment that promotes a game played to any serious degree in  about fifteen countries in the world at the expense of football to name but three. However, the level of performance of countries like Iceland, Slovenia, Albania,  Slovakia and Montenegro (all but Slovakia still have a chance of qualifying going into the last round of games) tends to put the population point into some sort of perspective and the other two things I mentioned both applied equally in 1958 and 1975/6 when Wales qualified for the latter stages of major competitions.
I'm afraid the simple truth is that, with the exception of the qualifying process for Euro 2004 when we finished second in our group, Wales have been miserable failures on the European and World football stages for twenty years now  - to reiterate, no one should expect us to be challenging at the top of every qualifying group we are involved in, but I'd say that since Paul Bodin missed that penalty against Rumania in 1993, Wales have only gone into the second half of a qualifying process once with realistic hopes of making it into the tournament itself.
Surely, such consistent failure means that we cannot just blame it on the managers, coaches and players involved – even if we do though, then what does that say about the people who appoint those managers and coaches?  The organisation running the game may be good at investing money into grounds of clubs who get crowds numbering hundreds rather than thousands and it may be good at setting up training and coaching facilities, but none of this is helping produce Welsh teams that punch their weight in qualifying tournaments (I realise that we are nothing more than featherweights compared to others, but, apart from that one exception, we've been performing like flyweights for a generation now).
Back in 2008 we had an Under 21 side that was making us think that the long wait for a place in a major tournament would  be coming to an en end – maybe this was what prompted the FAW to set the targets they did back then?
I'm grateful to the person who posts as "Gloves" on the Cardiff City.com messageboard who put together this fine blog piece in which he stated the following;-
"Right from the existence of the FAW in the 1800s, targets have regularly been set, with a full review at the end of each year. Back in 2008, the FAW released a public document which outlined certain targets which would have to be reached by 2012, they included: The national team obtaining a top 25 world ranking; the Welsh U21 team being seeded no lower than second in their group tournaments, and youth age-groups also regularly qualifying for tournaments. For these targets to be achieved, Wales would have to "reach the European play-off stage for the 2010 World Cup and qualify for the Final Tournament at EURO 2012." Whilst the U21 side would have to "qualify for the Under-21 Final Tournament by 2012."
These are standards expected by the people who dalseren defends – do you think these targets have even come close to being met dalseren? There are all sorts of bodies in the business, sporting and political world where the people who set targets which failed as spectacularly as those listed above did would have either resigned their posts or been dismissed – why should the FAW be any different?
There is another example of how fine young sides don't develop in the manner expected under the auspices of the FAW. Wales 4 England 0 at Under 16 level in 2010 is probably up there amongst the top five results achieved by any Welsh national football team at any level during this Millennium – have a look at the team which put England to the sword that night in Haverfordwest three years ago and then have a look at the Under 21 side shamefully beaten 1-0 by San Marino last Friday. Not one player from that Under 16 team features in the Under 21's – now, there are always casualties from age group teams as they try to make their way up the ladder at their clubs and are released at various stages, but eight members of that Under 16 squad were City players and I know for a fact that at least five of them are still at the club.
This brings me on to the strange situation which has been going on for about three years now between Cardiff City and the Wales Under 21 team – four of those five current City players (Watkins, Yorwerth, O'Sullivan and Bowen) have never been selected for an Under 21 squad as far as I'm aware and yet the last three named all featured in City's successful Under 21 Development side at times last season with Yorwerth and O'Sullivan being regular starters in the team.
The one name from that under 16 side who can be said to have "made it" at the moment is Declan John who was an unused sub for the senior side last night, but, even in his case, it's a little odd that his one Premier League appearance has seen him leap from the Under 19's into the full Welsh squad – he's another City player who has never been picked for a Wales Under 21 squad as far as I know. In fact, City players don't tend to get picked at this level for Wales any more – Theo Wharton is put on "stand by" for the squad quite often and has made it into a couple of squads when others have cried off, but, currently, it's seems to be that the Welsh FA rates those beaten in San Marino more highly than Welsh qualified players City have at that age level.
This strikes me as very odd and I remember there were those who suggested that the lack of City players in Under 21 squads was down to there being bad blood between Brian Flynn and Neil Ardley. Both men have moved on from their respective positions with Wales and Cardiff City now, but I do find myself wondering if the absence of City players is solely down to footballing reasons? Maybe I'm completely wrong in thinking that, but the Declan John situation is very strange – if he was missing out on selection for the Under 21's for footballing reasons, what does that say about the judgement of the people the FAW appointed to run the game at that level?
I suppose I should say a few words about last night's match before I finish. Iwan Roberts was right when he said it was men against boys, but an odd selection by Chris Coleman didn't help matters, picking Andrew Crofts and the use of Andy King in a deep position which didn't utilise the most effective aspects of his game suggested to me that the plan was to try and hold on to a 0-0 until Gareth Bale was able to come on with half an hour to go. Joe Ledley was wasted on the left and, although he did little when he got on, I would like to have seen Hal Robson-Kanu start. However, there was a lack of spirit and belief to the team from the first minute and the whole occasion was a very flat one – Serbia didn't need to do much to win the game, but they did enough to suggest they should be doing better than they are in this group. Kolarov's superb shot was the first time I can remember clapping an opposing goal in ages (yes, I was actually at the game!), but it was one of the few highlights of a low key evening which will hardly get the crowds returning to watch the national team.
Still, at least the Under 21's (with no Cardiff City players included again) drew 0-0 in Moldova to give dalseren something to cling on to. However, those of us who are very critical of the Welsh FA can smell something when it's rotten and there's something rotten in the state of Welsh football. Yes, the manager and the people in charge at levels below the senior team might not be much good, but they are only part of the problem- the people who have overseen two decades of abject failure on the pitch (and many of them have been there for all of that time – see this list for proof of that) need to be made more accountable than they currently are.
* picture courtesy of http://www.walesonline.co.uk/