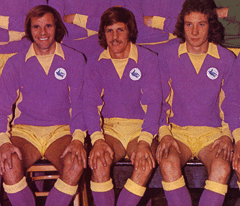 Just a very quick note about yesterday's reserve team game with Exeter City – sightings of our second eleven are so rare that they really shouldn't pass without some form of recognition on here!
A very young City team came back from conceding a soft goal to win 2-1 with all of the scoring coming in the first half. With the likes of Adam Matthews and Aaron Wildig seemingly permanent fixtures on the substitute's bench, only Darcy Blake and Danny Drinkwater   (regaining fitness after illness) could currently be called realistic first team candidates for the senior side's starting eleven, but the team responded well to going a goal down and captain Ibby Farah and Wildig helped set up the in form Nat Jarvis for a well taken equaliser.
Jarvis' effort was a good goal hit first time from just outside the penalty area, but it paled into insignificance when compared to the winner scored by someone who the official site referred to as a"youth team trialist" – this was a left footed effort from a yard or two further out which was placed to perfection high into the net beyond the keeper. As to the identity of the goalscorer, I did think for a while that it was Malaysian "wonderkid" Tam Sheang Tsung (see picture below) who the Daily Mail reports is joining us for a three month trial.
Although the highlights of the game on the official site show a bit of a similarity between the trialist and Tam Sheang Tsung, it seems that his trial is due to start in March, so it's almost certainly not him – whoever it is though, they cannot have done their chances of earning a contract any harm at all with a goal like that.
Jordan Santiago (who, it seems, has been given a further six months contract after his previous deal ran out in December) made an outstanding save from a header to preserve City's lead in the second half and the reserves were able to hang on and maintain their 100% winning record this season – they have only played three games mind!