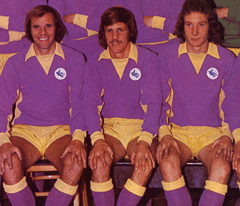 The television series Life on Mars was about a modern day policeman who woke up in the Manchester of 1973 when he recovered from being hit by a car. One of the reasons I thought it was a great show was because, speaking as someone who was 17 in 1973, I thought it did a superb job in recreating the spirit and feeling of that time – this realism stretched to the casual sexist, racist and homophobic attitudes expressed by leading characters like Gene Hunt, who was the officer in charge of the group of policemen the show centred on.
Gene Hunt was fairly typical of so many people of that time. For example, I loved my father, he was a kind and gentle man, but his openly racist vocabulary used to grate with me somewhat – I don't really blame my dad for that, he was a product of his time and he certainly wasn't alone in talking the way he sometimes did. Racist attitudes were prevalent in 70's Britain – how else can you explain the success of the so called comedy show Love Thy Neighbour based on the "hilarious" consequences of having a white couple and a black couple living next door to each other?
Reading that last paragraph back, it makes me sound like a right on (people over a certain age will know what that means!), Liberal type of guy and, it's true, for better or worse, I've always fallen into the "Guardian reader" category. However, that doesn't mean that forty years ago, I didn't make any racist, sexist or homophobic comments, because I certainly did – including one overheard by an Asian friend which I regretted the instant I said it. In fact I would argue that, if you are over the age of, say, fifty, you would have to be an exceptional person if you have never ever uttered something racist, sexist or homophobic in your life.
Society has changed in lots of ways in the last forty years and, in my opinion, it's been for the worse in some respects, but one way in which it has definitely improved is that, by and large, the likes of Eddie Booth (lead character in Love Thy Neighbour) have been consigned to the dustbin – Gene Hunt was laughed at because he was an anachronism.
Most of us old enough to have remembered the 70's have changed for the better when it comes to the sort of crass attitudes that proliferated then, so, speaking for myself, I find it unsettling, dispiriting and a bit embarrassing that someone who is too young to remember what life was like in 1973, someone who I have backed to the hilt in his dispute with Cardiff City owner Vincent Tan, has such neanderthal, Gene Hunt like attitudes.
Only yesterday I was challenging those who accused ex City manager Malky Mackay and former Head of Recruitment Iain Moody of wrongdoing at Cardiff to, effectively, put up or shut up on a Cardiff City messageboard – none of the  accusers responded, but they have, almost certainly, been vindicated this morning with the appearance of this story  in the Daily Mail.
The first thing to say is that if the club have gone to the FA with the alleged text messages and e-mails sent by Mackay/Moody then they must be pretty certain that they are genuine. Secondly, if they are genuine, then it's impossible for the two men to mount a reasonable defence for what was said – despite my earlier comments, I think football may be one of those professions that has an above average number of sexist, anti gay, racists in it and so I daresay there are those in the game who sympathise with the views expressed, but there's no way you'll catch them saying so.
Mackay and Moody appear to be not only guilty of holding wholly insensitive and bigoted views, they also seem to have been very stupid to have expressed them on traceable formats – the result is that, as of today (and I would guess for very many years to come), both men appear to have become unemployable in the game.
If the messages seemingly found in the raid on Moody's home were not bad enough, there is also the allegation that some transfer documents relating to deals done in 2013 were withheld (interestingly, the Mail only mentions Moody's name in this regard). Now, the very fact that these documents were, allegedly, withheld certainly suggests that whoever was responsible knew that they contained details which could lead to awkward questions being asked – if that is what happened, it's a virtual admission of guilt.
Now, I would still argue that, when you look at things in purely football terms, Iain Moody's overall record in terms of players bought into the club isn't a bad one. Similarly, Malky Mackay is still the best manager I've seen at the club in terms of what happened out on the pitch during his time in charge. However, these latest revelations mean that you cannot look at their time at Cardiff in such simplistic terms any more. Both men are heavily damaged goods and I don't have one iota of sympathy for them – speaking as just a humble member of the Supporters' Trust, I hope Mackay's honorary membership is rescinded.
So does all of this mean vindication for Vincent Tan? Well, I would say it's a partial vindication – for example, one of the main planks of my criticism of him and Simon Lim when it comes to those transfers last summer was that they were prepared to sign them off and authorise other deals at the time, but, if they were not getting to see all of the documents relating to those transfers, then that no longer applies.
However, none of what Mackay and Moody may have got up to is relevant when it comes to what colour we now play in and I hope and trust that this will not lead to an ending of the increasingly anti red feelings seen at matches. Vincent Tan was wrong when he single handedly decided we should play in red more than two years ago and the fact that his former manager and Head of Recruitment seem to be a pair of ignorant racists, sexists and homophobes (one of them at least may be crooked as well) doesn't alter this one bit.