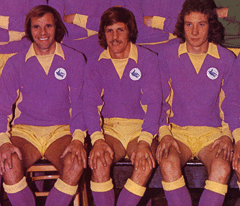 As I settled down to watch last night's European Championship Final between France and Portugal in Paris, one of the thoughts I had was whether the latter would be able to wrest the title of worst team I've ever seen in a major international tournament Final from Argentina's cloggers of 1990.
By the end of one hundred and twenty minutes of, largely, turgid and cautious football from the Portugese team, they were crowned Champions as they rode their luck somewhat to secure a 1-0 win thanks to a goal by Swansea reject Eder.
So, did Portugal do enough to miss out on the Mauve and Yellow Army Award for worst finalists ever? Yes they did, actually they comfortably avoided that fate as, for the first time, I found myself quite admiring them.
Start slowly and peak at Final time is the widely accepted way to approach World/continental Championships in most team sports and Portugal were able to adhere to that formula as they saved their best until last against opponents who have quite often looked a bit uncomfortable in their role as tournament hosts and many people's favourites.
France started well and, for a while, it looked like they would win as comfortably as many of the pundits had tipped them to do, but the match turned in the twenty fifth minute when Portugal lost their best player, the man regarded by many as the best in the world today and by some as the best ever, Cristiano Ronaldo, through injury.
Far from proving to be a mortal blow to Portugese hopes, the change, which saw Ricardo Quaresma come on for Ronaldo, improved them as a team. That's not meant as a criticism of the Real Madrid man (I'm not a great fan of his, but I did feel really sorry for him as he was stretchered off), but the truth is that France found their opponents a much harder nut to crack after that – perhaps France got a bit complacent as they saw the man they must have thought most likely to deny them making his departure, but Portugal survived more comfortably with Ronaldo off the pitch and even began to suggest they might have a goal in them during the second half.
It was in extra time though that I finally felt the first hint of admiration for Portugal. This was the third time they'd had to play an extra half an hour (no other team in the competition had needed to play more than one), but they were the ones who looked the fresher and the second period saw them take charge against leaden footed opponents who seemed to have run out of ideas as to how to make a breakthrough.
Despite warming to Portugal somewhat, I still can't make a case for them being deserving Champions though – in my view a flawed and largely boring tournament got the winners it deserved.
Euro 2016 has attracted criticism throughout with the increase in the number of finalists from sixteen to twenty four being held to be mainly responsible for what is perceived by many to be a decline in standards compared to previous European Championships.
On the face of it, more teams taking part has to mean lower ranked sides involved and so it'd hardly be surprising if the quality on offer wasn't quite as it once was, but my own view is that it's not the extra teams themselves that have been the problem.
After all, Hungary and the Republic of Ireland only came through the Play Offs, but were involved in some of the more memorable matches in the Finals, while the four countries most likely to be regarded as "minnows" (Albania, Iceland, Northern Ireland and Wales) in the tournament could all be said to have contributed positively to things in their different ways.
No, rather than the fact there were eight extra sides involved, the problem as far as I was concerned was the itinerary UEFA came up with to accommodate them.
What we had was a repeat of the approach used by FIFA in the three World Cups held between 1986 and 1994 whereby the twenty four Finalists had to be reduced to sixteen for the start of the knock out phase of the competition.
The 86 World Cup in Mexico is one of my favourites and a goals per game rate (gpg) of 2.54 is a pretty healthy one, but the contrast between the 2.33 gpg in the group stage to get rid of eight sides and the 3.00 gpg in the knockout stage is a marked one which suggests a different attitude prevailing in the latter stages of a competition which saw five goals scored in it's Final.
By contrast 1990 was, in terms of the quality of football played, the worst World Cup I have seen since I watched my first in 1966. The gpg rating was a mere 2,21 – the 2.27 gpg in the group stages not being great by any means, but, this time the caution became more pronounced in the knock out stages as the gpg figure fell away to a meagre 2.06.
The last competition played under the current format was in the USA in 1994 and, with an overall gpg figure of 2.71, it appears that the system was working fine after it's problems four years earlier. However, very tellingly, Italia 90 had been considered so damaging to the image of the game worldwide that changes to the offside rule and the stipulation that goalkeepers were no longer allowed to handle back passes were introduced and, almost certainly, it was these which accounted for the dramatically increased gpg rate.
There was an increase to thirty two competing teams in 1998, so the format used for the previous three World Cups had not been repeated until this summer at the Euros and, at the risk of boring you senseless with more stats, it's interesting to compare gpgs from the last six European competitions since the format changed from eight competing teams to sixteen in 1996.
All of the competitions from 1996 to 2012 saw the same format used whereby sixteen teams took part and four groups of four produced the eight Quarter Finalists as the top two progressed.
Interestingly, when football came home in 1996, it did so with a truly awful gpg figure of 2.06 (explained, to a large degree, by the seven knock out matches only seeing nine goals scored in them).
Maybe others will know of something which explains why so few goals were scored in that competition, but nothing springs to my mind for me, Similarly, I don't believe there were any rule changes which could explain why the gpg should shoot up so much in 2000 when it reached a very healthy 2.74.
Given that the gpg figures for the three competitions before 2016 remained remarkably consistent at 2.48. 2.48 and 2.45 respectively, I would suggest that the 1996 figure was just  a blip, but is it possible to think the same in 2016 for a competition which saw the eventual winners qualify for the knock out stages by finishing in third position in their group having not won a game?
I ask that because the tournament just ended saw just 2.12 goals being scored per game. This cannot come as a surprise when you have a group phase where mediocrity is rewarded to the extent that you have two groups out of six where the old format of best two from four applies and the other four give all competing sides a 75% chance of progressing.
With no way of knowing which groups will see two qualifiers and which ones three, there is naturally a feeling about which says we cannot afford to lose this game as opposed to one of we have to win today. Once you get to the last group game, then everyone has a fair idea of what is expected of them and so you do get an interesting and exciting night's entertainment then, but it's the two games before that where the problems occur as teams circle each other warily like boxers in the opening rounds of a title fight.
I daresay UEFA will stick with the current system for 2020, but I hope some thought is given to how else twenty four can be reduced to sixteen, or eight, before then because I believe that there is a strong possibility that it will be a case of more of the same then.
My, almost certainly too radical, solution would be to do away with the last sixteen round and ditch two thirds of the teams in the group stages. This could be done by having eight groups of three where only the winners got through – to avoid sides coming home after only playing two matches, I'd have a straight knock out plate competition for the rest with FIFA World ranking points gained being rated at the same value as in the competition proper.
In years to come how will people look back on Euro 2016? According to Wikipedia, the population of the continent of Europe is 742,452,000 – how many of those will smile at the recollection of a tournament in which thirteen of the twenty four competing teams failed to average a goal per game?
I daresay there will be ten and a half million in Portugal, three hundred thousand in Iceland and let's also say there'll be around three million in Albania, nearly two million in Northern Ireland and I suppose there'd be about four and a half million in the Republic of Ireland who might remember Euro 2016 with affection. As for the other seven hundred and seventeen million or so others, I daresay the answer you might get would be something like "crap football with a pretty ordinary side winning it, but I liked watching the little teams play and their fans were great".
Anybody still with me by now who bothered totting up those populations in the paragraph above will think my maths is faulty to get to that figure for the rest of Europe, but, there is, of course, the three million from Wales to include as well!
It's been easy in the past to look at these tournaments impartially, but with your country taking part in one, all of that flies out of window! Even if many others will look back on Euro 2016 and feel little in the way of affection for it, that's never going to be the case for anyone from Wales.
Indeed, I must admit to feeling a bit disloyal following my criticism of the poor quality of football and lack of entertainment on offer for much of the time, but the great thing is that if other sides were as dull as ditchwater, then I don't think we can be accused of that.
I'll admit that, given our scoring record in qualification and in the friendly games leading up to the competition, if you'd have told me that we would have reached the Semi Finals in a tournament dominated by defences, I'd have assumed that we would have got there on the back of a few 1-0 wins and the odd penalty shoot out triumph after low scoring draws, but far from it, very far from it.
We ended up behind only France as second top scorers in the competition and only they and Belgium were able to better our gpg of 1.67. Maybe I'm biased, but, for me, the Allen/Ramsey/Bale axis was as strong as any other similar threesome in the tournament (the first two named have been selected in UEFA's team of the tournament today), while Hal Robson-Kanu, Sam Vokes and Jonny Williams all played their part in ensuring that our attacking game was amongst the most effective in the competition.
Yes, we were still, essentially, a counter attacking team which relied greatly on organisation and defensive discipline, but the best thing about Wales in Euro 2016 was that, if sides might have thought "stop Bale and you stop Wales" once, they can't do that any more.
That professional attention seeker and wind up merchant Piers Morgan has, apparently, been getting some mileage out of claiming that the welcome home for Wales party on Friday when, according to some reports, something like two hundred thousand people were in Cardiff to personally say thank you to the squad, was all a bit over the top.
Sorry Mr Morgan, but just having a common Welsh surname doesn't mean that you get what's been going on in this country over the past month. Ask the people of Iceland, they get it, they get that a mouse (in the perception of many from outside our two countries at least) has roared – the heroes who engendered such a feeling of pride, happiness and unity in their fellow countrymen and women fully deserved that welcome on Friday and much more.
*picture courtesy of http://www.walesonline.co.uk/