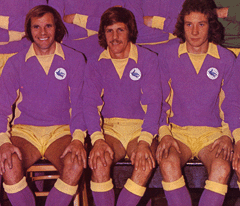 City's recent record in the FA Youth Cup has not been very impressive, so any win in the competition is to be welcomed – even moreso when there is so much negativity about at the moment regarding the first team.
Last night's 1-0 win over Blackburn in a Third Round tie was as close as the scoreline indicates with the visitors being justified in heading home with the thought that they didn't get a great deal of luck foremost in their minds. That's not to denigrate City's achievement at all, it's just that it really was one of those tightly contested matches which could have gone either way – City would have been able to bemoan their luck as well if it had been Blackburn who had nicked the game.
I use the word "achievement" because when you consider the amount of experience in both teams, City's youngsters can take credit for what they managed last night. Recent practice at the club has been to field the strongest team possible for these Youth Cup matches and so I went to the game expecting to see Under 21 team regulars such as Tommy O'Sullivan,  Josh Yorwerth, Kane Owen, Rhys Healey and even perhaps Declan John featuring. Now, it might be that one or two of those are a little too old now to qualify for this year's tournament, but the point is that City could have put out a side which looked stronger on paper than the one they used – instead, it was a team made up entirely of youngsters who have played nearly all of their football this season in Under 18 league matches.
By comparison, Blackburn included seven players with Under 21 Development team experience and the same team had beaten Newcastle 4-1 in their last game. However, at no time did this supposed advantage to the visitors become apparent in a match which built to a very exciting climax after a first hour or so pretty devoid of goalmouth action.
In fact, much of the first half was something like watching some recent first team away games with the visiting side having most of the possession, but never really suggesting that they had a goal in them. Credit should go to the City back four and centrebacks Curtis Watkins and Tom James in particular for their part in making Blackburn look so toothless during the closest thing they had to a period of domination in  the game, but City were competing well all over the pitch and, just as on Saturday, it was the home side who were fashioning what chances there were despite having less of the ball than their opponents.
A James header from a Tom Burridge free kick forced visiting keeper Raya into a fairly routine save and then a neat build up down the right involving Tyler Roche ended up with full back Dylan Rees putting over a cross which was nodded just over by Yora Enzam, but the best opportunity fell to centre forward Eli Phipps when Blackburn made a mess of defending a dead ball situation and the ball dropped to him no more than six yards out. Phipps didn't seem to get the best of contacts on his shot, but, even so, Raya still did very well to palm the effort around the post.
The lack of goals in the first half wasn't just down to poor attacking play, City, in particular defended well in winning tackles close to their penalty area as the visitors tried to build some momentum and the third quarter of the match saw the central midfield trio of Ben Watkins, Burridge and captain Macauley Southam winning those tackles further up the pitch to put their team on the front foot for the first time in the game. During this period of supremacy, City had three opportunities to get what was looking to be the all important first goal and they all fell to the same player, winger Tyler Roche.
He did little wrong with the first one as he found space to get his head on another Burridge free kick, but the effort was blocked by a defender and then his pace took him clear of the last defender as he moved on to a fine pass (apologies to whoever played what was one of the balls of the game, but I didn't see who it was) only to be foiled by Raya. It was another good save by the keeper, but Roche probably should have done better and maybe this miss impacted on his confidence a little when he didn't connect properly when another fine pass, this time by Southam, presented him with what was a tougher opportunity.
Although extra time was looking increasingly likely, there seemed little doubt at this stage that if a side was going to win it in the ninety minutes, it was going to be Cardiff. However, it was then that Blackburn suddenly found their shooting boots. Actually, that's not strictly true with the first of what were six or seven opportunities for the visitors in the last quarter – for the first time, they managed to get through the City defence and it looked like a formality for Harris to score only for the ball to bounce off his body and on to the post.
In the minutes which followed, Harris showed he, in fact, had a good shot on him as two well struck efforts were kept out by City's impressive keeper Joe Massaro who again had to plunge to his right to keep out another effort by the visitors. The desire of both sides to get the game settled within the ninety minutes became apparent as it became more and more open and the action swung to the other end as another City player had a trio of chances within a short period.
This time the opportunities fell to Yora Enzam who had been having a pretty frustrating time of it on the left wing. That feeling must have increased when his shot hit the under side of the crossbar and bounced out with twelve minutes left. Once again, it was the sort of chance which should really have been taken, but Enzam made no mistake a minute or so later when two substitutes combined to give him another chance – Abdi Noor found Tom Pearson whose low cross aimed at Noor eventually found it's way to Enzam who took a touch before firing low into the corner of the net from twelve yards just as I was telling my mate that this was the fifth City game I'd seen in the flesh or on my computer in ten days and I'd still not seen us score!
Within another couple of minutes Enzam, who nearly went off with cramp with a quarter of an hour left, had a one on one with Raya but his attempted lob went wrong and the keeper made an easy catch. Despite having opportunities to get the goal which would kill the game as Blackburn pushed forward, City were unable to take them and so spent the closing stages defending, sometimes with desperation, their narrow lead. Massaro again showed himself to be a fine "line" keeper with another sharp save while also defying his relative lack of inches, to make a very good catch under intense pressure.
However, the keeper was beaten by a stabbed Blackburn effort following a corner – it was hard to see whether the ball had hit the post or been scrambled off the line by a defender, but the main thing was it wasn't in our net! There was one more scare for City – I'd mentioned Massaro's lack of inches and it showed when he had to contend with a horrible, high, sliced cross deep into added time, he just wasn't tall enough to deal with it and was grateful to see the ball glance off the crossbar and out.
Seconds later, the final whistle blew and City were into the hat for the Fourth Round – well done to all the players who played their part in what was, in the end, an enjoyable game.
* picture courtesy of http://www.cardiffcityfc.co.uk/