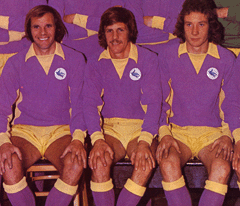 I can remember Jay Bothroyd's first contribution in a competitive match for Cardiff City. Coming on as a sub in the home match with Southampton on the opening day of the 2008/09 season he cut in from the left touchline towards the Grange End goal leaving a trail of Saints players in his wake. Jay must have gone past about three or four of them until he was in a position where it looked like he just had to score one of the great Cardiff City debut goals, but, having done all of the hard work, the chance went begging.
I think it's fair to say that the signing of Jay Bothroyd was greeted by mixed reviews from City supporters (with myself being very much in the "why on earth are we bothering with him" camp!) and, watching that great run and miss of his at the time, I can remember thinking that the incident summed up his career – almost, but not quite. Within a few games though, I'm sure I wasn't the only supporter who was beginning to think differently – although he was hardly a prolific scorer (he'd only found the net three times going into December that season), people were starting to say that he was one of the most important players in the team (if not the most) and they've not stopped saying it over the past two years.
It was earlier this year that I first started asking football fans I spoke with about him to name a British target man type striker with better feet than Jay Bothroyd and the only name I have ever got in reply is Peter Crouch (who I think is good with the ball at his feet, but is he really better than Jay?). Sometimes I'd think that I was letting my Cardiff City bias cloud my judgement when asking that question, but then I'd tried and think of another player of his size who played like Jay did and I couldn't – okay, he is doing what he does at a lower level than most of his serious rivals, but I would doubt very much if any of the multitude of managers he has had would ever doubt Jay's ability, it was his application that was the problem.
Winning a first full England cap on Wednesday would bring to an end a phase of his career which has seen Jay Bothroyd develop into the player that he always threatened, but never seemed likely, to become and my own view is that, having gone this far down the road of capping a current Championship player, Fabio Capello will use Jay for at least a few minutes against France. However, if that doesn't happen and the return from injuries of the likes of Rooney, DeFoe and Bent means that he never gets another chance at International level, there would be obvious disappointment on Jay's part, but there should also be a sense of pride in what he has achieved at Cardiff. There are plenty of people at the club who deserve praise for what has happened in Jay Bothroyd's career over the past two and a bit years, but, speaking as someone who he has proven wrong a hundred times over in my initial judgement of him as a City player, the most praise must go to Jay himself for the improved attitude he has shown while with us – once he married that to his innate ability, a call up for his country was always a possibility.
Of course, all of this has to make a favourable resolution to the ongoing contract talks between Dave Jones and Jay's agent less likely this winter because the very words "England squad member" on anyone's CV has to drive the wage claims of that player's negotiator up. If that becomes "England International" on Wednesday, then they will go up even further and, although I'd love to be proved wrong through him committing himself to us by signing a new contract in the coming weeks, I can't help thinking that the only way we will see Jay in a City shirt next season is if a deal can be worked out in May or June on the back of a City promotion.  Dave Jones has said that the club will have a big decision to make if Jay's contract situation isn't resolved in January and they receive a bid from a Premiership side for him – I suppose a good thing to come out this international recognition is that the figure we could ask for in those circumstances would go up, but I'd much prefer it if Jay was still playing for us come February.
Anyway, I shouldn't allow all of this Bothroyd for England stuff to completely overshadow the fact that we did play a game yesterday and duly recorded a victory in what looked to be the most winnable of our matches this month. Four points from two away matches has enabled us to regain top spot in the Championship, but it was interesting to hear Dave Jones, Kevin McNaughton and Jason Koumas all sound almost disappointed in post match interviews with our performance. On the one hand, this is good because it shows the higher standards that exist at the club these days, but I can't help think that it betrays an acknowledgement of our fallibilities. It's hard to see our current rivals at the top of the table QPR showing the weaknesses that emerged last Sunday as well as during the first half at Reading and the second half yesterday because, after a free scoring start to the campaign, they have now developed into a typical Warnock side which, although not full of goals, gives very little to their opponents to feed off – we almost seem flaky by comparison to their discipline and organisation.
However, while we might not be the smooth running defensive machine that QPR seem to have become, it's hard to think that there are many other sides at this level who could have scored that lovely second goal we did yesterday as first time passes by Whittingham, Bothroyd, Whittingham again, Bellamy and Bothroyd again presented Michael Chopra with a tap in. That move showed the strengths we have and it's hard to escape the feeling that we might be finding it a little easier to play in that manner in away games where our opponents are less likely to sit back – on a similar theme, I have heard a few observations about how Craig Bellamy isn't really doing it for us at the moment, but, while that may be true to some extent in recent home matches, I think you only need to see his contribution at Leeds and yesterday, where he played a big part in all of our goals, to see that he is, maybe, finding it easier away from the Cardiff City Stadium at the moment.
If City did start to look vulnerable after a great first half an hour or so yesterday, I think it needs to be pointed out that they have been suffering from quite a few injuries (particularly to defenders) recently and that at least they finished the game strongly as they got the sort of luck that ultimately successful sides tend to enjoy over the course of a season. Jason Koumas' shot was well struck but seemed to be flying just wide until it got that deflection off Seyi Olofinjana's backside for our fourth goal – another one of those to win either of our remaining matches this month will leave us in a very strong position as the halfway point of the season approaches, while at the same time making it just about the most successful November we have had in the last six years.