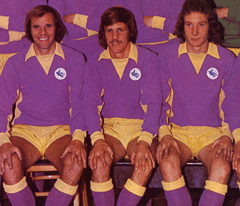 When you look at our first eight league games, I'd say Huddersfield at home is the one that tends to stand out as the most winnable and so, on one level, all City's 3-1 win over the Yorkshire club yesterday did was achieve something which everyone expected them to. However, there was more to it than that, because, to a large degree, City finally delivered the convincing performance that I for one had been waiting for under this manager.
It wasn't perfect by any means, it was disappointing to concede a soft goal from a corner and the degree to which City loosened the grip they had  on the game after going 2-0 up to the extent that you could see Huddersfield's goal was coming is something that may cost us in the future – I'd also say that any game in which your opponents has twenty one goal attempts is a slight cause for concern.
However, overall, this was a lot better from a City team who could easily have scored more in an open encounter against opponents who contributed to the entertainment with some neat build up play. Indeed, perhaps Huddersfield had some grounds for thinking that, even though they could have few complaints about the result, the margin of defeat was slightly harsh on them.
Those twenty one goal attempts, compared to our sixteen, would be used as evidence that they deserved more than just the single goal by the visitors and, perhaps they did, but a fair proportion of those efforts were from very long distance and sailed high, wide and not very handsome – they weren't that successful in opening up a defence which, just as at Blackburn, worked pretty well together.
David Marshall and his back  four also benefited from having the significant presence of Tom Adeyemi patrolling the area in front of them. This was the first time I'd seen Adeyemi perform "live" and I was very impressed as he won nearly all of his tackles, covered a great deal of ground, passed more perceptively at times than I had expected him to and showed leadership qualities that mark him out for me as a future City captain.
Adeyemi was my City man of the match closely followed by John  Brayford who turned in a performance which suggested that, whatever the reason for his mysterious lack of games last season, we might well have had a Premier League quality right back on our books all along. Of course, mention has to be made of Kenwyne Jones as well who could easily have had a hat trick, but will, no doubt, be content with two goals as he continues his unexpectedly fine start to the campaign.
To be fair, there were no weak performances from City players yesterday and, if Huddersfield were able to claim that they could have had more than one goal, they would have to concede that City carried more of a threat in front of goal. Understandably, given the poor results at home since Ole took over, there was  a tendency to sit back a little at 3-1 up, but you still got the impression that there were more goals there for the side if they had really wanted them – they were able to open Huddersfield up quite easily when they wanted to.
That said, you could sense frustration was beginning to build up on and off the pitch when Peter Whittingham received Adeyemi's pass on twenty eight minutes and advanced towards the Huddersfield goal. Every now and again, you see a goal where you can tell virtually as soon as a person hits a shot that it's going in – the position you are in within the stadium gives you the perfect view of the trajectory of the ball. So it was that I was celebrating a fraction before Whittingham's thirty yard shot hit the net – I could tell straight away that keeper Alec Smithies had no chance of stopping it.
When Jones scored at the second attempt following Brayford's fine cross seven minutes later, there was the hope that City could have got their home programme under way with a thumping win, but Huddersfield, helped by the earlier mentioned drop in intensity from City, responded well to going two down and ensured that the atmosphere was not as relaxed as it could have been at half time when their centreback Murray Wallace scored from ten yards after Marshall had parried a free far post header from a corner.
The first ten minutes of the second half didn't quell the feeling that it could still all go wrong for City, but the introduction of Gunnarsson for Burgstaller improved things and soon afterwards Jones restored the two goal lead when Adeyemi's shot was deflected to Mats Dæhli, so much more influential than at Blackburn last week, who had the poise and vision to slip a clever, short pass through to the striker who fired into the roof of the net.
This time, although Huddersfield again chased the goal which which would get them back into the game and were unlucky when Nahki Wells hit the outside of the post, City's grip on the three points remained pretty tight and the closing minutes saw an appearance off the bench from Xavi Guerra who looked alert and strong as he made a pretty good impression.
All in all, it was one of the better days so far of Ole's reign as Cardiff City manager – he resisted the urge to tinker with the line up from the Blackburn game (Adeyemi for Gunnarsson and Burgstaller for Maynard being the only changes) and, more than that, he changed things to match Huddersfield's diamond formation when City's starting two in central midfield (Adeyemi and Whittingham) found themselves in danger of being outnumbered and over run by the visitors narrow midfield four.
So, having been critical of Ole at times over the past eight months for an inclination to make changes for changes sake, credit to him this time for making alterations that worked – the size of the squad he has created means that his man management skills are likely to be sorely tested this season and a few more good days like this one will help keep disgruntled players, and supporters, off his back.
Although it's obviously a task Ole is happy to live with, keeping all of his first team squad happy has been made even harder by the addition of two more new players in the last few days. I mentioned Anthony Pilkington (who received what I assume was good natured booing from some in the Canton Stand when he was introduced at half time wearing a red scarf!) in my reaction piece to the Coventry game, but Sean Morrison the former Reading captain and centreback was also an unused sub, having signed on Friday for a fee which, surprisingly for me, has been reported to be as high as £4 million – welcome to Cardiff both and I hope you enjoy your time here.
* pictures courtesy of http://www.walesonline.co.uk/