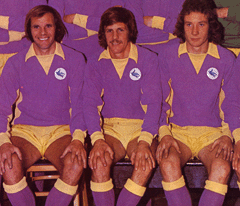 I fall for it every time! Back in the days when we used to play reserve  rather than development side matches, I'd always feel optimistic if I saw a team sheet filled with names who were first team squad members on the City side – my thoughts would be along the lines of "that's good, I'm going to watch us win playing a higher quality of football than normal at this level".
It barely ever worked out like that – yes, we might win, but the match was often of a poor standard and the entertainment level would be less than you'd normally get when the side was full of kids eager to impress. The thing is, those first teamers would often be making their way back from injury, so they were hardly going to bust a gut on what was often the first step back on their comeback trail.
Despite this, I still looked forward to the forthcoming ninety minutes when I saw names like Gabriel Tamas, Stuart O'Keefe and Aron Gunnarrson in the City line up last night – in spite of what I say about me knowing better by now, I certainly wasn't expecting a final score of City 0 Sheffield United 4!
Thinking about it a bit more though, this time there were reasons to be hopeful beforehand. After all, Russell Slade has hardly been ringing the changes at first team level this season and what happened on Saturday at Rotherham when he did alter things a bit may make him even more reluctant to do so in the future. Therefore, you would have thought putting in a strong performance last night would have done the chances of regaining a first team place for the senior players involved a lot of good.
A look at the Sheffield United side showed that they also had more than a smattering of players with first team experience. In fact, there were ten of them in their starting line up – goalkeeper George Long, midfielders Stefan Scougall, Paul Coutts and Callum McFadzean have all been first team regulars in the recent past, while in attack alleged City summer target Che Adams was partnered by Diego DeGirolamo who may not have made a huge impact at senior level yet, but turns out to be very good on FM2014!
However, as outlined above, a team full of big name players (at this level anyway) doesn't always equal an enjoyable football match, but when you have a nucleus of them on either side, it should equal a competitive one and this is how things panned out for the first half an hour or so.
Even then though, the foundation upon which the visitors, ultimately, very comfortable win (4-0 may have flattered them, but a two or three goal winning margin wouldn't have done) was built was there to be seen.
It is said, rightly in my view, that there is a lack of pace in the City first team, especially when Sammy Ameobi isn't involved, but it's a matter of fact that the ball can move quicker than any player can and so a perceived lack of pace can be overcome, to a very large degree, by quick and accurate passing whether it be of the long or short variety.
If City's first team may lack for pace, there was no shortage of it on the flanks last night in the form of Declan John, Matt Kennedy and Tyler Roche, but City's passing in the middle of the park in particular was so ponderous that what seemed to me to be the advantage they had in speed was never properly exploited.
By contrast, Sheffield were sharper and more precise in their passing and so they were able to work themselves pockets of space they could exploit more easily than City could.
The ironic thing was that the visitor's first goal arrived at a time when City looked to be getting on top – John's fine free kick from twenty five yards forced Long to tip over, O'Keefe's volley from the edge of the penalty was not far away at all and Tommy O'Sullivan blazed a good chance over.
However, when O'Keefe came to pick up the ball in a very deep position like we have seen one of Whittingham, Ralls or Dikgacoi do so often this season, he allowed Adams to rob him of possession and all of a sudden he was in on goal with centrebacks Tamas and Jordan Blaise too far away to repair the damage. Goalkeeper Ben Wilson advanced to try and narrow the angle Adams had to shoot at, but the striker's finish from the corner of the penalty area was impressive as he scored via a post.
Within no time at all, the visitors were given the chance to double their lead when McFadzean burst into the area and was brought down by Tamas for a clear and obvious penalty which Coutts put out of Wilson's reach.
There was still plenty of time left for City to get back in the game, but they produced very little before the interval to suggest this was likely to happen – Long beat out a well struck effort by Kennedy and it looked for a second or two that Will Abbotts would be able to get to the rebound to convert what looked like a pretty easy chance, but he was closed down quickly and the opportunity was gone on what was a frustrating and fruitless night for the young former Bolton striker.
The second half played out very similarly to the one against Hull a week ago as City came forward relentlessly, but were easily repelled by a visiting side that looked much more dangerous on the few occasions they attacked – the fact that Sheffield were unable to add to their lead until the last ten minutes was primarily down to Wilson making two or three excellent saves (he was one of very few City players who had grounds to feel satisfied with their contribution on the night).
What was different from the second period against Hull was that, whereas crosses were being hit in from deep last week, City were often able to use that speed on the flanks to get into good crossing positions from the byeline, but with the isolated Abbotts often the only attacker to aim for, John and Kennedy on the left and Roche and Dylan Rees on the right were never able to find their target.
The fact that City did not use any substitutes until very late on when Theo Wharton replaced Gunnarsson tends to suggest that the word had gone out from above that the "first teamers" should be given a proper work out rather than the hour or so which tends to be the norm for these things, but it's hard to see what can have been gained from last night's exercise from a senior team perspective.
I'm not among those who have become so quick to criticise Gunnarsson lately, but all he did last night was to provide more ammunition for those who think that way, while Tamas and O'Keefe only gave more evidence to those who maintain that Russell Slade's signings have tended to be poor so far. There is plenty of this around as well when you consider that only one of them (Peltier) is a regular starter in what would be our manager's first choice starting line up, that the player he has, apparently, paid most for (Doyle) was loaned out within seven months of him coming here and the only player we paid anything like a sizeable fee for this summer (Saadi) is now, hopefully, only going to be ready to play a full seven weeks after we signed him.
Just as bad for me though is what is happening to the sort of players the whole notion of development team football is supposed to help. There were three outfield players last night in their late teens or early twenties who would see themselves as possible first teamers, but, for different reasons, they look miles away from that now.
Sadly, Tommy O'Sullivan followed up a poor display against Bolton in the previous match I saw him in with another one last night – I hope I'm wrong, but, lately, he's playing like someone who thinks he doesn't have a future with this club. Matt Kennedy played okay, but he'd been very good in the two previous Under 21 matches played at the ground – for all of the good it did him.
Declan John played well, just like he always does at this level, and for me was, by some distance, our best outfield player. He did get caught out a bit for Sheffield's meaningless final goal a minute or two before the end, but as well as providing his usual attacking threat in wide areas, I thought he was the best out of our back four at defending on the night. Again though, there is no evidence at all at the moment that any of this is doing Declan any good under this manager when it comes to first team recognition.
Finally, I'll try and round things up by describing the final two goals. The first of these came when a deep cross was nodded in at the far post and the second when a Sheffield player was allowed to run thirty or forty yards with the ball before side footing past Wilson – I think the scorers were captain Terry Kennedy and Adams* (who would be a good signing for us on this showing) again, but, just like one or two on the pitch it seemed, I'd lost interest by this stage so I might well be wrong.
*turns out this goal was scored by Jamie McDonagh who had earlier come on as a sub for Adams – doh!