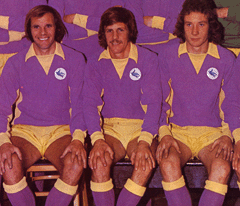 Today's Echo is literally bulging with stories about a sensational take over at Cardiff City! The stunning news, as exclusively revealed in today's Echo, will have City fans feverishly dancing in the streets as they dream of ……. oh sorry, I can't carry on with this Echo tabloid speak any longer – have  a read of the stories yourself!
The Echo's front page lead is about interest in City from Penarth born David Sullivan and a more detailed article appears inside the paper about the Birmingham co owner's apparent desire to take up a 75% shareholding in City once the takeover of his present club by Hong Kong businessman Carson Yeung has been completed.
However, the back page of the paper is taken up by a report that Peter Ridsdale is flying out to Malaysia again next Tuesday for further talks with "Malaysian tycoon"Dato Chan Tien Ghee with the possibility of shirt sponsorship, stand or ground sponsorship and a personal investment being amongst the subjects reportedly up for discussion  – although the impression conveyed in the report is that there will not be an immediate big investment resulting from  them.
There is also a more general piece which hints at possible American investment as a result of Peter Ridsdale's two trips to America this summer but it would appear that talks on these occasions were primarily concerned with a restructuring of the Langston loan notes debt.
To be honest, you couldn't blame supporters for taking an "I'll believe it when I see it" attitude to much of this – especially as far as David Sullivan is concerned. Rumours of Sullivan's interest in getting involved with City have been around for ten years or more with the ill fated takeover featuring his brother Clive from the 1999/2000 season causing plenty of speculation that it was David who was really behind the whole thing. Since then, Sullivan has always been good for a quote on all sorts of topics regarding Cardiff City and has certainly done little to dispel the persistent speculation regarding his possible involvement with the club in the future – indeed, it could be said that he has encouraged it.
Therefore, David Sullivan is seemingly akin to the boy who cried wolf in the eyes of many City fans, hence I would guess that today's story will not generate the sort of excitement amongst the club's support that the Echo is hoping for.
As for the possible Malaysian involvement, well, I must admit that I think I am probably in a minority amongst City fans when I say that I have a feeling some good will come of this – I have no concrete evidence or logical grounds to justify my optimism, but it's there nonetheless!