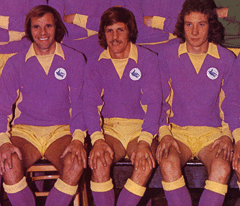 One of the responses received in the Feedback section to my piece on the QPR defeat included a wish that we thrash someone soon.  My reply contained an opinion that I really couldn't see this City side doing that anytime in the near future. However, Adrian, I've got to say that the chance for City to get the big win you crave was definitely there against Blackburn Rovers last night. Of course, with this being Cardiff City, what we got instead was a ground out 2-1 victory which had the crowd imploring the ref to blow for time in the closing minutes.
Two goals up in twenty minutes against opponents feeling sorry for themselves after a couple of defeats by a three goal margin against Norwich at home and then at Wigan, City could have gone on to double our even treble their number of goals scored against opponents who, on last night's evidence look set for a long and tough season at or near the bottom of the table.  Maybe they would have done so as well if Anthony Pilkington had accepted a marvelous chance after a pass from Aron Gunnarsson had sent him clear of the Rovers defence around the half hour mark, but, instead what we got was a microcosm of our season so far.
I can remember Pilkington being given the same sort of scoring chance in the home match against Sheffield Wednesday last December and it never looked like he was going to miss as he rounded the keeper and slotted into the empty net, but, to be honest, this time he never looked like he was going to score.
Pilkington's shot some nine months after he finished so confidently against opponents who showed they were good enough to come back to gain a draw from a couple of goals down, was just what you would expect from a City forward based on what we have seen so far this season – a shot, which may have been scuffed, that rolled gently wide of the post.
Now, if you are reading this not aware of the truly bizarre story behind last night's match (very unlikely I would have thought, but you never know), then you may well be thinking, what's he being so negative about? After the last match he was saying it was hard to see where a goal was coming from and here the team get two in no time at all in recording the win which he said was so vital even at this very early stage of the campaign.
That's all pretty reasonable if it were not for the case that the strong suspicion in my mind is that City's leading scorer for the season as we head into the first international break (and maybe into the second one as well!) will be someone by the name of Shane Duffy.
For anyone unaware of who Duffy is, I can tell you that he is an Irish international centreback who has been having a truly horrendous time of it since what must surely have been a career high for him in the summer as he starred in an Irish defence which kept Italy out in winning a game that secured them a place in the last sixteen of the European Championship.
Since then however, it's been downhill all the way for him. Given a red card in the defeat by France which saw them a goal to the good at half time, Duffy turned down an offer of a new contract from Rovers in the light of reported interest in him from Premier League Sunderland and then promptly put through his own net to score Wigan's final goal in their 3-0 win on the weekend.
All of that is as nothing though compared to his nightmare at Cardiff City Stadium. It all started to go wrong for him in the thirteenth minute when Peter Whittingham hit the sort of perceptive pass that the new three centrebacks system is supposed to give him more time to play. In this instance, it was left wing back Declan John who was the beneficiary, as he found himself in acres of space at the corner of the penalty area.
From where I was sat it looked for all the world as if John's well struck effort had ended our scoring drought, but instead the ball rebounded out off the far post, only for it to strike the hapless Duffy who could do nothing to stop the ball rebounding into the net.
So, sheer bad luck for the defender in that instance then, but you have to wonder as to what he was doing seven minutes later when he nodded a Whittingham free kick into the same corner of the goal to double the lead. I've watched a couple of replays of the incident now and it must be said that Duffy looks like a striker timing his run and leap to perfection to guide in a header from a quality dead ball delivery – maybe the club will provide pictures on their website which show that the ball came off the side of Duffy's head rather than his forehead, but, for now at least, it looks like a very strange own goal to me.
Of course, the City crowd had great fun at Duffy's expense after that with requests for him to do the Ayatollah mixing with the occasional chorus of "Duffy is a Bluebird", but this recent scoreless run has seen me develop a fatalistic approach when it comes to my team and so I couldn't help but recall a fairly famous match from the seventies when Aston Villa's Northern Ireland centreback Chris Nicholl scored all four goals in a 2-2 draw with Southampton!
Truth be told, there was little evidence that Duffy, or his ten outfield team mates, had two goals at the right end in them, but former jack, and one time City target, Danny Graham exploited some dozy defending from a long goal kick by keeper Jason Steele to reduce the deficit with thirteen minutes to play.
It was a poor goal to concede and it looked all the worse because you would have thought that a three centreback system should be able to cope with such a direct approach so much more easily than the more normal pair of central defenders would. However, overall, Connolly, Manga and the recalled Sean Morrison coped pretty well – there were one or two goalmouth flurries in the dying minutes, but City were able to protect their lead in the closing stages fairly comfortably.
Indeed, the main talking point in the last few minutes came from an incident which had somehow seemed inevitable from the twenty minute mark onwards.
Having picked up an earlier yellow card for a foul on Lex Immers, Duffy's night ended as it always had to when, pushed up front in added time, he blasted a shot long after the whistle had gone for a City free kick against an opponent. I thought the second yellow which followed for him was a little harsh at the time, but, on second thoughts, it does seem to be an instance of the sort of dissent the authorities are reacting more firmly against this season – certainly, you got the impression that Duffy knew instantly what he had done as he apologised for his actions in a doomed attempt to try and avoid the punishment that he knew was coming.
Quite what any Blackburn fan who travelled to the game (hardly surprisingly, there weren't too many of them) would have made of all of this I'm not sure. I look at things wholly from a Cardiff perspective and think we could, and should, have won more comfortably, but if you're from Blackburn then I would guess that you are going to think that we would have got something from that game were it not for Shane Duffy.- I know that's what I'd be doing if it had been a City player who went through what Duffy did.
I can recall Reading's Alex Pearce scoring an own goal and giving away a penalty, for which he received a straight red card, all before half time in another 2-1 City win from a couple of years ago, but Duffy's night to forget surpasses that for me and so, strangely enough, City now find themselves in a position where they have a couple of goals and a win finally behind them and yet the overriding impression I get is that it's done nothing to suggest that our players will find putting the ball in the net for themselves any easier than they have done up to now.
Before the game, I said that I was feeling optimistic as I predicted it would take only sixty five minutes for us to get an effort on target this time. Now, there's a debate to be had as to how it is that a side can get two goals and hit the post without the stats recording them as having hit the target, but, that's the way the rules say it should be for now. So, it turned out I was almost exactly right because the game was going into its final quarter as Steele had to touch a Morrison header over, then had to field a long range Ralls effort a few minutes later and then dive to keep out a Gounongbe shot in added time – the rest of City's goal attempts (and there were a lot more of them than there were on Sunday) were either too wide or too high.
Still, at least it was a win and one of the positives to come out of it for me was that we were able to exercise some sort of control in the middle of the park. I suppose that should have been the case when you consider that we started with a side bulging with central midfielders and strikers who feel happier playing in a deeper role.
Leaving Gounongbe out and bringing in Gunnarsson with the result that it was Pilkington and Immers who were shouldering the attacking burden, was a change that was not forced on Paul Trollope, but the one which saw Morrison come in and Lee Peltier used at right wing back due to Jazz Richards' injury was.
Trollope's ream selection caused a great deal of debate before the game because it appeared that a side struggling to score would be fielding a line up that had even less goal scoring potential than the one picked for the previous match – indeed, it was hard to see how the 3-5-2/5-3-2 experiment could be continued with the players Paul Trollope had chosen.
In the event, Peltier proved to be a better wing back than expected – he wasn't brilliant, but, along with the usual defensive competence, there was also far more willingness to get forward and an encouraging tendency to knock in early crosses.
When Peltier hobbled off around the hour mark, Trollope could have gone for the safer option of moving Connolly to the right and bringing on Semi Ajayi for a .City league debut, but, to his credit, he decided to go for a more positive option as a straight swap saw Kadeem Harris introduced.
Now, Harris was able to supply more of what supporters want to see from a wing back when he burst between two opponents to start an individual run from the halfway line which ended with a shot from twenty yards which was deflected not far wide and there were other encouraging attacking moments from him. However, I daresay those who earn their living from the game at the club would have preferred to see less of the type of scything challenges that earned him a caution.
Hardly convincing for City overall then, and while I accept it's somewhat naive to expect a side to really go for the jugular against weaker and wounded opponents when there are things like win bonuses at stake, I still can't help thinking that a chance to really lift the mood and confidence levels in and around the club passed us by last night.
That said, when you consider where we were after the Bristol Rovers and QPR matches, I suppose any steps forward were always going to be small ones – the need for more pace, movement and finishing ability is still as pronounced as it ever was, but a victory, no matter how it was earned, has to help.
*pictures courtesy of https://www.flickr.com/photos/joncandy/