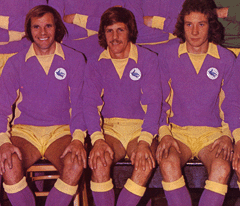 Television detective dramas often have suspects being asked the question "where were you on the night of…………" with the night in question usually being something like six months earlier. I often wonder to myself how anyone can possibly pinpoint what they were doing at a given time a couple of weeks ago let alone a few months previous, but, in the event of me ever being asked what I was doing at around 9.45 pm on Friday 24 September 1976, I will be able to give a full and concise account of my movements – you don't forget nights like that in a hurry!
On this night thirty four years ago, I was on my way home from a game between City and Millwall, but, before going into the unique and almost surreal nature of that journey, I should just mention a bit about a game the vast majority of which I have long since forgotten about.
The 1976/77 season saw City back in the old Second Division after a one year sabbatical in the Football League's third tier. The nature of our promotion in 1975/76 had led to hopes that we could move forward from those times in the early seventies when avoiding relegation was the limit of our ambitions, but a worryingly poor start to the new campaign had led to such optimism being reined in somewhat. Two wins in our first three matches was a good enough start, but three consecutive defeats in which nine goals had been conceded had supporters fearing the worst again.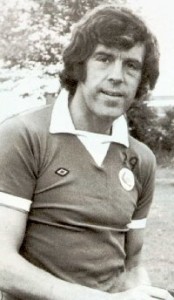 Manager Jimmy Andrews knew he would have to do without his captain, the vastly experienced Mike England who had left the club under unfortunate circumstances in the summer – England had, apparently, signed for the club a year earlier on condition that he would eventually be given a coaching job, but left to play in America when this was not forthcoming. Phil Dwyer being absent through injury (the game with Millwall was his first appearance of the season) didn't help either, but the problems were caused more by the fact that many of the stalwarts of the promotion team were finding it harder to cope with the step up in standards than had been anticipated.
The wish to follow England to America to play in the then booming North American Soccer League must have been a factor in Mr Andrews eventually deciding he could get rid of Adrian Alston, Willie Anderson and Clive Charles, but the truth is that none of them were playing to the standards they had previously and, with Doug Livermore's form also suffering, the manager was faced with having to break up the promotion team a lot earlier than he must thought he would have to a few months earlier.

To replace these player Mr Andrews relied on a mixture of youth and new signings – Peter Sayer, David Giles and Brian Attley were all regulars in the team by the end of the season and Keith Pontin made his first few City starts that year as well, while the recruitment of the likes of Steve Grapes, Paul Went and Robin Friday were enough to ensure that City, just about, held on to their newly won second tier status that season.
These changes were still some way off yet though when City entertained a Millwall side who had been promoted alongside them in May. The visitors had finished below us in third place but had made a much better start to the season than us and were occupying sixth position, compared to our twentieth, going into the match. In the event, City were able to at least stop the rot of those three defeats on the trot and keep a clean sheet into the bargain, but, with the game finishing in an uninspiring 0-0 draw, that was about as far as the good news went.
Just about the only thing I can recall about the whole thing now was that what had been a balmy night mild enough for none of the group of four I went to the match with to bother with wearing a coat took a severe turn for the worse in the game's closing stages as the heavens opened and the monsoon season started in Cardiff. The players squelched their way through the remaining minutes as the dismal stalemate continued, but we were perfectly happy watching the "entertainment" from under the Bob Bank roof because we figured that the longer it went on, the more chance there was of the deluge running it's course. Sadly it didn't work out that way though and, despite running virtually all of the way back to where my car was parked near Sevenoaks Park we were soaked through by the time we got there – still, at least we would be home in the warm and dry soon.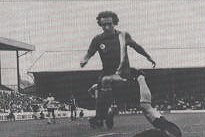 The trouble was though that, with me barely being out of my teens at the time, I was in no position to afford a car which could even remotely qualify as reliable. Being someone who sees cars purely as a means of getting from  point A to point B, I am no position to say which one out of the collection of about eight rust buckets and potential death traps that I owned in the first five or six years of my driving life it was, but they had all reached that stage which came to all cars of that vintage eventually where you get one thing fixed only for something else to go wrong in days (or weeks if you were lucky!). I can remember that I used to put a sum aside every pay day to deal with the car repairs I would need to get done that month and it was. nearly always. not enough – I suppose it was quite exciting not knowing if you would be able to complete your journey before something or another on the wreck you were paying a fortune in insurance for packed up, but it was an excitement I could have done without..
Anyway, this time around, the radiator had been leaking like a sieve. No problem though, because I always made a point of carrying a large bottle of water for use in the event of the radiator overheating and so when, about halfway through our journey,  I saw the familiar red light coming on to say that the water temperature had got dangerously high, I saw it as just an inconvenience. I apologised to my mates and said we will have to wait around for twenty minutes or so and then opened the boot only to find an empty bottle (turned out I had apparently said yes without realising it to my sister when she asked if she could use the water to feed her horse).
So it was that, with the rain bouncing up off the pavement and the roads looking more like the Ganges, I walked up the long drive way of a house by the Fairwater Conservative Club to ask the startled residents if they could fill up the bottle I was carrying with water. Thankfully, they looked at the pathetic, half drowned urchin in front of them with pity and gave me the water. With my water problem sorted, the humour of my situation had, by now, instilled an "oh bugger it" mentality in me and my mates were surprised to see me laughing by the time I got back to them –  even if my laugh was more of a manic cackle than a guffaw!
24 September 1976
Cardiff City 0 Millwall 0
City Irwin, Dwyer, Morgan (Pethard), Larmour, Charles; Sayer, Livermore, Buchanan; Alston, Evans, Showers
Millwall Goddard; Evans, Kitchener, Hazzell, Donaldson; Walker, Brisley,  Salvage; Seasman (Shanahan), Lee, Summerill
Att. 10,352