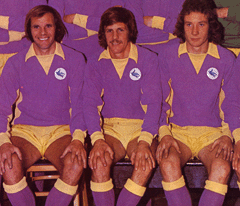 And it came to pass that in early November 2015, Russell Slade did climb Leckwith Hill and seek out the Great Football Manager in the sky. When he had succeeded in his quest, he said unto the Magnificent One;-
"Tell me, oh Lord who knows almost as much about football management as Jose Mourinho thinks he does, what can you do about making my Cardiff City team more entertaining to watch? Even I'm bored stiff when I watch them, what can you do to get fans like that b*stard who writes that Puce and Lemon Army, or whatever it's called, blog to stop saying we are so awful to watch? We can only score goals when one of the opposition puts the ball in the net for us and I'm beginning to think that even Vincent Tan might run out of patience with me if the present situation continues".
The Deity did not give an immediate reply, but stroked his chin thoughtfully and, about ten seconds later, he smiled suddenly and clicked his fingers. No words had been spoken, but Russell Slade was positive that his problem had been solved – those ungrateful sods who turned up for home games would be watching a different Cardiff City team and he would actually be able to stay awake for the whole ninety minutes when his team played from now on!
So it was that Cardiff beat Reading 2-0 a few days later and, for the first time, young City fans in the crowd that day saw their team play at times with a creativity and attacking flair that they could remember their fathers talking about when they sat on his knee as a child and listened to him rambling on about the team they would spend their lives supporting.
When Reading tried to do something about getting back into the game, an inspired David Marshall ensured they would not do so and, even though, on the face of it, things reverted to normal the following week when an impressive Derby team triumphed 2-0, Russell Slade had faith that the Magnificent One had saved him and his team – the Reading game had proved that.
Seven days later when Cardiff were leading a strong Burnley side 2-0 with five minutes to go having played as well in a home game as his team had ever done, Mr Slade just knew his faith had been rewarded. Even when Burnley got a goal back, he was certain that all he needed to do was make a totally irrelevant and pointless substitution – the Magnificent One would see to the rest. It was, of course, unfortunate that Burnley equalised with virtually the last kick of the game, but it was with such a freakish and unfortunate own goal – there were some things that even the Magnificent One couldn't control!
The next match surely proved that there was every reason to believe the Great Football Manager in the Sky had not let Russell Slade down. Cardiff kept on playing with attacking verve and no little skill in winning 3-2 at Bolton – they certainly rode their luck at times, but, thanks to the Magnificent One, they prevailed and, once again, no one could complain about a lack of entertainment.
This brings us up to the present day and the home match with Sheffield Wednesday that finished less than a day ago. For a time during this game, Cardiff played as well in an attacking sense as they have done in years and as the match went into it's final half an hour, the only slight concern was that it had not been rewarded with more than the two goals Russell Slade's team led by. Never mind, the Cardiff manager reasoned, he could just sit back, make another irrelevant and pointless substitution, and let the Magnificent One take care of the rest.
The trouble was however, Sheffield snatched a couple of goals to draw level and a magnificently entertaining game finished 2-2 with some of the home crowd booing at the end because their team had, once again, let a two goal lead slip.
Russell Slade was mystified after the final whistle as he asked himself why does the Magnificent One give with one hand and then take away with the other? He could not, or didn't want to, see that the God had delivered all that he had been asked to, but there were still the things in any game that Mr Slade had not mentioned to the Magnificent One to be taken care of every week and there was no one but himself who was going to be responsible for those.
Apologies for the long preamble to this piece, but I thought of it as the best way to attempt to rationalise what I have found to be a truly odd last five games for the City team.
If you'd have told me the day before we played Reading that, within five weeks, Russell Slade's Cardiff City team would be involved in a game that was as watchable and wonderfully entertaining as yesterday's turned out to be, I think my response would have been hysterical laughter. However, by the same token, if you'd have told me at the same time that yesterday's game would be the second successive one at home in which we'd let a two goal lead well into the second half slip away, I just would not have believed you.
That's the thing about the remarkable transformation we've seen recently, while we have found a creativity and attacking verve which I thought the present squad didn't possess, there has been a price to pay on the defensive side – we are no longer doing what we were good at when we were boring.
Of course, credit should be given to the Burnley and Sheffield Wednesday teams who played their part in making our last two home games such enjoyable, but, ultimately frustrating, occasions.
Yesterday, Sheffield played the sort of neat, patient, passing game you associate with the country their manager Carlos Carvalhal comes from. However, in the first half, after an opening few minutes in which they probably had the better of things, the only time they really threatened was when Joao deflected a cross from the right onto a post .
With the ball bouncing from the upright straight into David Marshall's hands, City enjoyed some luck on that occasion, but, if anything, it was the visitors who needed to be counting their blessings at the interval because, besides the two goals brought about by City's more forceful and direct running with the ball, the home side had also seen Aron Gunnarsson waste a chance created by the impressive Tony Watt, Watt foiled by keeper Westwood and then, in the same attack, Kenwyne Jones denied a third City goal by a correct offside decision and Anthony Pilkington, who had scored in classy style to make it 2-0, head wastefully over after Craig Noone, scorer of the first from the penalty spot, had done so well to beat his man and get a good cross in.
There was no doubting that Wednesday were heading for a defeat which could conceivably turn out to be a heavy one. Something had to be done, and Carvalhal reacted by taking midfielder Keiran Lee off and replacing him with on loan Norwich striker Gary Hooper. This change saw Hooper and Joao paired up front and Fernando Forestieri dropping back to play just behind the two of them in a 4-4-2 diamond.
This change left Carvalhal's team slightly more open to counter attacks and the early signs were that City would benefit more from it as, breaking with surprising pace and skill, they came close to what would surely have been a decisive third goal. During this spell of dominance, Noone, Gunnarsson, Jones and Pilkington all had opportunities of varying difficuly to score and, as Wednesday, began to get their own attacking game together to some extent, it looked certain that the match would not finish at 2-0.
In the first half, Wednesday's attacking duo had looked a little isolated at times as promising looking attacks were snuffed out fairly easily by the City defence. With Forestieri beginning to pull the strings in a position which enabled the visitors to play to their strengths though, the game was gradually changing and the writing was very much on the wall when Russell Slade decided to make a change.
Earlier on, I mentioned a "totally irrelevant and pointless substitution" made in the closing stages of the Burnley game. This was when Russell Slade took off Kenwyne Jones and brought on Federico Macheda with the score at 2-1 with City, surely, primarily concerned with holding on to their lead for the few minutes that remained. It seemed to me at the time, and still does now, that the better move would have been to utilise someone like Bruno Manga as a third centreback or to use him just in front of the two centrebacks, but it seems Russell, 4-4-2, Slade has to have his two strikers on the pitch at all times.
That central area just in front of our back four was where yesterday's match got away from us, our central midfield two were often chasing shadows as they lunged at players a fraction of a second after a short pass had been played on to someone else.
This led to free kicks being conceded in dangerous areas and that familiar feeling for any City fan who has watched us regularly over the past seven or eight years of our central midfield being overrun as we persisted with a 4-4-2 formation putting in another showing.
Slade's reaction was as irrelevant and pointless as it had been against Burnley, but it was also completely predictable – he swapped a striker for a striker.
Before developing this theme further, I'd like to give an opinion about Kenwyne Jones' display yesterday which, judging by some of the things I've read on messageboards in recent hours, I think some will disagree with.
For me, Kenwyne had a so-so first half, but he was well to the fore when we were on top in the quarter of an hour after half time and for Slade to bring him off when he did just seemed wrong at the time – certainly, a couple of people sat by me felt like that, but, possibly because I was enjoying the game so much, I defended the decision mentioning that we didn't know if the player had been hampered by injury or illness during training last week.
I must say now that, if there was no such injury or illness, then the decision to withdraw Kenwyne made as little sense to me as it did to my two friends, but it was more the introduction of Sammy Ameobi that should be questioned.
While, on one level, I can see that Ameobi's pace could be effective as City looked to break, the truth, as I saw it, was that Ralls, Gunnarsson and a defence that has now leaked eight goals in four matches needed help forty yards or so behind where Ameobi was stationed.
In my view, Mango or Stuart O'Keefe coming on to ensure that our opponents didn't always tend to have an extra man in that area about thirty yards from our goal would have been the much more sensible move.
Now, I daresay some would say this was negative, but I'd answer that by saying we were consistently able to exploit a lack of pace in the Wednesday rearguard which makes me wonder about their prospects of a top six finish and I think we would still have had opportunities to score again even if we were operating with one striker or a single winger.
I should say as well, that Fabio for Pilkington with the score at 2-2 hardly seemed like the move of a manager trying to win a game. So it could be argued that, when we needed to look to tighten things up a bit, Russell Slade opted for an attacking, or keep things the same, switch and when we needed a goal, he reduced our attacking options!
All of this means that, while part of me is grateful to Russell Slade for bringing back an entertainment factor which has got me looking forward to games in the hours before kick off again, it's almost as if he (or the Magnificent One!) is telling us that there has to be this price to pay for this. The trouble I have with that is that I'm pretty sure that there are plenty of managers out there who are able to produce teams that are able to switch between entertainment and a more pragmatic approach easily enough during the course of ninety minutes.
*picture courtesy of http://www.walesonline.co.uk/
+picture courtesy of https://www.flickr.com/photos/joncandy/