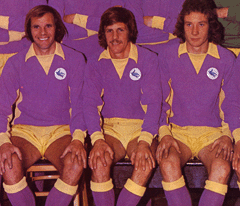 The Cardiff City v Ipswich Town match on 24 November 2007 was just ten seconds old when home captain Darren Purse slipped when going to intercept what should have been a straightforward long ball forward. Purse's error left ex City striker Alan Lee in the clear as on loan keeper Kasper Schmeichel advanced more in hope than anticipation of making a save. It looked odds on that City would go 1-0 down to what would probably have been the quickest goal ever scored at Ninian Park with only Lee's iffy record as a finisher during his spell with us offering any hope to anxious supporters. In the event, Lee did miss his gilt edged chance, but, in his defence, he was very unlucky as his lob beat Schmeichel, glanced off the crossbar as it dropped and then bounced back into play off the upright.
Lee's shot had managed to hit the woodwork in two different places (something which he could probably not manage to do again if he was given a thousand goes at it) and the home crowd breathed a sign of relief, but I wouldn't mind betting that this was as of nothing compared to what Dave Jones must have felt like at the time.
The summer of 2007 had seen what had become the usual big money transfer out of the club – this time it was Michael Chopra to Sunderland in a deal worth up to £5 million. City didn't spend a single penny of this money in transfer fees and yet they went into the new season with a sense of optimism not seen since the spendthrift early days of the Sam Hammam era. The reason for this was that the club paid very high wages to entice big name veterans Trevor Sinclair, Jimmy-Floyd Hasselbaink and Robbie Fowler to Cardiff where they joined other Bosman signings Tony Capaldi, Gavin Rae and Steve MacLean.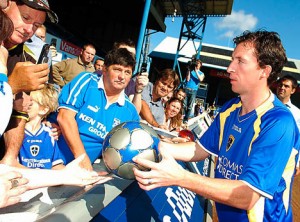 The signing of Fowler in particular created great public interest which was reflected in the enormous number of number eight shirts bearing the words Fowler and/or God sold  by the club in August and September of that year. Like so many purchases that seemed like a good idea at the time though, they quickly became something of a source of embarrassment as, after showing promise when he finally got himself something like match fit, our marquee signing became a very expensive drain on the club's resources as he played no part at all in about two thirds of the season – all of this despite constant reports from City staff and the local media that Fowler was looking "sharp in training"!
Fowler's struggles mirrored those of the team – with Sinclair also spending most of his time in the treatment room, it was only the canny but largely immobile Hasselbaink of the three expensive veterans who was providing anything like value for money as City found wins very hard to come by. QPR and Norwich were beaten on their own grounds by September 1, but after that there had been just the one victory (at home to Burnley) in twelve league matches as the natives grew increasingly restless with a side that was failing to play to it's potential in all areas of the pitch. Of course, the man who had put this misfiring team together was far from immune from criticism and things came to a head when the visiting support turned on the manager and players when City were beaten 3-0 at Charlton in a match that was as one sided as the scoreline suggests it was.
Only goal difference was keeping City out of the bottom three at that time and so it was not too much of  a surprise when some of the Monday morning national papers were reporting that the decision had been taken to relieve Dave Jones of his job. Although Peter Ridsdale was later to deny that sacking our manager was ever an option at the time, the old adage about there being no smoke without fire seems entirely appropriate here and I will always believe that there was more to those stories about Dave Jones' days at Cardiff being numbered than just media guesswork. Whatever the truth though, Mr Ridsdale told a meeting of supporters on the following Monday evening that  Dave Jones was staying but this didn't stop the rumour growing that Dave Jones had been told that he had two matches to save his job.
A fortnight's break for International games between the Charlton defeat and the Ipswich match took the heat off Dave Jones a little by the time the team were in action again, but I am sure that the mood would have started to turn ugly very quickly if Lee's lob had gone in instead of bouncing to safety -with the side's confidence being so low, there has to be a doubt whether they would have recovered from going a goal down so quickly. In the event though, a Jekyll and Hyde Ipswich side that almost entirely owed it's place in the Play Off positions at that time to their 100% home record (they had only four draws to show from their eight away matches), barely threatened again after that as City gradually took command of the game. In saying that though, a Steve Thompson effort that produced a smart stop from popular former City favourite Neil Alexander in the visitor's goal was the only direct threat to Ipswich until City took the lead around the half hour mark with a goal completely out of keeping with the generally poor quality of the game.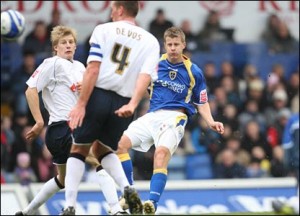 A sweeping length of the field counter attack was started by Capaldi who fed the ball on to Thompson who showed great touch and awareness to find Gavin Rae bursting forward. Rae took the ball on to Paul Parry who showed why Dave Jones has always been keen on playing left footed attackers on the right and vice versa by cutting inside and drilling a left shot from the edge of the penalty area past Alexander and into the net. City spent the rest of the first half on top as they searched for what would surely have been a decisive second goal, but the second period offered mediocre fare as both teams tended to cancel each other out – Parry did make himself a hero at the other end of the pitch as well by blocking a Tommy MIller effort on the line, but City held on to their lead to record a vital win. When Schmeichel's heroics earned them a goalless draw in a televised match at Leicester two days later, the two games Dave Jones had, apparently, been given to save himself had passed off almost as well as he could have hoped for.
Despite an awful performance and result in the next home game as Charlton barely broke sweat in winning their return fixture with us, the threat to Dave Jones' job seemed to pass after that. The Ipswich win was one of four home matches over the next couple of months decided in our favour by single goals around the thirty minute mark and these were the foundation for an improvement over the second half of the campaign which saw us finish comfortably in mid table while reaching the FA Cup Final. Although the signing of the three veterans had to be viewed as an expensive flop, the goals of Parry and Joe Ledley, the excellence of Loovens and Johnson at centreback and the emergence of the highly talented Aaron Ramsey all helped to ensure that Dave Jones' hold on the manager's job has never been remotely under the same sort of threat that it was when Alan Lee's lob hit the woodwork nearly three years ago.
24 November 2007
Cardiff City 1 Ipswich Town 0
City Schemichel; Gunter, Loovens, Purse, Capaldi; Parry (1), Rae, McPhail, Ledley (Whittingham); Hasselbaink, Thompson (Johnson); Subs (not used) Oakes, McNaughton, MacLean
Ipswich Alexander; Wright, Bruce, DeVos, Harding; Walters, Miller, Garvan (Clarke), Williams; Counago (Haynes), Lee; Subs (not used) Supple, Wilnis, Legwinski
HT 1-0
Att. 15,173