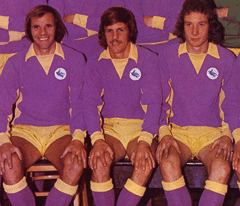 Season 2006/07 saw City have their best run in the FA Youth Cup in recent years as they made it through to the Quarter Finals before losing 3-2 to Arsenal at the Emirates Stadium, but back in the 70's it was Cardiff v Arsenal in the Final of that competition. It wasn't just the first team who had a memorable 1970/71 as City's youngsters made it all the way to the Final of the country's foremost youth tournament that year after beating a Burnley team (featuring the loveable Leighton James) in the Semi's. City gave a good account of themselves in the Final as well and it wasn't until well into the tie's second leg at Ninian Park that a goal was scored as Arsenal's captain (a certain Terry Burton) broke a deadlock which had lasted around two hours.
Arsenal added a further goal to claim the title on a 2-0 aggregate and, although eight of the City side went on to play some first team football for the club I think it's fair to say that, apart from one exception, none of them could be termed to have lived up to the promise they showed as teenagers. If you asked supporters of a certain age to name members of that side now, I'm pretty certain that nearly all of them would come up with the name of that one exception I mentioned first – Phil Dwyer went on to make a record number of appearances for the club in a City first team career lasting thirteen years. After Dwyer, I would guess that Nigel Rees, who was creating the goal which beat Real Madrid before that Youth Cup Final was played, would feature next, but there was another member of that team who played first team football before either of them and was, arguably, rated as the better prospect at that time.
Derek "Danny" Showers was scoring goals by the bucketload for City's reserve, Welsh League and youth teams when he was called into first team action in December 1970 for a game at Oxford United at a time when City's board was, criminally, taking too long to replace the departed John Toshack. I was at the old Manor Ground for that game, which we lost by 1-0, and I think it's fair to say that the debut came too soon for the 17 year old Showers who was taken off and replaced by Leighton PhIllips in the second half. Showers didn't make the first team squad again that season, but the way he continued to score goals at the levels below that meant that there were many who hoped that the City would, eventually, be able to replace the departed Toshack's goal from within the club.
Unfortunately, that never happened. Although he was given quite a few first team chances over the coming seasons by Jimmy Scoular and scored the occasional goal (strangely, his first two league goals for City came in separate games at Portsmouth's Fratton Park), Showers never suggested that he was in the side for keeps until the 1974/75 campaign when he finally established himself as a first choice striker at the club. Even then though, the goals wouldn't come  as, going into a home game with mid table Nottingham Forest well into November, he had found the net just the once before that in the twelve matches he had played so far that season.
If one stat captured how much Showers had struggled to live up to the expectations of a few years earlier, it had to be the one which said that nearly four years after that first game at Oxford, City fans were still waiting to see him score his first league goal at Ninian Park – a few years later, "I saw Ronnie Moore score" badges were being worn in honour of another non scoring City striker, but at least he had managed the occasional home goal!
As it eventually did with Moore, it had got to the stage where I went to matches just not expecting to see Showers score and there was no reason for me to get excited when, with City already 1-0 up thanks to a Dwyer header a few minutes earlier, Showers was put through on goal. Danny was never the quickest and so, even if he had been confident and scoring goals galore, I wouldn't have backed him to run the twenty or so yards he had to before getting into a shooting position before he was caught by the Forest defence. The thing was though, that Forest's back four must have been even slower than ours at that time because, with a mixture of power and determination, Showers held the covering defenders off before shooting past keeper John Middleton to double our lead.
I'm probably imaging this after all these years, but my recollection was that there was a moment or two's stunned silence before the goal was celebrated because people were trying to take in what they had just seen, but the fact was that it had been a very good goal. Goals to end a personal scoring drought don't tend to be ones where the scorer gets a lot of time to think about the chance they have got while also trying to hold off a couple of covering defenders, but Showers had done that and deserved all of the applause he was now getting.
Forest got a goal back in the second half through veteran former Scottish international striker Neil Martin, but, having won their previous three matches at Ninian Park, City were in a more confident frame of mind than they normally were during the largely dismal 70s and held on to their lead with few alarms. As for Derek Showers, he scored again in the next match (a 2-2 home draw with Southampton) and a month or so later added another one in a 3-1 win over Villa to make it three goals in five Ninian Park appearances.
After that though I'm afraid that it was back to normal with Showers as he only managed one more all season and it's telling that the only campaign in which he was a regular was the one which saw us relegated with just thirty six goals scored in forty two matches. When a couple of goals on the opening day of the 1976/77 season as City celebrated their return to the Second Division with a 2-0 win at Charlton were quickly followed by efforts in successive home matches, there was hope that Showers had finally got his scoring act together, but, after failing to score in his next ten appearances, he finally left the club to join Bournemouth some seven years after his first start as a much hyped teenager at Oxford.
After Bournemouth, Derek Showers had spells at Portsmouth and Hereford before retiring in 1986 having also picked up a couple of full Welsh caps during his time with us. The fact that he was capped by his country offers the clue that, despite the chronic lack of goals, Danny did have something to offer. Just like Ronnie Moore, Showers had his critics amongst our supporters, but, maybe not as many as you would expect for a striker who could not score – I certainly found it hard to be over critical of Showers, or Moore, when they were going through the horrors in front of goal because neither of them ever stopped grafting for the team.
Emile Heskey retired from International football after this summer's World Cup almost as a figure of fun after finding the net just seven times in eleven years of playing for his country. However, the fact that successive England managers saw fit to pick him a total of sixty two times during that period is proof that he was a valued member of the side whose efforts on their behalf were well appreciated by his team mates. I'd like to think that, albeit at a lower level, Derek Showers and Ronnie Moore were thought of in a similar way by many at Cardiff City during their time with us, but I suppose that, when all is said and done, strikers are normally judged by the number of goals they score – I don't think Jay Bothroyd's all round game now is that much better than it was in his first two seasons with us, but he was never seriously thought of as an England contender until these last three months which have seen him scoring at a rate he had never come close to matching before in his career.
16 November 1974
Cardiff City 2 Nottingham Forest 1
City  Irwin; Dwyer(1), R Morgan, Larmour, Pethard; Reece, Buchanan, Smith, Anderson; Showers (1), Finnieston (Impey)
Forest Middleton; O'Kane, Chapman, Jones, Greenwood (Richardson); Dennehy, Lyall, Jackson, O'Neill; Butlin, Martin (1)
HT 2-0
Att. 9,401