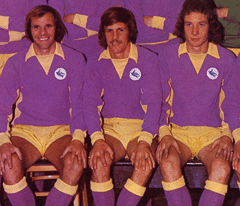 The news on the radio as I drove to the August Bank Holiday match with Derby County in 2003 was not good – defensive lynchpin Danny Gabbidon would miss the game with a foot injury sustained two days earlier at Nottingham Forest. For a few seconds I thought this would mean a starting place for Spencer Prior who, despite some improved performances in City's successful Play Off campaign at the end of the previous season, had hardly covered himself in glory since his expensive move from Manchester City two years earlier. Instead though it was revealed that manager Lennie Lawrence had opted for Newport born youngster James Collins who had celebrated his twentieth birthday only two days earlier.
Although Collins had looked a very good prospect at centre half in his rare first team appearances up until then, the truth was that they had nearly all come in Cup matches of some sort or another and he had been very much a bit part player during the club's two year stay in what is now known as League One – therefore throwing him into the fray at a higher level, which was new to many of his team mates, looked to be a considerable risk.
At least though, Collins was coming into a confident side – City would obviously have been on a high after their promotion but, three games into life in the Championship, they had seen nothing yet to indicate that they would struggle at the new level and, if anything, their performances so far suggested that they could do more than just survive. A 0-0 opening day draw at boiling Rotherham (I wonder how many times those two words have appeared alongside each other before!) had been followed by a 2-0 home defeat by a Bradford City side who somehow escaped with a win despite being outplayed throughout but, a tremendous 2-1 win at Nottingham Forest gained through goals by Kav and Earnie in the first five minutes had dispelled any negativity that may have been around after taking just the one point from a possible six before then.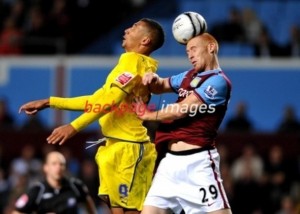 The Derby team Collins found himself up against was one in a state of transition following their relegation from the Premiership in 2001/02. Even more so than today, it was thought that there was a huge gap between the top two divisions in the domestic game and yet Derby had only avoided a second successive relegation by three points in 02/03. New manager George Burley was now faced with rebuilding his team despite serious financial problems which went some way towards explaining why a sixteen year old Tom Huddlestone was starting matches for them that season.
In saying that, Huddlestone, who already had an imposing physical presence, was showing that he was a considerable talent who was holding his place in the team on merit and it certainly wasn't his fault that Derby's season was already proving to be a struggle with just a single point to show from their three games so far. In total contrast to their opponents, Sam Hammam had been splashing the cash once again during the summer with veteran free transfer signings John Robinson and Tony Vidmar (who both must have been on a very good wage) being joined by striker Alan Lee and midfield player Richard Langley from Rotherham and QPR respectively for a combined fee of over £1 million (the time when our finances became a constant worry was still some way away yet!).
The presence of the experienced and stylish Vidmar, who was already looking a fine signing, alongside Collins would have helped him settle into things, but, right from the start, the youngster looked at home at this level and it was many of his more experienced partners who struggled in a low key opening to the game in which the visitors looked slightly the better team. However, although their win was to be a decisive and fully deserved one in the end, there was no doubting that City had the rub of the green throughout the ninety minutes and this first showed when Alan Lee opened his City account with a freakish goal after half an hour.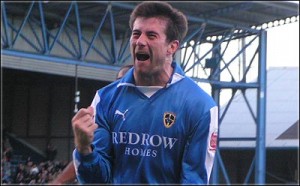 Lee would be criticised by fans during his City career for sometimes playing more like a winger than a centre forward and it is true that he did spend a lot of time hugging the touchlines in his two and a half seasons with us, but this time it worked for him as his cross from out on the right wing flew over Derby's young keeper Lee Grant and into the net. The other expensive newcomer Langley made less of an impact and his main contribution was probably the part he played in getting Portugese loanee Candido Costa red carded just before half time when he was adjudged to have aimed a kick at the ex QPR man.
As City had already doubled their lead by this time courtesy of a penalty by Kav given after a foul on Robinson by Ian Taylor (a decision that the visitors fiercely contested), that really should have been the end of the game as a meaningful contest, but perhaps it was a sense of injustice which inspired Derby to come out after the break and score within three minutes through Mathias Svensson. City wobbled a little after that but they were generally playing well enough to inspire confidence that they reclaim their two goal advantage and they duly did this ten minutes into the second half although, once again, their opponents were left fuming at the officials. This time Derby definitely had a case as Alan Lee was clearly in an offside position when he squared the ball to Earnie for a tap in finish with the only possible explanation for the decision being that referee Barry thought that the Derby defender who had put in a forlorn challenge on Lee had played the ball rather than the City striker.
While all of this was going on James Collins had been turning in a performance which saw earn Sky's Man of the Match award (the game was shown live) – he had been accomplished and dominant in the air and on the deck whilst also showing his talent for hitting accurate long passes, but the highlight of a memorable evening for him came when his header beat Grant and was adjudged to have crossed the line before the ball was hacked clear by a defender (television pictures showed it to be a very tight decision which the officials may just have got right).
That ended the scoring and City fans headed off to the pubs to celebrate what had been a fine performance and a fully deserved win, but there had to be some sympathy for a Derby side that, justifiably, believed that every major decision in the game had gone against them. As for James Collins, he returned to the reserves a few games later (we had a second team in those days!) when we started to ship a lot of goals, but earned a recall for the closing games of the season when his performances alongside Gabbidon had the pundits saying that a promotion bid in 04/05 could be based around their partnership. Instead though, Lennie Lawrence showed that he still didn't fully trust Collins by signing Robert Page from Sheffield United and by the time the manager admitted the error of his ways and started picking Collins on a regular basis, the damage that turned that season into a nine month battle against the drop had been done. That City won that battle was, to a large extent, down to the Collins and Gabbidon partnership at the back and they both were rewarded with a move to the Premiership the following summer, but the truth of the matter is that, although he is now seen as a solid and reliable performer at the top level, James Collins never started a season at Cardiff as a  recognised first team player.
25 August 2003
Cardiff City 4 (Lee, Kavanagh (pen), Earnshaw, Collins) Derby County 1 (Svensson)
City Alexander; Weston, Vidmar, Collins, Barker; Langley, Kavanagh, Boland, Robinson (Whalley); Earnshaw, Lee (Thorne) Subs (not used) Margetson, Prior, Bonner
Derby Grant; Jackson, Johnson, Mills, Boertien; Costa, Taylor, Huddlestone, Morris (Valakari); Svensson, Junior (Bolder) Subs (not used) Oakes, Caldwell, McLeod
HT 2-0
Att. 15,091