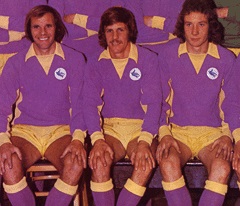 I think I mentioned recently on here that, although it doesn't happen too often, I sometimes find myself thinking about the form my blog report on a game will take while it is still in progress. This happened from about the hour mark onwards of Cardiff City's home match with Sheffield Wednesday yesterday because, in two different games, I'd watched City sides approach their tasks in completely contrasting ways and yet it seemed inevitable that the outcome would be defeat in both cases with a very significant factor in them being a fundamental lack of creativity.
Sol Bamba's equaliser to snatch a 1-1 against Sheffield Wednesday at Cardiff City Stadium came so late into added time that our opponents only had time to kick off before referee Lee Probert blew the final whistle and had me thinking that I'd have to come up with a different theme for this piece. However, I have changed my mind on further reflection, because late, and very valuable, equaliser or not for the seniors, the weakness I saw in both sides I watched represent City still apply.
I'll give a fuller description of the Under 18's 1-0 loss to Leeds United at Leckwith yesterday lunchtime later on, but, essentially, the visitors were in control of the flow and tempo of the match throughout. Life became harder for Leeds late on after they had to play the final quarter with ten men after one of their players had, rightly in my view, been shown a straight red card for a nasty looking foul.
This meant that our opponents spent the rest of the game defending, but, although City occasionally came close to finding an equaliser, the passing approach, which is fundamental to how we want to play at this level, did not have the creative edge to it to fashion clear goalscoring opportunities – this was as true against ten opponents as it was against eleven.
In the seniors game a few hours later, the methods used by the team playing in blue may have contrasted sharply with those used by their juniors, but, in essence, the same thing applied – Cardiff struggled because they were almost entirely unable to put together any dangerous passages of football in open play.
Where the two sides differed was when it came to attacking set pieces. Like so many City sides I've watched at this level down the years, the Under 18s were generally shorter player for player than their opponents and had, obviously, decided that they had to come up with something different from free kicks inside their opponents half, throw ins from within about forty yards range of their goal and corner kicks if they were to gain any advantage from them. So it was, that the Under 18s tried a more subtle approach from such situations – ironically, the one time I can remember them trying something like a "traditional" corner, they almost got an equaliser.
Contrast that with the senior side, who, for quite a long time now, have had players, mostly defenders, who have been able to get their heads on balls played aerially into the opposition penalty box first – in essence, no matter how poorly they might be faring in open play, City have a chance in any game if they can keep on forcing corners and attacking throw ins and free kicks.
So it was yesterday – in this, albeit very brief, highlights package all but one of the City attacks shown come from set pieces and, from memory, they are not missing out any instances from open play where we caused Wednesday a problem.
During the summer, when it became clear that we were in the market for a midfield player, there were some supporters who were calling for a Peter Whittingham replacement – that is a central midfielder who was, essentially, a passer of the ball. To go back a few years, I would have liked to see a Steve McPhail type brought in, but I knew that it wouldn't happen under this manager because I'm struggling to come up with any convincing evidence from Neil Warnock's long career which suggests that he has relied on such players to any great extent in the past.
Back in 1995, Everton shocked Manchester United to win the FA Cup Final with a team described by their manager, Joe Royle as akin to "Dogs of War". Now, if I was too young to have seen that side in action, such description would conjure up a certain image in my mined, and it would be an accurate one.
Younger City fans will probably be aware of Welshman Barry Horne, but how about John Ebrell and Joe Parkinson? Horne, Ebrell and Parkinson were the three players Royle would consider for the two central midfield positions at Everton in 1995 – all had their strengths and I came to appreciate what Horne brought to the Welsh team quite late in his career, but I would say that, even each of that trios most passionate supporters would not go as far as to call them midfield play makers.
For Joe Royle in 1995, read Neil Warnock in 2017. Although I think Joe Ralls has a creative side to his game and Loic Damour has shown signs that he can be an incisive passer as well, I don't see any of the quartet of central midfielders that Warnock is likely to be choosing from until January (Aron Gunnarsson and Craig Bryson being the other two) filling the play maker tag which could be applied to a Whittingham or a McPhail. Our manager is in the habit of calling Ralls and Gunnarsson "bread and butter" players – again, I would say that is a description which accurately captures the essence of the men concerned for those who aren't familiar with them.
I've seen it said that Wednesday's Barry Bannan, playing in a deep holding position controlled large portions of yesterday's match – particularly in the first half.
I agree that Bannan was very influential and, speaking as someone who has been surprised and disappointed by how the ball has been treated like a hot potato by our players in the first quarter of the QPR game and for all of the first half (and a fair portion of the second period) yesterday, I'd like to see someone in our team who could bring the sort of control that Bannan brought to Wednesday for much of the time. However, although I accept that it was at a higher level than the Championship, Neil Warnock only used Bannan once from the start and twice off the sub's bench in the Premier League when he had him as a player during his four month period as manager at Crystal Palace in 2014
So much of our play looked oafish and basic compared to Wednesday, but I was interested by our manager's post match comments. In particular, he talked about Wednesday looking good "between the boxes", but where many (including myself) saw one side clearly having the better of proceedings much of the time, our manager talked about our equaliser being a deserved one and, to a degree, I'd now say he has a point.
Three of the four sides I watched yesterday wanted to keep the ball and sought to do so at nearly all times, even if it meant a backward or sideways pass which did not hurt their opponents at all. However, one of those sides (our Under 18s) barely carried a goal threat, another one (Leeds Under 18s) only looked like scoring from long range shots and a look at the match stats raises questions about how effective the third one's so called "control" was.
Radio Wales' post match phone in show was full of callers decrying the City team  (I can't say I disagreed with them at the time) and pundits Nathan Blake and Jason Perry were united in their opinion that we had been taught something of a lesson by Wednesday – "punch drunk" was a description used on a few occasions to describe how some of our players looked in  the face of our opponents apparent superiority.
Now, I'm not saying that we deserved to win or anything like that, but when the stats say that the team that were supposed to be being giving a football lesson had twice as many goal attempts (sixteen to eight) and four times as many efforts on target (eight to two), shouldn't there be a reappraisal on the part of many spectators of what occurred or, at least, a reconsideration of how effective our opponent's supposed domination was in terms of getting something worthwhile from it?
Not for the first time recently, I find myself questioning the footballing beliefs I have lived with since I was able to have some sort of tactical appreciation of the game – I always prefer my team to have possession of the ball, but have to concede that there is an awful lot of "passing it just for the sale of passing it" from many teams in today's game.
However, even someone who, apparently, is not bothered about his team having less of the  ball than the opposition, conceded something that, for me, was so obviously true in the first half yesterday – Warnock sounded exasperated at how quickly we handed possession back when we did manage to get it.
It's coming up to a year since Neil Warnock became our manager and, despite having less than fifty per cent possession in the huge majority of our games since then, we, nevertheless, have managed to win a lot more of them than we've lost – our record under Russell Slade in terms of games won v games lost wasn't too bad either, despite our all too frequent losing of the "battle for possession".
Possession doesn't automatically equal points then, but it was good to hear our unbeliever of a manager when it comes to "the passing game", concede that we needed to be better at retaining the ball yesterday – we can forget about a top six finish if we are as poor in possession as we were in the first half yesterday and we have been in parts of some matches earlier in the season.
A few words on the Under 18s game to finish. The only goal was scored in the twenty sixth minute and came against the run of play as far as I'm concerned because City were edging things following a strong first few minutes from Leeds.
I've often praised goalkeeper George Ratcliffe for being so good with the ball at his feet, but I'm afraid he'll have to take responsibility for the goal as his attempt to play out from the back resulted in a side footed pass straight to a Leeds forward about thirty yards from goal. Mind you, Ratcliffe's error didn't seem to be too costly because he'd hardly presented Leeds with open goal, but the visitor's impressive left winger Clarke made the keeper pay in full with a thumping twenty five yarder high up into the net.
The goal hit City hard and Leeds were dominant for the next forty minutes or so, but, strangely, this was only reflected in a series of beautifully struck long range shots – the first of which by McCalmont bounced down and out off the underside of the bar, the second, by Wollerton, drew a superb tip over from Ratcliffe and then in the second half the keeper did well to keep out another Clarke effort.
Even after McCalmont had been red carded half way through the second half for a reckless lunge at sub Keiron Proctor, City were only able to offer some pretty uninspired huff and puff in response.
They did almost find an equaliser first when Isaak Davies shot against a post from a very acute angle and a goal seemed certain when, with keeper Male out of position, the ball fell to Keiron Evans in a central position about eight yards, but he could only shoot against the covering the Leeds defender who had got back to cover on the line. Besides this, Sion Spence saw his glancing header from a Sam Bowen corner cleared off the line and Evans I think it was forced Male into a decent diving save late on, but it ended as a second home defeat for the Academy lads which, like the first one, they couldn't really complain about to set against the two draws they'd got from their trips to Hull and Forest.