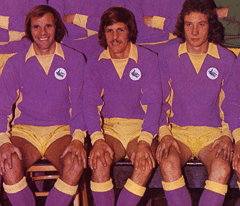 I was out last night so didn't really get to listen to the match except for a few one minute intervals when I managed to nip into my car and put the radio on and the thing that struck me was that every time I did that the the description of how we were playing was more critical than the previous time I'd listened! Judging by the little I have read and heard about the game, it sounds like we were absolutely awful and, assuming for now that the poor performance wasn't down to some bad news on the financial front that we don't know about yet, it is very concerning that our last four away matches have resulted in defeats by 5-1, 4-1, 3-0 and 2-0.
As is usually the case when we lose, people are questioning Dave Jones' ability to motivate the players, but that is to ignore the victory on Saturday which, in my opinion, was down to two things – first we wanted to win what was a very important match more than Middlesbrough did and second that the players had been able to recharge their batteries somewhat after only playing one match in a fortnight (I still believe that tiredness is a factor in our poor recent results). Despite what the critics say, Dave Jones must have played some part in getting the players so up for Saturday's match, so I don't think that it is right to say he cannot motivate his players more that they don't come out like they did against Middlesbrough often enough.
I mentioned during Saturday's match that it had a one off, cup tie type feel to it and so, last night might, possibly, have had a feeling of anti climax to it for the team – it certainly shouldn't have mind and it's an indictment of Dave Jones and his staff if it did. After the match our manager made what I thought was a reasonable point that too many in the team may think that, with the size of our squad currently, they do not need to work too hard to keep their place in the starting line up. However, by only making the one substitution (predictably, it was the "kid" in the team that got replaced) when his side was playing so poorly, wasn't he sending out just that signal – if you were one on the five outfield players who stayed on the bench last night, you'd surely be thinking if he doesn't give me a chance when we are playing that badly, when will I get one wouldn't you?
When all is said and done though, nearly all of the evidence of the last month or so suggests that we are currently not strong enough in central defence and central midfield to remain in the top six until the end of the season (truth is that it is arguable whether we are strong enough in those areas if everyone is fit and well). I have been hoping that the ability of our "front five" of Bothroyd, Whittingham, Burke, Chopra and McCormack (which I have often praised as being better than most, if not all, of our Championship rivals) would be able to cover these defects by doing enough to keep us scoring at the rate that we had been until recently – we are constantly being reminded after all that there are plenty of goals in the Cardiff team.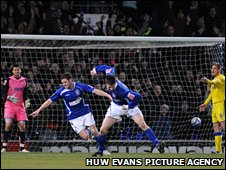 The thing is though that our "free scoring" team has managed to score just two goals in it's last five games with one of them being a penalty and the other, arguably, offside and I think the time has come for a reassessment of that front five. While Messrs Boothroyd, Burke and Whittingham have, largely, lived up to their billing throughout the season, it has to be said that the other two have most certainly not – Ross McCormack has been living off last season's achievements for much too long now and I am afraid that, increasingly, I am finding Michael Chopra to be one of the most infuriating players to have turned out for us in recent times.
People talk a lot about how Chopra closes down defenders and how he suffers from not having Steve McPhail in the team, but I'm sorry, he is not a patch on the player who was so effective for us three years ago. Apart from two short spells of two or three weeks (the second of which occurred at a time when McPhail was recovering from his cancer treatment), Chopra has not being doing the business for a year now and the excuses we hear for his lack of goals and form are sounding more and more hollow. One of the most annoying things about Chopra for me is that when he is going through one of his all too brief hot runs, he looks such a great player and that only makes it harder to understand why he looks so much of a passenger at other times.
While it is good to have someone in the side who can work as hard as Chopra does to close opposing defenders down, is that enough on it's own to justify his pay cheque? I would guess that Chopra  is the highest paid player at the club right now and when his lack of impact comes with the sort of petulance which got him a tenth booking of the season, and a two game suspension, last night you really have to question his worth to the team – hopefully, a break of a couple of games will get him focussed on the job in hand because we need him to start playing an awful lot better than he has been lately.
One of the reasons why Saturday was so enjoyable was that you were able to put winding up orders and Court appointments to one side for a little while, but the day has arrived I'm afraid and we have to go begging for leniency again later this morning. Media reports are saying that we are offering to pay another £500,000 off the debt in the hope that will enable us to be given a stay of execution to come up with the rest, but that is less than a third of what we still owe and when you consider the not too unlikely possibility that we may have not made our PAYE contribution for February, it could mean that, effectively, as little as 6% is coming off the total debt.
What has struck me in the build up to today's Court appearance is the lack of "in the know" posters on messageboards telling us exactly how the club's negotiations with HMRC are going and giving us the low down on what we can expect later today. Okay, nine times out of ten the info being given is bollox which has been thought up by some attention seeker, but there are occasionally some messages you read that have a ring of truth to them – I've not seen one such message over the past week or so.  I can think of two possible reasons for this, the first one  being that, not before time, people at Cardiff City Stadium have stopped leaking snippets of information to favoured supporters and the second being that those who pass on the info genuinely do not know how things are going to work out.
I get the feeling that the second option is much more likely to be the case than the first and I have to admit that in the absence of a last minute injection of cash from Malaysia and assuming that the £500,000 figure quoted is correct, I have a sense of foreboding that we might end the day with ten points less or worse – I couldn't really blame the Court if it did decide to make an example of us.