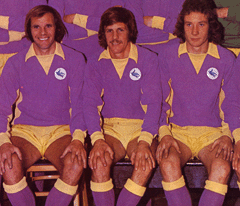 Cardiff City's bid for promotion from the old Third Division in the 1982/83 season was in danger of fading. With just fourteen points from their last twelve matches and one win from their last seven, top of the league in mid February had become fourth in the table by 9 April when Doncaster Rovers came to Ninian Park.
Increasingly, it was beginning to look like a case of if there was to be a team from South Wales that would be going up into the Second Division, then it was going to be Newport County. Five days earlier on Easter Monday, a crowd of 16,052 at Somerton Park had seen a dubious goal by John Aldridge gave County a 1-0 win over us in a controversial match in which referee Lewis had also disallowed two valid looking City goals.
Looking at it now, it's amazing to think that we had managed to sustain a promotion challenge at all that season because as well as having a team made up almost entirely of cast offs from other clubs, we had no recognised senior keeper (if you thought last season's four keepers was too many, we used five that year – seven if you include Phil Dwyer and Linden Jones both having a go between the sticks in a defeat at Bradford City!) and one of our better players, Keith Pontin, mysteriously decided to retire from the game a month into the campaign at the age of twenty six.
Therefore, Manager Len Ashurst deserved great credit for some inspired free transfer signings like striker Jeff Hemmerman (who got 26 goals that year), influential veteran Bob Hatton, left back Paul Bodin and midfielders Roger Gibbins, who went on to be such a great servant to the club and David Tong.
The last named of those players was, I suppose, a holding midfielder to use the modern parlance and, if I had to use one word to describe him it would be "steady". Tong had good technique, but never used it to any spectacular effect really and he was one of those players who you would never hear people complaining about for having an absolute stinker, but you would hardly ever hear his name being mentioned in any man of the match discussions either.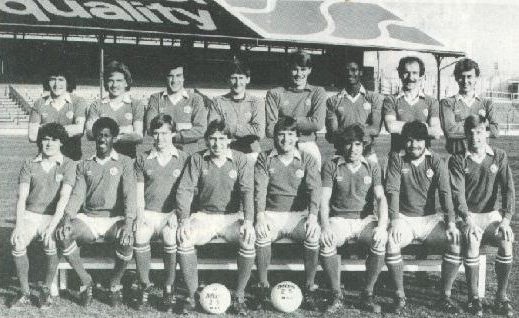 I say "hardly ever" there because when City really needed a hero on that afternoon twenty six years ago, it was David Tong who stepped forward and delivered! If I had to compare Tong with a current player, I suppose it would be Steve McPhail (that's not a particualrly good comparison mind!), but McPhail's three goals in 2007/08 was positively Lampardesque by David Tong's standards – it wasn't just that he never scored, it was that he hardly ever had a shot and, anyway, he had already scored his goal for that season when he rescued us from humiliation by scoring at non league Wokingham in the First Round of the FA Cup as we trailed 1-0 well into the second half. No, if City were going to end their barren run of three goals in seven matches, they would have to look elsewhere – David Tong just didn't do goals or at least he didn't unless the date was 9 April 1983!
Doncaster were ideal opponents that afternoon given City's low level of confidence in front of goal – they were fighting an ultimately unsuccessful battle against relegation and had conceded seventy six goals in their thirty eight matches. It didn't take long to see why they had such a poor defensive record either as chances came along on a regular basis virtually from the start of the game. However with Hemmerman having scored just once in seven matches and Hatton once in ten and with Dave Bennett, bafflingly, not brought back after being left out at Newport, City were again showing their recent lack of firepower until Tong decided to take a hand.
Tong's goal when it arrived was nothing spectacular – an easy, close range finish as I remember it, but it was from a position that he never usually found himself in. However, cometh the hour and all that and, once the ball hit the net, the game, and City's season, was transformed. Roger Gibbins quickly added his twelfth goal of the season and we went into the break with a 2-0 lead that was always going to be enough to see off such limited opponents.
Tong had already done his bit then, but he then topped his first half effort with another goal – if his first goal had been a routine one, his second involved a run in on goal and a good finish which asked why he was not a more regular scorer (he only ever scored one other goal for us).
The game finished 3-0 and, although it had been a pretty routine affair in which we hadn't played too well, we never looked back after that as four wins and two draws from our last six games saw us finish as runners up to Portsmouth with Huddersfield taking the third promotion spot as County blew up in spectacular style by taking just four points from their final seven matches, five of which were lost.
9 April 1983
Cardiff City 3 Doncaster Rovers 0
City
Steele; Jones, Dwyer, Bennett (G), Mullen; Micallef, Tong (2), Gibbins (1), Lewis (Bodin); Hemmerman, Hatton
Donny
Peacock; Mann, Humphries, Lister, Johnson; Mell (Liddell), Snodin (I), Snodin (G), Robertson; Walker, Douglas
HT 2-0
Att. 5,456