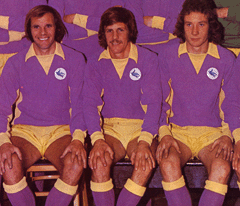 After the win at Bolton a fortnight ago, I said our next three games offered both a challenge and an opportunity. Sheffield Wednesday, Brentford and Birmingham represented a trio of opponents within that pretty large group of clubs (which we are a member of) who were chasing that final Play Off spot behind the five who, a few weeks ago, had looked to have made a decisive break clear of the rest.
Burnley's failure to win any of their last five matches has meant that I was a tad premature in saying that we were, essentially, chasing one Play Off spot because nine points from our last three games would have seen us in fifth place three points clear of the Lancashire side – albeit having played a game more than them.
The really frustrating thing as well is that it could and should have been nine points, not the four we ended up with.
Now, I said that while accepting that fans of teams that are not quite good enough to clinch a top six finish (which I suspect applies to us) spend much of the nine month season talking about what could and should have been.
The truth is that we were not really convincing in any of the three matches – I spoke in my piece about the Brentford game of how we have barely managed to produce one such performance all season.
There were self inflicted wounds which cost us two points against Sheffield and should really have done so against Brentford, but last night's 1-0 loss against a Birmingham team that had virtually forgotten how to score at St. Andrews was down to one person alone and he wasn't playing for our opponents.
Wikipedia describes Coots as "medium-sized water birds that are members of the Rallidae (rail) family". They are probably best known to the general public for the common saying "bald as a coot", but there is also another one relating to them which is not used as often – "daft as a coot".
Stories like this provide some evidence of why these birds have been called daft and having had one jump out from a hedge and run in terror for fifty yards in front of my car rather than fly off while I was driving in the Drope (a village of sorts just to the west of Cardiff) once, I tend to think the description is an apt one.
As can be seen in the photo of him from last night's match, David Coote is not bald like the bird which is a phonetic equivalent of his surname, but daft? Possibly, however I'd say that out of daft or incompetent, it is the latter which most applies to last night's referee.
The first game in which we were beaten by David Coote did not cost us a great deal – in fact all it did was mean that we won the Championship in 2012/13 by eight points rather than nine.
Mr Coote took charge of our game with Peterborough in December 2012 which resulted in our first dropped points at Cardiff City Stadium after we had started the campaign with a club record ten straight home victories.
My blog piece on Peterborough's 2-1 win contained the following;-
"On the other hand, the performance of referee Mr Coote was everything I feared it might be when I read how inexperienced he was at this level before the game. The decision to penalise Heidar Helguson for the free kick from which Peterborough took the lead was the source of much comment (I've not seen the incident again on television, but I don't need to – it was a dreadful decision which I was absolutely flabbergasted with at the time), but this has tended to mean that his overall incompetence has generally passed without attracting the criticism it deserved. To book eight players in a match where I can't remember seeing a bad foul was ridiculous and too often Mr Coote gave the impression that he was not giving himself time to think before flashing his cards – on that performance, I don't see much of a future for him in the games second tier."
That decision I refer to went against Helguson for a foot up challenge on the edge of our penalty area  despite his boot not being as far off the ground as the Peterborough player's he was challenging with was. However, as I mention, it was not just that decision which marked him out as poor – as is usually the case when an official is incompetent, both sides tend to suffer to varying degrees.
That game was the first time Mr Coote had taken charge of one of our matches and we were spared him during our Premier League season, but he was in charge for the home game with Ipswich last season when I described his performance as "weak" and also he saw fit to caution eight players again during our 0-0 draw at Portman Road in October. So, last night was the fourth time he has taken charge of one of our games and he has managed to beat us in half of them, but, unlike the first time, this time it could have a huge bearing on our season.
In the three years since that Peterborough match, I've been proved half right with my prediction that he would not have much of a future in the Championship. Mr Coote still takes charge of more lower league games than he does Championship ones (this season, after starting off with four Championship fixtures, our game at Ipswich was the only one he had officiated at this level until Fulham v Brentford last Saturday), but it would seem that he has some friends in high places.
I say that because Mr Coote was selected to take charge of what was probably the biggest game of Russell Slade's managerial career so far (the 2014 League One Play Off Final between Rotherham and Leyton Orient) and, in August, he was selected as "A future Premier League referee" in this piece in what appears to be a reputable site dedicated to improving refereeing standards – I must say mind that the name of the person given as the author of the piece rather tends to diminish it's impact!
Being serious, I suspect that the identity of the supposed author of the article is a mistake and that, in reality, there are independent observers who know more about refereeing than I do who believe that Mr Coote is someone with a bright future.
Furthermore, I accept that me making statements like he's beaten us twice in the four Cardiff matches he's taken charge of, can come across as the rantings of someone looking for a scapegoat  when their team loses in much the same manner of so much that we see and hear online and in supporter reaction shows like 606 and Call Rob.
However, as I said three months ago after the lamentable Chris Sarginson's showing in the Hull match, I invite anyone to go through the match reports I've been producing on here for more than six years now and find many, if any, that see me spending as much time as I'm doing here discussing the performance of the referee – as a rule, a ref either has to be very good or very bad for me to make any reference to him.
Even so, I maintain that David Coote, not Birmingham, beat us last night because all of the television evidence proves that his decision to award a penalty for handball against Matt Connolly was wrong – not may have been wrong, looked to be wrong or was probably wrong, it was plain wrong!
Match summariser David Prutton didn't offer even the merest hint that the decision may have had some merit to it, neither did Ian Holloway or Lee Clark (a former Birmingham manager), the "experts" hired to offer their thoughts on the match after forty five and ninety minutes. Most damning of all though, Birmingham's current manager Gary Rowett didn't waste any time in trying to justify a wrong decision which went in his team's favour in the manner that you see from so many in his profession under similar circumstances.
No, everyone who saw the incident didn't think it was a penalty except Mr Coote. Now, of course, criticism of any decision made of an official in a televised game has to mitigated by the knowledge that he gets just the one look at the alleged offence, but, is that really true in this case?
In his post match interview an understandably annoyed Russell Slade said that the referee had a clear view of the incident – I'm not so sure about that. I tend to agree with Ian Holloway I think it was who said that the pictures from a certain angle made it look like Mr Coote could not have seen where the ball had hit Connolly as his view was obstructed. If this is true, then it makes the decision an even worse one (if that could be possible!) because the referee was guessing as to what part of the body the ball had hit – I appreciate that there has to be an element of guesswork involved in some of the minor decisions made during a game, but, surely, that should never be the case with the one which decides it's outcome?
Given the very poor impression Mr Coote made on me in the first game I saw him take charge of, I've made a point of paying more attention to him in the occasional live televised matches he's featured in since then. To be fair, he's not been terrible in all of them by any means (I thought he did pretty well in that Play Off Final for example), but my overall impression is that he is a poor referee and, after last night, he is definitely on what is really quite a short list of refs I don't want to see in charge of City games again.
The thing is though, that Mr Coote would not have had to make his woeful decision if David Marshall had kept hold of the cross he had looked to have fielded easily enough in the first place. In the last week, I've seen Marshall criticised for not stopping Sheffield Wednesday's first goal and both Brentford goals and, in each of those cases, I've defended him, but he was at fault last night. Yes, sometimes he may have been rescued by a referee blowing for a foul on him which led to the dropping of the ball, but, in my opinion, that was a decision which Mr Coote actually got right.
One final thing about the penalty incident. Although I don't blame him at all for his part in it and I still rate him as one of our best performers so far this season, with his two own goals in added time at the end of matches that have cost us three points and now this which cost us a further one, Matt Connolly has become someone who could do with being less accident prone.
As it is, Connolly's place looks secure for the foreseeable future, because an early injury that could keep Sean Morrison out for a month according to our manager, has offered Bruno Manga a route back into the side amid talk of Ben Turner possibly being recalled from his loan spell at Coventry.
By and large though, after their recent troubles at the back, it was at the other end of the pitch where City didn't fully convince in a performance that was pretty good up to a point without really demonstrating the qualities which suggested we were a watching a top six side in action.
As has happened in the past when he has been given a start, Sammy Ameobi did not produce a display which demanded inclusion next time around as he missed what was probably our best scoring chance on the night.
However, it was the performance of Kenwyne Jones which disappointed most. To hear his fan club on Wales Online talking about him being the best of his type in the Championship, you would think that all City fans are united in believing he should be an automatic selection every week, but Messrs Clark and Holloway outlined at both half and full time why I, for one, believe that we are taking a risk by relying so heavily on someone whose attitude and level of performance blows as hot and cold as Kenwyne's does – reading the comments section on here makes me believe there are at least some out there who feel the same way as me as well.
*pictures courtesy ofhttp://www.walesonline.co.uk/