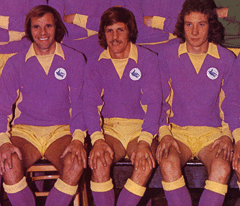 First thing to say is that yesterday's 4-3 defeat to Barnsley was the most dramatic home match I've seen in ages – in fact without giving the matter too much thought, I can only come up with two second leg Semi Finals (against Leicester in 2009/10 and Palace in 11/12) which, possibly beat it in terms of club games played at the new stadium.
When we pulled back to 3-3 with a couple of minutes left, I asked what do we do now, settle for the point which, given the circumstances it would have been gained under, would have maintained the feelgood factor that had built up following the victory over Wolves on Tuesday. or go for the win and leave ourselves vulnerable to an opponent who had shown themselves to be very effective counter attackers all afternoon?
It was a question I asked while being close to hundred per cent sure what the answer was. The momentum of the occasion and the atmosphere it engendered meant we were always going to go for the win – you only had to see the way Aron Gunnarsson grabbed the ball to take back to the centre spot after our equaliser to realise that.
As a fan, this was exactly what I wanted us to do and the truth is that, given the speed Barnsley showed when getting forward throughout the ninety minutes, they may have been able to fashion a winner anyway if we had taken the "boring" option of being a bit more cautious during the remaining minutes. I say this because I also thought it was a match which laid bare a host of fundamental problems that showed why Neil Warnock has only tended to play down expectations as to what can be done this season.
When people were talking of Play Off challenges after City had taken seven points from Warnock's first three matches, the manager was saying things like it'll probably get worse before it gets better, while his non stop references to what he was hoping to do in the January transfer window said all you wanted to know about what he thought of the strength or otherwise of the squad he had inherited (the fact that he chose to add four players to it before his first game in charge also tended to give the clue that he thought we were far from being in a false position in the table).
Bearing this in mind, the manager's post match comments yesterday were very interesting. I mentioned on here after the Wolves game that Anthony Pilkington had said that there had not been a true Warnock dressing room rant since he had arrived at the club, but this sort of thing strongly suggests that some of the team at least were on the wrong end of his tongue (probably at both half and full time) yesterday.
The manager makes particular reference there to the two Barnsley goals which highlighted one of the major differences between two squads which, to be honest, don't seem to have much in common.
I'll say here and now that I cannot remember the last time I've seen a Cardiff team score a goal like Barnsley's second and third ones yesterday (actually, the goal with which Peter Whittingham completed his hat trick in what may well be the last 4-3 match we played before yesterday, against Sheffield United at Brammal Lane, springs to mind now, but that was more than seven years ago).
To me, the statement which makes up that last paragraph says a lot about the sort of team Cardiff City have become in recent years. In fact, that probably should read the sort of team we have been for the majority of the time I have supported the club, but I'll return to this theme later, because first I want to talk about the thing that so annoyed our Neil Warnock yesterday – our defending.
I agree with our manager when he said all four goals were poor ones to concede, but it's those two length of the field breakaways that seem to have upset him most, because he feels that steps to deal with such things had been taken in the lead up to the match and were not adhered to by a couple of our players (presumably the pair of outfield players who did not go forward for the free kick and corner the goals stemmed from?).
Those who respond to my scribblings on here are a perceptive bunch and there was a reference  a few days ago to how we were nearly caught on the break by Wolves a couple of times after we had won a free kick or corner and sent our centrebacks forward. It had also been noticeable to me that Whittingham was having to do some pretty desperate covering and tackling as Brighton looked to break from our attacking dead ball situations in the home match before that.
It seems that opponents have spotted that what is our greatest attacking strength (an aerial attack from free kicks, corners and throw ins) also opens the door on one of, many it would appear given our goals against record this season, many defensive weaknesses.
What Brighton, Wolves and now Barnsley have done in our last three home matches goes to the heart of so much of what modern football thinking is about – football is probably as much about counter attacking today as it has ever been and our opponents yesterday struck me as very good exponents of this art, but they were also helped on their way by the fact that we appear to be so ill equipped to deal with it.
Let's face it, any team that is relying on a player like Whitts so much in such positions is asking for trouble. To be fair to him, he has done pretty well recently in this department and he was unlucky yesterday when, having worked really hard to get back after taking the free kick, his interception saw the ball go straight to Josh Scowen to present him with a tap in for Barnsley's third goal.
While mentioning the third goal, I'm going to digress for a short while to talk about Ben Amos. Having watched the highlights of the game a few times now, I'd say this is the only one of the four goals Amos should share a portion of the blame for. The keeper was certainly culpable for Wolves' goal in midweek and his charge from goal for Scowen's goal only made Barnsley's task all the more simple, but I don't see why he should be held responsible for our opponents first and last goals – there are many on the messageboards who are doing this.
I thought Sean Morrison left the scorer too much space for the first goal, but there was also a fine ball played by the impressive Conor Hourihane and an outstanding header by Sam Winnall in there as well – that header was placed to perfection and left Amos with no chance. Also. for the fourth one, I think it's reasonable for a keeper to expect his centreback and left back (Bruno Manga and Peltier in this instance) not to let an opponent, in this case Marley Watkins, to burst between them and leave them both trailing in his wake, so ours was caught on the hop somewhat when this duly happened.
As with all of Barnsley's goals, the problems started ahead of Amos. For the second one, we were in trouble once Craig Noone's powder puff challenge for a header left Barnsley in control of the ball eighty yards from our goal with only two of our outfield players in front of them. It didn't help our course either when another one (think it might have been Junior Hoilett) fell over as he chased back, but as was the case, all afternoon, Barnsley were able to prove that they had significantly more players with real pace in their team than we do.
So, Amos was not a major culprit behind our loss for me, but what I will say is that I feel our defence does not have much confidence in him and, as I've mentioned before, there's been a lack of the sort of saves another impressive Barnsley player (the Wales qualified Adam Davies) made yesterday from him throughout his three months in the team. I can't help thinking that if we had Davies in goals for us this season, our goals conceded figure would not be among the worst in the Championship.
It was always going to be hard for any keeper who was seen as David Marshall's replacement and, possibly, I'm misreading our manager here, but I found his refusal to discuss Amos in yesterday's post match press conference to be pretty revealing – I've thought for a while that goalkeeper was one of the positions Neil Warnock wanted to sign someone for next month and and I'm even more convinced of that now.
Not everything our manager said reflected his frustration at what he had just watched though. For the second successive game, Warnock spoke in very positive terms about striker Kenneth Zohore and, on the subject of the Denmark Under 21 international, I'm going to repeat myself here by praising the contributions of those whose views you'll find in the Feedback section of this blog by saying that the responses to my piece on the Wolves match also included an analysis of Zohore's technique when jumping for high balls in which the writer compared him unfavourably with Heidar Helguson who, I would guess, is about three or four inches shorter than him.
It was because of this that I watched Zohore more closely than normal yesterday when it came to his aerial prowess. In fact, it's probably more accurate to say his lack of aerial prowess, because, to borrow an analogy from another sport I've used before about him I think, he doesn't punch his weight when the ball is in air.
As the Barnsley centrebacks won header after header from balls pumped in Zohore's direction in the first half, this was one of the main reasons why I coupled him with Craig Noone  when saying "they're both playing as if they're thinking, well I did well enough on Tuesday to keep my place in the starting line up for a few games".
I didn't think Zohore did that well in the first half, but it seems our manager disagrees with me because he was glowing in his praise of the player afterwards – I should say that I thought he was much improved after the break mind. Warnock did repeat his claim from earlier in the week that Zohore was one of a small group of players (is Emyr Huws another one I wonder?) who he had thought were a little lazy in training and that he needs to get a bit fitter, but he also said that he was looking to spend "decent" money on a striker in January,and, based on what he had seen in the last two matches, he wouldn't be able to get better value for money than Zohore.
Neil Warnock also paid Zohore a compliment while bemoaning the sort of finishing which saw Hoilett, twice, and Rickie Lambert blow great scoring chances, when he said that he wished that they had fallen to him and, when asked what sort of striker he has been looking for, his reply was "one like Kenneth Zohore".
The more I think about it, the more I believe that many of us, including our manager perhaps (after all, he did call himself "a lucky sod" when he said he wouldn't have found about Zohore if was hadn't played as badly as we did in the first half on Tuesday night!), have been fooled into thinking that, because of his size, Zohore can only play in a certain way.
I've said consistently, that although they all have their little differences, essentially, we only have one type of striker in contention for the first team these days – that is, targetmen. I've been expecting us to try to sign a mobile, nippy striker in the Chopra/Earnshaw mould, but when you have someone who has that ability to to move centrebacks about, has a bit of pace and power about them and could, with experience and the right coaching, become a real presence in the air, why not go for someone of Zohore's size, rather than the shorter player I'd been expecting?
I'm not as convinced about Zohore's finishing as our manager appears to be and I'm not saying he can become the sort of stylish, and unplayable, front man Jay Bothroyd was when the mood took him, but I see some similarities between the two players. For example, on Tuesday, his pace was able to earn himself a bit of space about thirty yards from the Wolves goal and the pass provided when it came was weighted so perfectly that Anthony Pilkington didn't have to break stride before taking a touch and scoring. When Zohore found himself in the same sort of position yesterday late on in the game, the pass was, again, of exactly the right weight to Kadeem Harris, I think it was, only for the momentum to be lost by a combination of a poor first touch and a wrong decision by the receiver.
Yesterday Barnsley needed some dogged defending, good goalkeeping, helpful refereeing (the same ref who should have awarded us a penalty in the dying minutes at St. James Park last month this time missed a blatant handball in the box and there were two challenges in quick succession in the second half which could have seen us awarded spot kicks on another day) and some luck to gain their three points, but they were also very, very good at what they were good at.
I was most impressed with Barnsley's pace and penetration going forward when I watched them in the League One Play Offs last season and the step up in standard has not seen those abilities being diluted either based on yesterday's evidence. However, it's not just speed that Barnsley possess, it's players with the technique and composure to get things right while playing at pace.
There are some signs that Kenneth Zohore may have a bit of that to his game, but, sadly, I don't see many of his team mates with those abilities – I mentioned earlier that we don't score goals like Barnsley's second and third (or fourth, for that matter) ones, but it's not just pace our squad lacks, it's also the reliable feet and calm, clear, minds that enable you to cash in on the opportunities your speed has won you.
It's only fair to say that we played some good stuff going forward in open play and twenty two goal attempts to Barnsley's ten may tell a story about our profligacy, but it also tells one about the "flow" of the game. However, where Barnsley looked like an attacking unit, we seemed like a team that was benefiting from moments of quality from individuals.
Only Newcastle have scored more than Barnsley's thirty eight goals from twenty two matches in the Championship this season and so the attacking potency they showed yesterday was not a one off. The Yorkshire club have put together a squad that plays good, modern day, football in an entertaining manner consistently, largely, of players signed for modest sums from the lower leagues, many of whom know what it feels like to be rejected by so called bigger teams.
Speed of body and mind appears to high on the list of attributes that manager Paul Heckingbottom looks for when recruiting players and, watching his team yesterday and comparing it to the character and make up of our squad and the things that many supporters will tell you we've lacked for years, I couldn't help but think that for "speed of body and mind" at Barnsley, read power and physique at City in recent years – in fact, while it would be wrong, to say it has been forever thus at Cardiff, it sometimes feels like it.