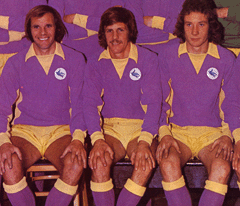 I was out visiting relatives all day yesterday and so had little or no chance to catch up with what was happening in the football world let alone what was going on at Vicarage Road where, by all accounts, we suffered a right pasting. Therefore, I won't talk too much about the game at Watford, but more about how, with half of our games played, we have done so far this season.
Firstly, and at the risk of sounding like a stuck record here, any analysis of the first half of our campaign has to be set against a background which has seen many of those employed by the club telling us that automatic promotion has to be the aim this season. It seems reasonable to me therefore that us supporters should set our expectations to the same level – in truth though, are we really that good?
My opinion, which has hardened a lot in the past month or more, is that we are not a top two side. Now, I know that people will point to the league table and tell me that it says otherwise, but, with us having now played nine matches (almost 20% of our season) where our results have been more akin to a side in the relegation zone as we cling on to second spot only because Leeds' Andy O'Brien kindly helped us out with two own goals, this argument is getting weaker and weaker by the week.
On the other hand, there are still those who say "we should be walking this league with the squad we have", but, I just don't see it that way. Last season our defence imploded as they conceded three goals in around half an hour in our last two, vitally important, matches. For me, this only confirmed a long held suspicion that we weren't good enough at the back and yet how I would wish to see 09/10 level performances from our back five now!
Watford are a typically inconsistent Championship team who have won their last three matches after a run of no wins in seven, but what they do have is the attacking capacity to really put teams to the sword if they are in the mood – now, let's look at the back five which faced them yesterday. In goal we have a keeper whose confidence must have been effected by a decision to drop him back in September (which I still cannot understand) – David Marshall never kicked the ball as poorly before he was dropped as he does now. Okay, right back McNaughton and centreback Hudson have been fairly solid all season, but alongside Hudson we had someone who was very good in the second half of last season, but is now not being helped by the fact that our manager still doesn't seem to know who is the better out of him or Gabor Gyepes (who is also playing poorly) – neither Darcy Blake nor Gyepes can be expected to play themselves into form when they only seem to be featuring once  in every two or three matches.
At least Chris Riggott's performance against Coventry offered the hope that things can improve at centreback, but what is to be done about Lee Naylor whose, frankly, dodgy contributions in most games came to a predictable head yesterday as Dave Jones hauled him off in the first half to save him from further punishment from Watford's ex Rochdale winger Will Buckley (why have we, seemingly, stopped looking in the lower divisions for new players?)? Naylor hasn't merited his place in the team for some time now as far as I am concerned, but Dave Jones has stuck with him steadfastly and, perhaps, that is more understandable when you consider that he barely acknowledges the existence of Paul Quinn these days. Then of course, there is the strange case of Adam Matthews – now, even if you accept that our manager had just cause to slag him off (which I don't think he did) after the Ipswich defeat, you have to say that Matthews' subsequent form has shown that the public dressing down he got has not had the desired effect (in fact, just the opposite seems to have happened), so you have to question our manager's methods in this case.
Against a side who had looked so impressive in ending QPR's unbeaten start to the season, we went in with a back five featuring two players who are definitely not playing to 09/10 levels and another who is proving to be not as good as the veteran who left us in the summer after conversion to the left back position late in his career. When the manager finally loses patience with his left back, he replaces him, from a completely unbalanced substitute's bench, with a promising youngster whose development has been stunted this season by unsympathetic handling (which has, if anything, seen him go backwards) – against a background like that, should we really be surprised by the scoreline yesterday?
Our back five is not remotely close to being good enough for a team which "should be walking this league" and, for all of the, admittedly inconsistent, talent in front of them, I can't help remembering something I heard yesterday on one of the rare occasions when I was able to catch up with the football. I was able to watch a bit of the first half of the Coventry v QPR match where the commentators talked of QPR's resilience when they were under the cosh during much of the first half. Neil Warnock teams tend to have this quality in spades, but, apart from earlier on this year when we were hit by injury, illness and off field financial problems and the occasional match here and there down the years, "resilience" is not a word I would associate with Dave Jones' Cardiff teams. At least though you could always rely on his City sides getting something out of matches in which they scored first, but you can't with this team – to be fair, we are better at coming back in games where we concede first, but why should it be that under Dave Jones we seem to make progress in one facet of the game only at the expense of another?
Our manager was talking after yesterday's match about having the means to do something to improve the completely unbalanced squad he cobbled together during the summer in the January transfer window. If this really is the case, then he is a very lucky man because, given what he has said about what we should expect from this squad, a run of eight points from nine matches is, arguably, legitimate grounds for dismissal. Often in the past, Dave Jones has had to be admired because, in many respects, he was, effectively, managing Cardiff City with one hand tied behind his back, but that certainly doesn't apply this time around. I think it's fair to say that, even if we aren't a top two squad currently, we have enough talent at the club to do a lot better than we have in the past nine matches – for me the half term report for Dave Jones and his squad has to be "C minus – recent work is nowhere near good enough to reach targets set".
.