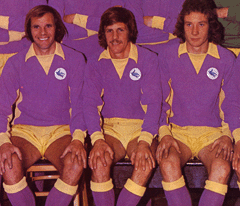 The Academy Under 18 teams good season continued this morning at Treforest with a fine 3-1 win over Coventry in a good quality game which came to live after a goalless first half. The result meant that City jumped above Coventry into third place in the league and, after next week's visit to Watford, they face top of the table Leicester City, who have nine wins and a draw to show from their ten matches, at home on the morning of the Wales v Scotland match in a fortnight.
In a first half that seemed to consist of five minute spells during which the teams alternated periods of superiority, chances were thin on the ground with the opposing number nines coming as close as anyone to breaking the deadlock. Firstly, the Coventry centre forward, who seemed to spend most of the match moaning and whinging at his team mates took advantage of the City central defences inability to cope with a harmless looking lofted pass and, having done the hard bit by controlling an awkward ball and evading a challenge he blazed over from about fifteen yards with only keeper Jordan Santiago to beat. Then, as City ended the half the stronger, a fluent build up down the right involving Wildig and Cummings gave Nat Jarvis a sight of goal – again, the initial control was good but, as defenders closed him down, the striker couldn't get a clean contact on the ball and his effort rolled harmlessly across the face of goal.
The period that decided the game was probably the fifteen minutes after half time as City got right on top to score twice without reply. A sign of things to come was seen within seconds of the restart as a fine ball from Jon Meades gave Jarvis a sight of goal, but he pulled his shot just wide. In a match which had previously been so even, chances like that one had been like gold dust, but now they came along on a regular basis for City as winger Billy Taylor, who had appeared to be suffering from a lack of confidence in a poor first half showing, started to cause the right side of Coventry's defence all manner of problems.
Taylor saw a shot turned around for a corner by the Coventry keeper, but the opening goal soon arrived when the visitors got into a mess dealing with a through ball and Ibby Farah moved into the box before confidently putting a shot high into the net past the helpless keeper. Five minutes or so later, Tayor was at it again as he waltzed past a defender before squaring the ball across goal and in the almighty scramble that followed as the ball hit the underside of the bar and bounced down just over the line, it was Nat Jarvis who claimed the goal (whether he did get the final touch or not, I haven't a clue!).
Jarvis deserved the goal anyway for another hard working display as the lone striker and he played a full part as City continued to play some good quality stuff in the opening stages of the second half with Coventry unable to cope with the forward runs of members of City's midfield five.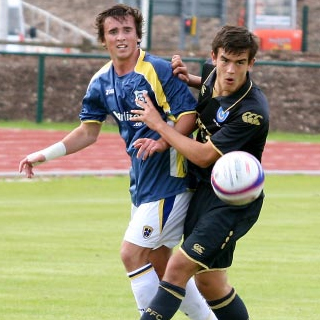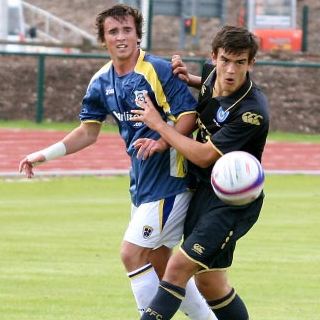 It could have been 3-0 when dominant centre back Alex Evans rose high above the opposition to meet a corner, but he could not direct his header on target. After that the game died down a bit as City began to sit on their comfortable looking lead and there was only an ambitious effort from fully forty yards from captain Wildig as he lobbed the keeper but put the ball about a yard wide which threatened to add to City's lead.
Coventry showed they weren't out of it when Santiago was forced into a good low save from a shot hit from about twenty yards out, but it was all pretty comfortable for City at 2-0 until, just as in their previous home match with Reading, they conceded a poor goal with about ten minutes left as they wasted a couple of opportunities to clear before a good cross was put in which presented the visitors with an easy chance from a header from point blank range.
Within seconds City were in trouble again as, not for the first time, defenders had problems dealing with what should have been a straightforward long ball and Stephen Last was very lucky to escape with just a yellow card when he brought a Coventry player just outside the penalty box when he was through on goal. The free kick was wasted with a shot that cleared the bar by yards and after that City were comfortable with what chances there were falling to them as Coventry pushed on for an equaliser – firstly one of the City substitutes was foiled by a great save after being set up by Taylor, but the keeper could do nothing to stop another substitute in centre back cum striker Steffan Jones when another lovely ball by Meades put him through and, for the second successive home game, the makeshift target man made scoring look easy to seal the victory.
There were lots of good displays this morning, but I must say that I was very impressed with City's threesome in central midfield. The trio had a really nice balance to them as the hard working Zac Evans sat in front of the back four and Ibby Farah used his excellent stamina to cause Coventry problems throughout the second half with his breaks from midfield. In between these two, Aaron Wildig found the room after the break to show what  a fine player he is at this level as he dictated play with good passing and some moments of quality on the ball -  in terms of league results at least, this is the best side we have had at Under 18 level since we joined the Academy structure.