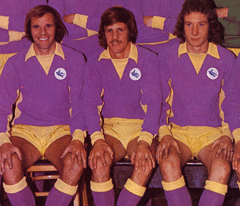 Two for the price of one this time as I recall two Ninian Park encounters with Leicester City from successive seasons in the late sixties and early seventies which both ended as draws but offered completely contrasting fortunes for a City player who became a fixture in the team over a period of six years from 1966 to 1972.
Dave Carver was signed for £11,000 from Rotherham United in 1965 and clocked up two hundred and sixty nine appearances in all competitions before leaving to join Hereford United in 1973. Although he played most of his football for City at right back, Carver also occasionally featured as a left back in the days before Gary Bell established himself in that position and during the period when we were promotion challengers to the top flight between 1968 and 1971, it was taken for granted that Carver and Bell would fill the full back slots (indeed, they only missed one league match between the two of them in the 1970/71 team which I rate as the Cardiff City side I have seen).
I can remember me and my mates giving Carver a hard time occasionally and, looking back, I think it was because we found him a bit boring when compared the ex winger on the other side of the pitch. At his best, Gary Bell was being mentioned as a possible for the full England team and a lot of that acclaim was down to his ability to almost double up as a winger by getting forward to beat opponents and knock good quality balls in from wide areas. Although Dave Carver was not like some full backs then who used to get a nose bleed if they crossed the half way line, he didn't have Bell's dynamism in forward areas and so we concentrated on that, slight, defect in his game at the expense of his strengths.
Carver (seen below wearing the number two shirt in the FA Cup Fifth Round against Leeds United in 1972) may not have been spectacular, but he was good at what a full back should be good at. A solid performer with good tackling ability, he was also, like many in Jimmy Scoular's sides, able to mix it with his opponent if needs be, but most of the time his defensive qualities were good enough to cope with Second Division wingers without needing to step outside the laws of the game. I have already mentioned the versatility which allowed Carver to play on the other side of the pitch, but he would also find himself playing in central areas when he was occasionally given a man marking role by his manager (I can remember that Carver used to drive Rodney Marsh to distraction when he did that job in matches against QPR).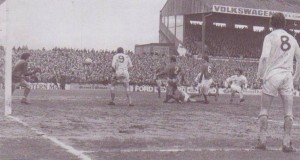 What you never expected from Dave Carver though was goals – that is unless he was scoring them in his own net and that is just what he did when Leicester visited Ninian Park on 13 September 1969 for a match between two sides who had made promising starts to the season. Leicester were something of a glamour side back then who had just been relegated from the old First Division despite having appeared in the FA Cup Final only four months earlier where they were beaten 1-0 by Manchester City.
Leicester had kept most of the players who had got them to Wembley and were generally regarded as favourites to go straight back up. With City. who were looking to improve on their fifth placed finish in 68/69, only having been beaten once in their first eight matches it wasn't too surprising therefore that the Match of the Day cameras were there to cover the game – back in those days highlights of most home Saturday matches were shown on a regionalised version of Match of the Day on BBC Wales, but this was on national television.
However, Dave Carver must have wished the BBC had chosen another game when he diverted an innocuous looking effort into his own net around the quarter of an hour mark. After that City were faced with the prospect of trying to break down a visiting defence which included ex City full back Peter Rodrigues and future England international David Nish if they were going to get on terms and even when they managed to create a chance for themselves, they then had to beat the very highly rated young keeper Peter Shilton in the Leicester goal. It took City a long time to do this, but their pressure was eventually rewarded midway through the second half when John Toshack (who was to finish as the Second Division's top scorer that season) nodded an equaliser.
A 1-1 draw probably satisfied both sides, but when City went to Filbert Street to record a 2-1 win just before Christmas it looked like they might be the better bet for promotion – especially when they went to the top of the table after beating Sheffield United 3-0 in a game played in monsoon like conditions 3-0 on January 10. However, hindsight shows that the crucial event of that season occurred just three weeks after the first game against Leicester when Barrie Jones broke his leg in a 3-2 defeat at Blackpool. The injury was so bad that Jones never played again and so in one fell swoop, City lost their main creative force.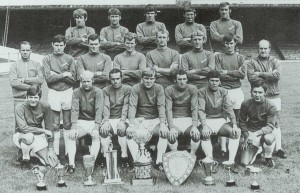 While Barrie Jones wasn't missed too much in the short term as City put together a run which saw them win nine of their next fourteen matches, his absence was clearly felt after that as only four wins were recorded from their final sixteen league games. With these matches only yielding seventeen goals and Toshack not finding the net at all after January, Jones' absence was clearly felt at a crucial time – Jimmy Scoular tried to add to the creativity in his team by signing Bobby Woodruff from Crystal Palace for £20,000 in February, but, although Woodruff eventually proved to be a fine servant to the club, he could not stop a downward spiral that saw City finish the season tailed off in seventh place.
In saying that though, City only finished four points behind second placed Blackpool (in those days you got two points for a win) so they wasn't too much wrong with the team and hopes were high for 1970/71 when Scoular added the richly talented midfield player Ian Gibson to his squad in the close season. Gibson's arrival, for £35,000 from Coventry, had the feel of a final piece in the jigsaw and he was to prove a tremendous capture as, with Woodruff also settling in, City were in the thick of the promotion race right from the start.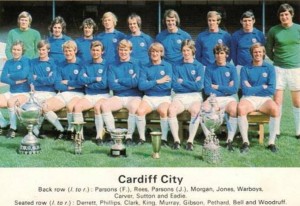 Leicester had also missed out in 69/70 as they finished two points short of promotion in third place (only the top two sides went up in those pre-promotoin play off days), so, the feeling that this could be City's year only grew stronger when Brian Clark's goal gave them a tremendous win at Filbert Street on the opening day of the campaign.
However, by the time the teams met again on 17 October, there wasn't as much confidence around – City were still doing well in fifth position, but poor home form which had seen the team win only once at Ninian Park so far was holding them back.
The game was, again, chosen for national coverage by Match of the Day and two good sides came up with a fine match, which had the bonus of late drama, provided by a most unlikely source, for the cameras. There were no after effects from a 4-3 defeat from 3-1 up by Middlesbrough in their previous match at Ninian Park as City put on a good first half showing which saw them deservedly leading when Ian Gibson converted one of only two penalties City were awarded that season.
However, it was a different story after the break as Leicester began to show why they had won five out of their previous six matches (they would finish the season as Champions). Future City man John Farrington (who was a much better player for the Foxes than he ever was with us!), levelled and veteran centre half John Sjoberg then headed the visitors in front as they closed in another win, but they were to be foiled in the dying minutes by Dave Carver of all people who fired a close range shot across Shilton for a dramatic equaliser.
Carver's effort grabbed City a point and, although he also found the net in an FA Cup win at Sheffield United in January 1972, it was the only league goal he ever scored for us. The emergence of Phil Dwyer early in the 72/73 season effectively signalled the end of his City career and, after a short time on loan at Swansea, Carver was released at the end of that campaign to eventually finish his career at Doncaster in 1976 following his spell at Hereford.
As for City in 1970/71, the story's been told often enough – just short of promotion in third place, a generation of supporters lost after the sale of John Toshack etc, etc, etc!
13 September 1969
Cardiff City 1 (Toshack) Leicester City 1 (Carver OG)
City Davies; Carver, Murray, Harris, Bell; Phillips, Jones (Sutton), Lea, King; Toshack, Clark
Leicester Shilton; Rodrigues, Sjoberg, Cross, Nisht; Brown, Woollett, Roberts, Glover; Lochhead, Fern
HT 0-1
Att 26,978
17 October 1970
Cardiff City 2 (Gibson pen, Carver) Leicester City 2 (Farrington, Sjoberg)
City Eadie; Carver, Murray, Harris, Bell; Gibson, Sutton, Phillips, King; Toshack, Woodruff; sub (not used) Bird
Leicester Shilton; Whitworth, Sjoberg, Cross, Woollett (Fern); Farrington, Manley, Kellard, Glover; Partridge, Brown
HT 1-0
Att. 26,088