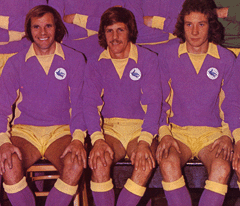 There's no point looking one of the best teams in this league for a month as we blow sides away with some superb attacking football if we are then going to follow it up with another month of woeful, characterless stuff which has you wondering where the next point is coming from.
Back in August we started the season like a house on fire – fire being the operative word because Michael Chopra's boots were too hot to handle in a game against Bristol City which saw one of the best Cardiff City performances I have seen in the past forty six years. This was followed by a fallow September which, when you consider the quality of player now at the club, contained one of the worst Cardiff City performances I have seen in the past forty six years as QPR sauntered to the easiest three points they'll get all year at the Cardiff City Stadium.
October saw Dave Jones and Peter Whittingham pick up the manager and player of the month awards respectively as eleven goals and ten points from four matches had us denied top spot only by a Newcastle goal in added time. However  another awful November (we have won only five league matches in this month in twenty four attempts since Dave Jones took over) has seen us play pretty well against Forest only to fail to see out the win, dreadfully in the South Wales derby where, yet again, the side "failed to turn up" for a big game and without ability or poise in a slog in awful conditions at Barnsley.
It's not quite true to say that the campaign can be conveniently broken down into one month slices of good and then bad results though because within September there were two very significant games which bucked the trend of that month and of our season. The first was at Reading where I maintain that the 1-0 win that night remains the only time this season when we have won while not playing well – by this stage of a campaign, sides destined to finish in the top six of the Championship will have done that on more than just a single occasion. The evidence of this season so far is that, the Reading game apart, we have to be at, or somewhere near, our best to win games and no side is going to put together a successful campaign under those circumstances.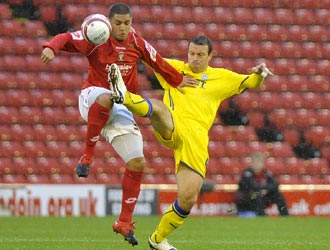 The second came in the 6-1 win over Derby where, admittedly aided by some Kamikaze visiting defending, Steve McPhail and Michael Chopra had a field day. Now Steve McPhail has far more important matters on his mind at this time than the game of football (all the best to Steve and his family at this difficult time), but there is no denying the fact that we look a far better side this season with the man who was the butt of so much criticism this time last year (I did my fair share of it as well) in there. With Joe Ledley, sadly, continuing to disappoint, we appear to have no one in our central midfield who can offer guile and creativity in the middle of the pitch – worse than that, the evidence of the past two matches in which we have played virtually no creative or assured football at all in central midfield is that, unless someone arrives on loan in the next few days, we will be seeing more of the same for the next six weeks at least!
As for Michael Chopra, it's hard to know where to start. He scored four times that night against Derby and looked as good a finisher as there is in the league. Incredibly though those four goals remain the only ones Chopra has scored in the last three months. In that time we have played sixteen times with Chopra starting in all of them except the game at Swansea and the one at Villa in the League Cup where he came on as a sub – now four goals in fourteen starts is an acceptable rate I suppose for a striker, but scoring in one game in fourteen most certainly isn't.
Back in 2006/07 during his first season with us, the team's fortunes almost exactly matched Chopra's – he made a cracking start, then went through a spell similar to the one he is experiencing now before having another inspired spell around January/February only for him to fade as the season ended. The goals of Peter Whittingham and, to a lesser extent, Jay Bothroyd mean that we are not as dependent on Chopra as we were back then, but he really needs to start scoring soon because he has just been a bit part player for us recently.
Worryingly, Chopra is no longer getting into goal scoring positions as much as he usually does and his only significant contribution in the whole ninety minutes yesterday for me was the deflection he got on Dickinson's free kick – maybe crediting him with an own goal will get him scoring again!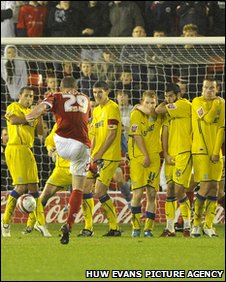 As for the team as a whole yesterday, those who like to use Mark Hudson as a scapegoat were given their chance to do so by the handball decision against him in the last minute (I thought it was a correct decision by a referee who, Quinn's booking apart, got most things right), but I thought he was one of a very few City players (Mark Kennedy was another one) who performed to a  decent level.
My opinion of Hudson is that he is nowhere near as bad as some of his critics make him out to be, but the problem I have with him is that he is not justifying his £1 million plus price tag. As the player himself has no say on the size of his transfer fee though, he isn't the one who should be blamed for the situation – it's the man who made the decision that he was worth a fee of that size in the first place who should get the stick.
When questioned about a lack of investment in the team, Peter Ridsdale, rightly, points out that we were one of the biggest spenders in the Championship during the summer with the difference this time being that Dave Jones didn't just have the option of offering players decent wages, he was also given a very significant, by Cardiff City standards, transfer kitty to spend as well. With more than a third of the season gone now, the evidence is that our manager did not make a very good job of spending that money – Chopra still blows very hot or very cold with his current icy spell having gone on far too long, Hudson is a player in the Darren Purse mould in that he is an honest trier who is prone to the occasional, very expensive, mistake, Anthony Gerrard hasn't built on his encouraging start, Paul Quinn has quickly become our third choice right back, I see Soloman Taiwo is, apparently, going to be available for transfer in January which is all you need to know about his first team contributions  and David Marshall has not been wholly convincing so far.
I see Dave Jones was blaming his players again after yesterday's match but what I don't see is any evidence of him correcting faults from previous seasons. We still have periods where we look like world beaters which are followed as inevitably as night follows day by spells when we can't string two passes together, the first goal is still way too important in our matches, we still play poorly in November and we still cannot beat teams at the top of the league – bearing all of this in mind, why should we believe that we will finish this season any better than we have done in most of the previous campaigns under this manager?
Now I am not one of those people who yell "Jones out" every time we lose and then conveniently put our winning runs solely down to the players. I still say that he has done more good things than bad during his time at Cardiff City, but I can't help thinking that a combination of  his lack of any real affinity with the supporters and his sour demeanour when speaking to many members of the local press is putting him in a position where it only needs two or three bad results on the trot to have him under real pressure.
Our manager is not helped either by the group of players he has assembled because their efforts so far this season mean that I am afraid that all of those questions posed by the last four matches of 08/09 refuse to go away. The performance against Swansea showed the same lack of character on the big occasion and the brittleness that has been present from the Arsenal replay onwards is still there.
When Sam Hammam was in charge supporters often used to say "keep the faith", well I'll always keep the faith with Cardiff City but I am afraid that I find it very hard to feel the same affection towards the current manager and group of players as I did to some of their, less talented, predecessors.
Before I go, just one last whinge – why on earth do we feel the need to wear that yellow kit so often when we play away? I know that colour is completely in character for some of our players, but we are called the Bluebirds for a reason.