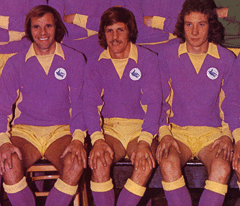 Halley's Comet becomes visible from earth every seventy five years and is next due to put in an appearance in 2061 – if the Welsh football team stick to precedent, we should see them next involved in the Finals of a major tournament thirteen years after that in 2074.
I'll be one hundred and eighteen at that time, so I suppose I have to acknowledge the possibility that events then may not make much of an impact on me, but, if they do, then I can expect to see my country's team once again make a big impression as they gloriously exceed expectations by reaching the last eight, at least, of the competition.
Yes, we may not get to these Final competitions very often, but, when  we do, Wales certainly makes waves in them! Quarter Finalists in the 1958 World Cup, Wales can now add progress to the same stage in Euro 2016 to their roll of honour and who is to say that the adventure will end after we play for a place in the last four of the competition in Lille on Friday?
However, as is so often the case when history is made, it's the achievement that will live in the memory rather than the way it came about. After swaggering into the last sixteen with that glorious display against Russia last Monday, the nature of last night's, rather fortuitous, 1-0 win over Northern Ireland means that I had to give the verb I was going to use in the title of this piece some serious thought- if Wales were like some superhero clearing a wide river with one mighty bound five days earlier, now they were like an infant picking their way carefully and nervously over a small stream via stepping stones.
Of course, there was a part of me which hoped that we would progress with a repeat of the sort of stuff that demolished Russia, but there were all sorts of reasons as to why it would have been naive and foolish to expect that to happen.
For a start, there's already been proof in this tournament that a "UK Derby" does not provide much in the way of flowing, attractive football – the participants know each other's strengths and weaknesses too well for that to be the case.
Secondly, there is the preferred method of playing for both sides. Wales may have qualified for the last sixteen as the tournament's joint leading scorers, but, essentially, they are a counter attacking team who are always happier drawing opponents on to them before using their speed and skill on the break to exploit any over commitment to attack by their rivals – although the scoreboard may have said different, in essence Russia were a goal down before they kicked off last Monday, thereby making them ideal opponents for Wales.
If we are a counter attacking team, then that applies even more to Northern Ireland whose very impressive rise up the world rankings is based on defending in numbers very deep and then relying strongly on attacking set pieces to nick a goal.
Both in terms of population and playing resources, Wales and Northern Ireland are destined to be eternal underdogs when it comes to international football. Wales are blessed currently with a world class attacking player, and a couple of midfielders who would get into the first choice starting eleven of most of the teams playing in this tournament if they were qualified for them, so this means that they can sometimes win at this level by different means than a reliance on grim defence and a good set piece game.
Northern Ireland don't have those sort of luxuries. They've become very good at what they do, they've found a way which suits them best and don't worry in the slightest if it never wins them many plaudits for their attractive football.
Yesterday, Northern Ireland's impressive manager Michael O'Neill came up with a tactical plan which, to a large degree, nullified the advantage that Wales had over his team when it came to attacking talent. Not only that, Wales were pressed in midfield in a similar sort of way to what happened against England and so, once again, we found it hard to pass the ball as effectively as we can do
Put this together with the sort of limitations that this Welsh side showed at times during their qualifying campaign and it's no surprise at all that the match turned out to be the fraught, artless and, at times, plain boring encounter that it was.
The evidence of our two matches with Andorra, the home game with Israel and, to some extent, the one against Cyprus in Cardiff was that Wales struggle when they are tagged favourites in encounters where the onus is on them to force the issue.
In a way, Wales were paying for being too good against Russia. If we had won that match with a scruffy single goal after having spent much of the time defending, then I believe most pundits would have found yesterday's game a very hard one to predict. Instead of that though, we were installed as the favourites who were expected to make our class tell – the good thing for us is that, no matter what occurs from now on, it's not likely to happen to us again in this tournament.
A couple of really telling stats from last night were that we only had one goal attempt on target all game and we didn't force a single corner. By comparison, Northern Ireland had three on target efforts and six corners, so those figures tend to back those, including Chris Coleman, who thought that they were the better team on the day.
Indeed, after a first period in which Wales never really got going, the talk among the television pundits was of how our opponents were controlling the game, but the truth as I see it is that during this period of "dominance", Northern Ireland were also demonstrating their greatest weakness.
I say this because, while they were on top, all Northern Ireland did to threaten the Welsh goal was get in shots by Dallas and Ward which drew saves from Wayne Hennessey which fell into the pretty good, but he would have been at fault if they had gone in category.
Apologies to any Northern Irish supporters who are reading this if I have missed any other moments when your team looked like they could score. but, apart from those two first half efforts and a sense of concern, which was unwarranted as things turned out, every time they had an attacking set piece, there was never a time when I thought a goal for Northern Ireland might be coming.
So, just two occasions when a goal looked possible for our opponents then. Wales were little better, but they were, very slightly,  the better of the two when it came to goalmouth action as Ramsey had a first half goal, rightly, disallowed for offside after Sam Vokes headed on to him. The same two players combined after the interval when the pass of the match by Ramsey gave Vokes a headed chance which he should at least have put on target, rather than head a couple of yards wide and then there was a free kick from Bale which drew a save from Michael McGovern which also fell into that category I used earlier when describing Hennessey's stops.
More than that of course, we scored the game's only goal. Okay, I know that, strictly speaking, "we" didn't actually score it, but sub Hal Robson-Kanu would surely have found the net if the unfortunate Gareth McAuley (who had been immense for his country throughout their qualifying and Finals campaigns) had not diverted Bale's cross in first.
The passage of play leading up to the goal represented the only instance in the game where either side was able to put together a passing movement which opened up a defence. It was no coincidence either that it was just about the only time Wales were able to get Aaron Ramsey into the sort of position (about five yards in front of the opposition line of defenders) where he caused such havoc against Russia.
Although there were more defenders around this time, the effect of having Wales' best playmaker with the ball at his feet in that sort of threatening area was the same – they were drawn towards the ball and created space down the side that Ramsey was able to exploit (see how Craig Cathcart as one of those drawn towards the ball, sees what is happening and points to the area where he knows his side are in trouble if you watch the goal again).
As you would expect from Ramsey, when what was a fairly simple pass came, it was delivered so well that Bale didn't have to break stride to get his cross in – all of his concentration could go into producing the right type of ball and, sure enough, it was played in such a fashion that it makes my earlier description of Ramsey's finding of Vokes as the ball of the match probably a wrong one!
The goal offered tangible proof of something I had been thinking of in the ten minutes or so before it came. If Michael O'Neill had gone 1-0 up in the tactical battle with Chris Coleman during the first fifty minutes of the game, then the Welsh manager had equalised, and possibly taken the lead, after making his two substitutions.
The replacement of the largely ineffective and static Vokes with Robson-Kanu and, more particularly, bringing on the mentally brave and exciting Jonny Williams for Joe Ledley had the effect of moving Ramsey (who had been guilty of trying to take too much on himself) back into central midfield where he and Joe Allen were able to get a degree of control as the effects of their pressing game caught up with our opponents.
I'm not saying that Wales deserved to win the game but, by the same token, I don't agree that Northern Ireland did either. Two extremely well matched sides battled away for ninety minutes and, for just a few seconds, the team generally reckoned to have the greater attacking threat were able to prove that this was, indeed, the case – it was as close as that.
As I watched both sides basically cancel each other in a manner which suggested a goal was never going to come, I was reminded of so many of those Wales v Northern  Ireland matches I saw during the sixties, seventies and eighties in the old Home International tournament.
Back in those days the two "also rans" of the tournament used to always play each other last, with all of the attention being paid to what was usually the title decider between England and Scotland. So, Wales v Northern Ireland games tended to finish 0-0 or 1-0 to either team with little happening at either end that passed for entertainment in contests which had little or nothing riding on them – the reason for the dull deadlock may have been completely different yesterday as the realisation of what was at stake had an inhibiting effect, but the result was the same.
Nevertheless, at a time when momentous and startling events are shaping the destiny of the United Kingdom, our team is ensuring that the summer of 2016 will be remembered for sporting events as well – forget 23rd June and Nigel Farage's Independence Day, I say we should have a day's holiday every year in this country to celebrate what happened on 25 June !
*apologies for the lack of pictures in this piece, but as the very litigious Getty Images now seem to have a virtual monopoly of the photos newspapers use, it's becoming harder and harder to find any I can put on here.