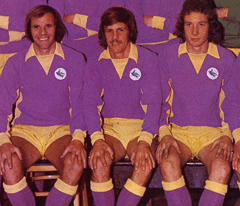 This blog will be celebrating it's first birthday within the next week, but, for the first time, contributing to it has become a chore not a pleasure. The unremitting stream of bad news stories that Cardiff City fans have had to endure this summer has to start sapping one's enthusiasm eventually and within the last week or two it's become harder for me to maintain the sort of optimism that fans of every club in the country should be feeling around this time of year.
The week just finished was fairly typical summer 2010 fare for Cardiff City fans with the slight difference being that, right at the end of it, there was a little bit of good news to to set against the torrent of negative, and at times downright embarrassing, stuff that has become the norm at the club. This was the week in which we had been told that the transfer embargo would be lifted. If it has been (and I don't for one moment think it has), no one has told us about it yet – in fact, with no confirmation that the PAYE contribution for June had been paid by last Monday's deadline, it could well be that that there are currently more reasons for the Football League imposing one on us than there were this time last week. While on the subject of PAYE and tax matters in general, when City paid off the first month's worth of the two months of late PAYE contributions they were being taken to Court for, it was reported that the 11 August High Court appearance they had been summoned to attend had been cancelled – increasingly, it's looking like this isn't the case and it seems we can prepare for another day in Court a fortnight on Wednesday unless we come up with all of the money owed.
The last seven days have also seen Dave Jones linked very strongly with the manager's job at Fulham – for some time it was generally regarded that he was the Premiership sides second choice for the job behind the Ajax manager Martin Jol, so, when Jol's club refused to allow their man to leave on Thursday, there was a general assumption that an approach from Fulham for our manager was inevitable. To date, this has not happened and it is beginning to look as if the London club are going to look elsewhere – there are those City fans who view this as bad news, but, while I can see the advantage of having a salary like our manager's come off the monthly wagebill (July's wages are due on Wednesday by the way – will they actually be paid on time this time?), I am not one of them.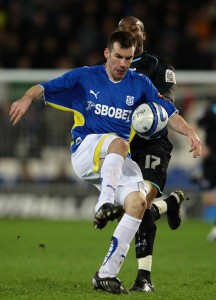 I don't know what the complete opposite of a red letter day is, but Thursday was it if you are a Cardiff City fan. First there was the Dave Jones to Fulham stuff, then Michael Chopra came out with what I would guess is a fair reflection of the mood in the dressing room at the moment as he told Media Wales about his frustrations at the lack of new faces coming in this summer and then we had Motherwell complaining on their official site about City's inability, or unwillingness, to come up with the balance owed (believed to be around £100,000) in the transfer of Paul Quinn which should have been paid last January.  It had widely been assumed that the only outstanding "football debt" issue to be overcome as far as the embargo was concerned was to do with Mark Hudson's transfer from Charlton, but it seems not and for the Scottish club to go to go public with their dissatisfaction with us over non payment of the money they are due must be a source of great embarrassment to City.
Is it just a coincidence therefore that the day after Motherwell went public, City agreed to sell Mark Kennedy to Ipswich for £75,000? To be fair, that sort of fee for a 34 year old is hard to turn down and with Ipswich prepared to offer the player a two year deal, it seems pretty certain that it will go through. If it does, then I will be sad to see Kennedy go – after a decent first season with us, I thought he was one of our most consistent defenders last year and his reaction following our penalty shoot win over Leicester meant that the word "classy" could be applied to him as a human being as well as a footballer.
The snippet of good news I mentioned at the start came in the form of Kevin McNaughton becoming the first, and I certainly hope not the last, of the nine players we have out of contract next summer to agree a new deal with the club. Of course, with our embargo almost certainly meaning that our full back cannot put pen to paper yet, it might mean that we are talking about one of those dreaded "verbal agreements" here, but I'll take any good news I can get this summer!
McNaughton was in the City side that was beaten 2-1 at Meadow Lane yesterday by Notts County and while the result in itself isn't a great cause for concern, when you put it alongside last week's 3-0 defeat at Portimonense and the general feelbad factor around the club currently, then you start to wonder. I listened to the first forty five minutes yesterday on the Official site and City only mustered a shot from Chris Burke which didn't miss the target by much in that time. On the other hand, the home side were handed two goals (after lauding David Marshall as the best City keeper I have seen last season, he has started this one with two howlers which must see his place come under threat from Tom Heaton) and that was enough for me to find something else to do for the second forty five minutes. As it turned out, I missed what seems to have been an improved display by the team which included a goal by Ross McCormack, but the fact that four of our eight subs were Academy players last season says it all about the strength of our squad at the moment.
One last thing, director Alan Whitely is, apparently, over in Malaysia visiting TG and Vincent Tan this weekend and so let's hope that we at least get an indication as to what we can expect over the next few weeks. I'm not going to be critical of the Malaysians or the people who have been brought into the club at this stage (there may not be a club now, if it wasn't for TG and Vincent Tan's money), but with CEO Gethin Jenkins' public pronouncements become increasingly Ridsdalesque, there really is a need for some clarity around Cardiff City Stadium at the moment.