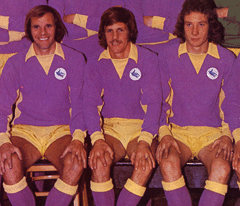 Although it's probably daft these days to start with football when summarising a week in the life of Cardiff City, I will do so and say that the team were well beaten 3-0 last night by Portugese top division new boys Portimonense as their week long stay in the Algarve came to an end. Although I have some misgivings about what all the off field shenanigans are doing for team morale, I am not going to read too much into last night's events except to record that David Marshall's worst blunder so far in a City shirt cost us the second goal and that we had a trialist playing who is supposed to have done well.
Off the pitch, one of the causes of our transfer embargo has been dealt with as the club, finally, filed 08/09 Accounts with Companies House (I am anything but an expert when it comes to analysing such things, but I have to say that they look pretty sickly to me). The problem with money owed in the Mark Hudson transfer is still unresolved but the Echo claimed yesterday that the embargo will be lifted within a week. I hope they are right of course, but the club will have to find more money this week to pay off at least part of their tax debt because their PAYE contributions for June become due in the nest day or two and I would guess that slipping two months behind again in our payments to HMRC (Her Majesty's Revenue and Customs) would see us being summoned to appear in Court again sometime in September.
Sam Hammam and  Datuk Chan Tien Ghee (TG) met in London last week for talks about the Langston loan notes debt with the club issuing a non committal statement on the matter on their website.  On the face of it, Sam Hammam would appear to be in a strong bargaining position in his attempt to return to the club in some sort of footballing consultancy role and the local press reaffirmed this in their take on the matter, but supporters' reaction to a possible Hammam return has been pretty negative so far while there is little or nothing up to now to suggest that City are minded to agree to our former owner coming back in any capacity.
Finally, Joe Ledley's move to Celtic was confirmed early last week and he has has already featured in two matches (both of which were lost) for his new club. As explained before, this is very bad news for a club with the financial issues that we currently have and I admit that the manner of Ledley's departure still leaves a sour taste in my mouth. However, this shouldn't mean that Joe's six years in a Cardiff shirt, which saw him feature very prominently in some of the best moments in our history, should be forgotten and I would like to thank him for some great memories.