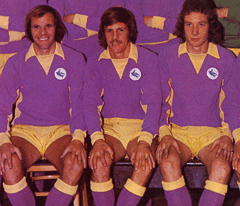 In a previous entry on here concerning the 1982/83 season I paid great credit to manager Len Ashurst for being able to put together a promotion team on the thinnest of shoe string budgets. I would now like to take that back because, at the time of writing that piece (it related to the game v Doncaster in April 1983), I had completely forgotten that Ashurst had been allowed to splash the cash like no other City manager had been able to before him – after all, at the beginning of the 82/83 campaign the club's record transfer fee paid stood at £130,000, but at the end of it, it had gone up to a whopping £200,000.
Back in the days when ITV football was worth watching, they used to run a Saturday lunchtime preview programme called On the Ball which was presented by Brian Moore from the ground of the club in the London area to be featured on the following days Big Match broadcast  (after a while you were able to recognise even the most obscure of grounds and so it was that you had an early warning of the, very rare, occasions when a City game would be featured the following day). Anyway, on one of those preview shows in the mid seventies there was a feature about a young kid who we were told was destined to be the next big thing in English football.
I think Godfrey Ingram, who was with Luton Town at the time, was about 16 when On the Ball did their feature on him and, from the brief clips we saw of him in action, he did look to be a bit special. So it was that I made a mental note to keep an eye out for the name Godfrey Ingram in the next few years not thinking for one second that I would be watching him play for City when he 22!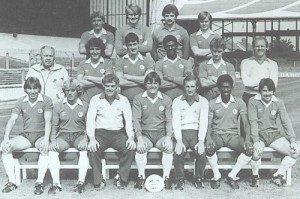 Although Ingram appeared in the Luton first team spasmodically from 1977 until his departure in 1982, it soon became obvious that (much like Millwall's Cherno Samba twenty years later), he was not going to live up to all of the hype and, after loan spells at New York Cosmos and Northampton Town (what a contrast that is!), he joined American side San Jose Earthquakes only for him then to pitch up at Ninian Park during what they call the off season over there.
Because of the publicity he had attracted as a teenager, Ingram was still something of a big name at that time, but it wasn't the player himself that attracted the attention more the fee of £200,000 that it was being reported we had paid for him. Even amidst all the fanfare from the local media in the coverage of our capture of the player being trumpeted by Managing Director Ron Jones (otherwise known as Doctor Death) as a club record signing, something about the deal just did not smell right to City fans who had grown used to any new players being free transfers or loanees in the past year. However, Ingram was there playing for us as he made his first appearance when coming on as a sub in the 2-0 home win over Sheffield United on 25 September.
With Dave and Gary Bennett already at the club, the arrival of Ingram gave someone the chance to give them the startlingly original nickname of the Three Degrees and, after two further appearances from the substitutes bench, Ingram enjoyed a run of six consecutive starts with his finest moment coming when he  got the only goal in a home win over a Gillingham side which included Steve Bruce and Tony Cascarino (I'm pretty sure that the picture below is of him scoring that goal).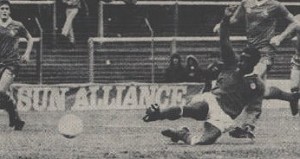 Ingram made his seventh start on the trot in the home game with Preston North End on 6 November. With the visitors struggling in the bottom four and having an away record which had seen them lose six out of seven matches, the game had the look of a home banker to it especially when you consider what a good run City were on at home – after losing to Wrexham on the opening day of the season, they had reeled off six consecutive league wins at Ninian Park.
However, despite the fact that the team were playing well and the matches had offered good entertainment, they tended to be low scoring affairs won by 1-0 or 2-0 until what was a very ordinary Preston side came along and for forty five minutes at least, it looked like City were going to score a hatful in a game played on a miserable afternoon that saw heavy rain fall throughout.
City came out of the traps very quickly and were soon well on top as they created chances aplenty. Goals had to come and it was no surprise when Jeff Hemmeman, who seemed to score in every game in those days, put us ahead with the sort of efficient, close range finish that was to become his trademark during his all too brief City career. With City moving the ball slickly around the wet pitch, better sides than Preston would have struggled to contain them and to add to their problems, the visitors also had to contend with a player who had as much natural talent as anybody they would have come up against in a league encounter that season – when Dave Bennett was in the mood, he was way too good for Third Division defences and he was in the mood that afternoon as his solo goal doubled our lead shortly afterwards.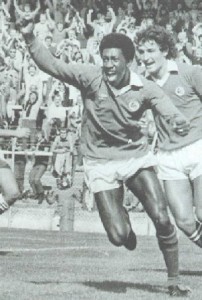 There was a further goal before half time as Ingram got in on the act with a straightforward finish and so City went in at the break 3-0 ahead with the points already in the bag. Unfortunately, the second half saw what often happens when a team establishes a big lead in the first forty five minutes as, instead of really going for the jugular, they ease off and allow the opposition to regain a little bit of respectability. In this case, visiting centreback Don O'Riordan scored the only goal of the second half and City ended up with a 3-1 victory margin which didn't really reflect their overall superiority.
As it turned out, Godfrey Ingram had started his last league match for City – doubling his goal account with us was not enough to save him from demotion to the bench for the controversial defeat by leaders Lincoln City the following weekend and he stayed there for the First Round FA Cup tie at non league Wokingham where Dave Tong's late equaliser staved off a very embarrassing defeat. Ingram was back in from the start for the replay though and scored the final goal in a comfortable 3-0 win, but within a few days had left the club as, surprise, surprise San Jose Earthquakes bought him back for a fee of, yes you've guessed it, £200,000!
So, just nine weeks after his arrival, Ingram was back playing his football in America. However, despite the fact that the whole thing had, pretty obviously, been a glorified loan deal, until Sam Hammam's arrival in 2000 saw us spending money like it was going out of fashion, the club's record transfer fee paid was always recorded as £200,000 to San Jose Earthquakes for Godfrey Ingram.
As to why Ingram didn't make anywhere near the impact expected of him, well I wouldn't say it was a lack of strength or height – from memory he was a stocky player who was a little taller than Michael Chopra. More likely for me is that he just didn't fancy the physical side of the game and this tends to be borne out by the fact that Ingram ended up playing nearly all of his remaining football in America in Indoor leagues where, as I understand it, the emphasis is on skill as opposed to the physical side of the game. Whatever the reason was though for Ingram's relatively unsuccessful career, it cannot be denied that it was a long one – he kept on playing for a wide variety of exotically named American teams until 1992 when he returned to England. So it was that, ten years after his last UK appearance in that replay against Wokingham, he appeared one final time in the Football League when he came on as a substitute for Peterborough United in a 0- 0 draw with Millwall at London Road in September 1992 and then went on to play for the likes of St Albans City and  Buckingham Town before finally hanging his boots up in 2001 at the age of 39.
6 November 1982
Cardiff City 3 (Hemmerman, Bennett D, Ingram) Preston North End 1 (O'Riordan)
City Thomas; Jones, Dwyer, Bennett G, Bodin; Bennett D (1),  Micaleff, Gibbins, Lewis; Hemmerman (1) Ingram (1); sub (not used) Tong
Preston Arnold; Westwell, O'Riordan (1), Coleman, Naughton (Houston); Kelly, Bell, Gowling, Buckley; Elliott, Bruce
HT 3-0
Att. 5,546