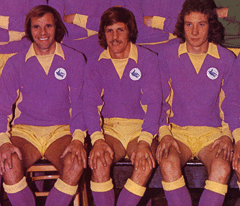 A much shorter than normal piece this time because, apart from having seen the goal, I know virtually nothing of what happened on the pitch during City's 1-0 loss at Sheffield Wednesday yesterday, so I'll just content myself with a few observations from a distance.
It's probably about three months ago now that Neil Warnock first mentioned his side "limping over the line" at the end of the season and, although recent home results and, more often than not, performances have been good, this is definitely the case away from Cardiff City Stadium. Since what was probably our best week of the season as we won successive games at Leeds and Derby (I await the confirmation that Derby have sacked the newly appointed Gary Rowett after their 4-0 loss at Brentford yesterday!), we have just managed a couple of draws at Blackburn and Barnsley (there were times when we were hanging on for grim death in these games as well) from our last five away matches. After a spell where we scored twelve in six games on our travels as we troubled teams with our pace on the break, we've managed just three in our last four hundred and fifty minutes of away action.
Neil Warnock mentioned that he was disappointed with one of his defenders for not "putting his body on the line" when trying to stop the eighty fourth minute match winner. Credit to sub Fernando Forestieri for putting his natural penchant for diving to legal use as he reacted quickly and bravely to Allan McGregor's blocking of a Jordan Rhodes shot, but our manager clearly believed Jazz Richards could have done more to prevent the goal. Warnock was probably right as well, but, as a lifelong Blade, he will always be up for any visit to Hillsborough, but was that really the case yesterday for all of our team given the position City found themselves in going into the game? I've talked about losing intensity when a feeling that a target has been reached is abroad and I don't think it's a shock to find that the desire level of the Wednesday player and the City man who could have got to that loose ball was different. If we'd had ten points fewer and lost the game under the same circumstances, then criticism of Richards would be more deserved in my book, but in matches that are decided by such fine margins, that little bit more commitment often makes all of the difference.
Wednesday are another of those teams that, from the outside at least, appear to be in danger of not complying with FFP regulations (they have signed plenty of expensive players over the past two seasons and, although I suppose I may be forgetting one or two big money departures from the club, I can't think of any off the top of my head). Their big crowds are a help of course if they are just staying the right side of the line as far as the rules are concerned, but maybe the thing which truly tilts the balance is their rip off away fan admission prices - City supporters had to pay an extortionate £36 to watch yesterday's match.
Wednesday look more solid and organised than when they were beaten Play Off Finalists last season, but it appears to me that this has come at the expense of a lot of the attacking flair they had in 15/16 and they are coming under pressure for their top six spot from a Fulham side with plenty of that quality currently. If one of the top six are to miss out, then maybe a Reading side that, incredibly for a team in their position, have conceded more goals than they've scored might be the ones to do so, but Wednesday don't look as good a bet for promotion through the Play Offs as they did to me last season – at those away fan prices though, I hope they prove me wrong!