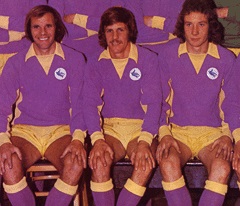 After starting their season with a losing Sheffield double (the 2-1 home loss to Wednesday on 14 August was followed up by a 3-0 beating at Sheffield United on Monday), City's Under 23 Development side got their first points of the campaign yesterday afternoon at Leckwith when Crewe were beaten 2-1.
While the win was a deserved one with City dominating in terms of possession, pressure and territory for long chunks of the game, the relative lack of action for Jussi Jaaskelainen's son Will in the Crewe goal gave the clue that, for all of the home side's superiority in other facets, they didn't really translate into many on target goal attempts – Jaaskelainen senior is still without a club by the way, having been released by Wigan at the age of forty two at the end of last season.
City's side at Sheffield United had featured some unfamiliar names including defender Matt Makinson who played a few matches for us at the end of last season on trial and has presumably signed a contract for us now following his release by Blackburn in the summer. There were also three trialists in Monday's side with Deigo Poyet, who had also played against Wednesday, joined by David Attah and Ufumwen Osawe at right back and on the left wing respectively.
Poyet was missing yesterday, so I'd assume his trial period has ended without him being offered a deal (he wasn't too impressive when I watched him against Wednesday), Attah, a nineteen year old right back who has played for PSG Under 19s and Lorient B, and Osawe, another nineteen year old who was released by Bayer Leverkusen at the end of last season, were both there with Makinson in yesterday's team.
City started pretty brightly and soon had Crewe on the back foot as a series of crosses from their right in particular rained in on the visitor's goal. However, as mentioned already, it was all almosts and not quites from the home team until Mark Harris (named in the Wales Under 21 squad for their matches during the upcoming international break along with team mates from yesterday, Cameron Coxe and Rhys Abbruzzese) hit a shot from twenty yards which beat Jaaskelainen all ends up and rebounded back off the crossbar.
Shortly after that, City had what looked to be a good claim for a penalty when Makinson I believe it was, was held back as he went for a corner turned down, only for referee Robert Massey-Ellis to point to the spot a few minutes later when a much more innocuous looking offence, which also looked like it might have occurred outside the penalty area, gave Crewe the chance to take the lead completely against the run of play.
I should say here that I was sat close to a hundred yards away from where the alleged offence took place and so I'd normally think the ref had a better view than me and accept his decision, but Massey-Ellis' decision making struck me as being erratic all afternoon and so that makes me less inclined to give him the benefit of the doubt.
Whatever the merits of the decision, Lewis Reilly beat Oliver Byrne from the spot as City kept up an unwanted record of conceding the first goal in all of the matches so far. However, with three quarters of the match left, there were few reasons to think that the team were on their way to another defeat if they could keep up their performance level of the opening twenty odd minutes.
That said, there was still that lack of a killer instinct in front of goal to consider, as City were able to get so far without too many problems before they had one with the final ball/shot. Perhaps, part of the explanation as to why there was so little in the way of an end product came from the fact that, although Harris, leading the attack after Ibrahim Meite's loan move to Crawley was announced yesterday, is about six foot tall, his strengths lie more in having the ball played into his feet than in the air and many of the stream of crosses coming in were gobbled up by the Crewe central defenders.
Keiron Proctor, being used in a number ten type position, isn't really built to prosper from high crosses either and so, the realisation began to dawn that an equaliser wasn't really the inevitability that it might have seemed at first.
Indeed, Crewe looked as if they may reach half time with only that Harris shot off the bar to have put them in serious danger of conceding, but, then with just two minutes left of the first period, two of the Wales Under 21 call ups combined to get their team on terms. Harris played Coxe into space and the teenager, who had made his first team debut in the week and was being used here as a winger rather than his normal full back position, showed a good level of finishing ability as he shot across Jaaskelainen and into the far corner of the net from around fifteen yards.
Most of the second half followed the same pattern as the first with Crewe far more occupied with defending than attacking. Proctor had not done badly, playing for an hour as he makes his way back from what I can only presume was a serious injury that kept him out for the large majority of last season, but he was replaced for the last half an hour or so.
The absence of Waite, who had made a big impact at this level last season, from our opening matches this season has been a bit of a mystery to me, as has been he complete absence from Under 23 squad of Sion Spence, who was considered good enough to have been on the bench for the first team in their final game of last season, only for "insurance reasons" to deny him that opportunity, and yet he has played all of his football in the Under 18s so far in 17/18.
One of Waite's strengths is that his goal attempts tend to be on target and, so when a Crewe player was robbed by the corner flag by Osawe, and the ball was worked to the sub on the edge of the penalty area, I knew there was a good chance that Jaaskelainen would be called into action for one of the first times in the game. As it was, the keeper did have to make a save, but it was a pretty easy one as the shot lacked power.
Still, at least it was an on target effort to put alongside the ones which were flying high, wide or not too handsome – Coxe was not too far away with another angled effort and there was more in the way of scrambles and shots than in the first half, but there still weren't the good chances that you would have thought would have been inevitable with all of the pressure the Crewe goal was being put under.
Indeed, with the visitors now beginning to look threatening on the break themselves, the possibility of an away win had to be considered as City's back four were often left pretty exposed as Crewe came forward with increased confidence.
The game now had the feel of one which was going to produce another goal at one end or the other and it duly came with five minutes left when Harris got in a fierce shot from the right side of the penalty area (most of the good attacking play from City had Harris involved in it somewhere along the line) which Jasskelainen was able to save, but could only knock out into an area about two yards out from the centre of goal. For a while, it looked to me as if the keeper would be able to recover and fall on the ball, but it was Osawe who reacted quickest to tap in possibly the simplest goal he's ever scored.
The remaining minutes were seen out with few alarms by City and one of their trialists had a match winning goal to back up his claims to be given a contract by the club. However, in truth, although I thought Osawe did okay, it was the other trialist, Attah, who impressed me more. He seemed to me to be caught out defensively now and again, but he was quick, decisive in his tacking and very keen to get forward – with Callum Paterson now getting involved in full training (he still a few weeks away from playing a game according to Neil Warnock mind), we are going to have even more strength in depth in Attah's position, but he's the one who has impressed me most out of the trialists we've had at Development team level in these early weeks of the season.