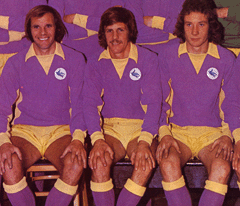 Back in September 2004, City Under 18s played their second home match as an Academy status club when they entertained Charlton Athletic. Charlton were a Premier League club back then, but City were no respecter of reputations that day as they sent their so called betters packing to the tune of 4-0.
Cameron Jerome scored three of the goals, while Joe Ledley shone in midfield and within a few days, they were both playing first team football with their Academy "careers" over almost before they had begun.
Academy football was all a new experience then and it would have been easy to conclude that Charlton were a club that did not excel at youth level, but, eleven years on, I know better than that -any City team that can beat Charlton at Under 18, or Under 21, level will have to have played well to have done it.
There have been a few City victories down the years (a 3-2 win for the Under 21s at the Valley after being a couple of goals down and a Youth Cup win at the same ground thanks to a great free kick by Jamie Veale spring to mind), but it seems to me that there have been a lot more defeats.
Unfortunately, the current crop of Academy scholars never really looked like bucking that trend at Leckwith yesterday lunchtime as they subsided to a 3-1 defeat against a good Charlton team with the two goal victory margin being a pretty fair reflection of the balance of play.
Given all of the rain we have had lately, the pitch was in surprisingly good condition, but the elements still played a big part as a strong and bitter Northerly wind made it tough to play any sort of controlled football.
However, with defenders, if anything, looking more ill at ease in the conditions than attacking players, the match began in very lively fashion with the feeling being that there would be goals aplenty in the game. City were the first to threaten as Keiron Proctor got around his marker out on the right and pulled back a good cross which saw the resultant shot deflected over the bar.
Shortly after that, the Charlton keeper plunged to his right to keep out a well struck effort from the edge of the penalty area following a corner, but, at the other end, the visitors began to offer evidence of the more assured football that would characterise so much of the remainder of the game.
Charlton were the sharper team in so many ways with some well worked corners and free kicks showing an inventiveness from dead ball situations when compared to City's more basic approach which, to be fair, worked well enough for the one goal they scored.
The visitors also were keen to take quick throw ins, the first of which gave their striker Terrique Anderson (a fine prospect on the evidence of this match) a chance to do what he did throughout the ninety minutes – give City's central defenders a thoroughly uncomfortable time of it. Anderson turned inside captain Rollin Menayese and past fellow centre back Bodenham before shooting into the side netting.
Anderson's run had been down the left, but it was on the other side of the pitch that Charlton attacked next as a fluent passing move down the right saw two attackers free on the far post when the cross came in. It looked a certain goal and would have been, but for a fine save by Scott Coughlan.
It was looking ominous for City, but, in these early stages, they were looking dangerous when they got the chance to attack and they could count themselves pretty unfortunate not to score during a hectic two minute period which started with a twenty yard shot by Mark Harris which was tipped over.
From the resultant corner, a defender headed on to his own crossbar and over and the next corner saw Elvis Menayese head wide from what was a fine chance.
A goal was coming at one end of the pitch or the other and when it did, it was courtesy of that quick thinking at free kicks and corners from the visitors I mentioned earlier as a short corner was worked to Alex Willis on the edge of the penalty area who netted with a crisply struck low shot.
From then on I'm afraid City lost that threat they had carried going forward and they must have been grateful to go in at the interval just the one down as Anderson created a great chance which was carelessly fired over the top from eight yards out by Charlton's number ten and then used his acceleration to burst clear for a shot which drew a marvelous save from Coughlan.
At half time I decided to wander over to watch the Under 16s for a while on the adjacent pitch. I was told that, early in the second half, it was still 0-0, but, to be frank, it was one way traffic in the fifteen minutes I watched – during this time, the visitors scored what turned out to be the only goal of the game.
I arrived back at the Under 18 match with the second half about ten minutes old and play held up while a Charlton player (I believe it was the goal scorer Willis) was being stretchered off wearing an oxygen mask. Within minutes an ambulance had arrived for the stricken player and, by then, City had equalised when right back Shane Parry powerfully headed in a Lloyd Humphries corner.
1-1 with about half an hour to go and everything to play for, but the brutal truth was that, from about the twenty minute mark onwards, there had been one team who had been able to come to terms with the awkward conditions, while the other had, increasingly looked like a bunch of individuals and this pattern was to continue right until the end.
It didn't take too long for Charlton to regain the lead as their substitute Sarpong-Wierdu flicked the ball up and volleyed from fifteen yards – Coughlan got a hand to the shot, but couldn't prevent the goal.
Shortly after that, the diminutive Henderson was given the space to run at the last defender. The result was inevitable – Rollin Menayese was beaten easily and Coughlan given no chance as the ball was calmly placed wide of him.
City had one or two chances to reduce the deficit after that, but Charlton saw things out pretty comfortably to record an impressive win.
Just going back to that match eleven years ago to finish, I mentioned that Jerome and Ledley were soon in the first team after it, but that side also included Joe Jacobson who has made a decent career for himself in the lower leagues.
This leads me to ask a couple of questions, first, would a seventeen year old Ledley and an eighteen year old Jerome be in the first team in a fortnight's time if the score yesterday had been 4-0 again with a Jerome hat trick and a strong Ledley showing? From what we've seen of Russell Slade so far, surely the answer has to be no.
Following on from that, and to defend our manager somewhat, the second question is, were there three players in the City team today who will be able to rack up 1,000 senior appearances between them like Jerome, Ledley and Jacobson have done? Again, the honest answer has to be no, but I'd qualify that by saying that this year's squad includes a lot of players new to Under 18s football and I would be hopeful that my second question could draw a different answer in a year's time.