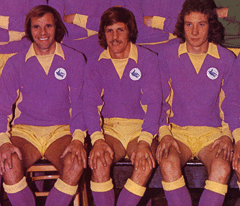 After our draw at Barnsley in midweek, I pointed out that Wigan Athletic would have to win all of their remaining six matches, and us lose all of ours, if they were to have a chance of finishing above us  - in essence, they had all but joined relegated Rotherham in filling two of the three relegation from our perspective.
Well, a goal from one time "Wonderkid" Nick Powell seven minutes into stoppage time provided the first of those Wigan wins as Rotherham were seen off by 3-2. It was a significant win for last season's League One Champions, but City's come from behind 2-1 victory over Brentford meant that if Wigan do stay up, it will not be at our expense.
If the winners of the level below us have found life in the higher tier such a struggle that they will, in all likelihood, be returning from whence they came in a few weeks time, the Barnsley team that "scraped up" through the Play Offs have never looked in any danger of going down. By ending their eight game run without a win at Blackburn yesterday, the Tykes have put that club into the same situation as Wigan found themselves in a few days ago. Rovers now need to win all of their remaining matches, and us lose all of ours, if they are to stand a chance of getting past us – even then, their goal difference of minus sixteen and ours of minus two would have to drastically change in those five games for them to finish above us.
Blackburn are now without a win in seven matches, so it is unlikely in the extreme that they are going to suddenly put together a five game winning run now – even if they do, if we avoid defeat at Sheffield Wednesday on Friday, they can't catch us. Blackburn face absolutely crucial matches over Easter as they first of all go to Forest on Good Friday and then entertain Bristol City on Monday, but no matter what happens in these games, we are now as safe from relegation as is possible for it to be without it being mathematically so.
However, you only needed to be at Cardiff City Stadium for about thirty seconds of the first half of yesterday's match to realise that the thought of a possible relegation was far from the minds of anyone with City's best interests at heart.
I've always liked the word "soporific", don't know why, but it's a word I've turned to often throughout my adult life when I am describing a particular kind of atmosphere or feeling. Of course, it's not a word that I ever want to apply to my football team, but I couldn't get it out of my mind during those first forty five minutes as we went through the motions in the sun with the crowd generally not feeling involved enough to get too annoyed at what they were watching.
City had roused themselves for a spell which lasted about five minutes midway through the half during which they had Brentford on the back foot and it was during this time that Junior Hoilett fired a fairly straightforward chance over the bar from about ten yards out. However, apart from that brief interlude, it was typical end of season fare really with the visitors, buoyed by a run of three successive wins, gradually taking control as they won second balls all over the pitch and generally provided what little good football that was on show.
Allan McGregor did very well to keep out a close range header by Yoann Barbet, but when Sergi Canos stylishly side footed the visitors ahead on forty two minutes, it felt to me like a goal that had been coming for a while.
To be frank, the half time interval couldn't come soon enough for City and as they dominated the early stages of the second half, I'm sure I wasn't the only supporter who remarked that the team must have been read the riot act during the break.
Neil Warnock's post match press conference proved me right, but not really in the manner I expected it to. With trademark honesty, our manager, who it needs to be remembered had said that he needed to be woken up to make it to the, largely meaningless, Sunday morning FA Cup tie with Fulham in January, admitted he finds it hard to motivate himself for end of season matches that have little or nothing riding on them.
The obvious comment that arises in response to such an admission is, if you can't get up for such games, how can you expect your team to? However, Warnock answered such a response before it came because he revealed that he had told his assistant, Kevin Blackwell, to give him "a kick up the backside" if he thought his boss was "slacking".
Presumably, that is precisely what Blackwell did, because the difference in attitude became clear within a minute or two of the restart as Kadeem Harris went on a long run down the left which eventually forced a corner that was nodded in at the far post by Sean Morrison for the equaliser.
It was City's first goal direct from a free kick or a corner for a while and it was no surprise that it coincided with a return to the starting line up for Peter Whittingham. The veteran had been deployed in an advanced central midfield area that has come to be known as the number ten role in recent years and it's a position that many of Whitts' backers in the fanbase have wanted to see him occupy as the mobility, which was never the strongest suit of his game anyway, has deserted him with the passing years.
In truth, Whitts was pretty anonymous in the opening forty five minutes, but now, as City produced a fairly steady stream of crosses into the Brentford box, the man who is still our best, and most perceptive, passer tended to be involved somewhere along the way.
Morrison, Hoilett and Gunnarsson were all denied from headers by keeper Daniel Bentley, who I can remember being very impressed by in a Newport v Southend match I watched three years ago, and, if there was one single reason why I thought our win was a deserved one in the end, it was provided by the BBC stats for the match. They showed that, although Brentford had more efforts at goal (fifteen to our fourteen), we were far more impressive than our opponents when it came to getting those goal attempts on target.
Twenty nine goal attempts is evidence of how much the match opened up after the interval, but, that save from Barbet I mentioned earlier apart, McGregor generally had a fairly quiet time of it as only two of Brentford's goal efforts were on target. By contrast, Bentley was kept more busy than most visiting keepers are when they come here, as an impressive ten of our attempts were going in until he, or one of his colleagues, intervened.
While City never sank to their first half depths, the storm that rocked Brentford straight after the break had blown itself out to a large extent by the time Whittingham made his most decisive contribution of what I'd rate as his best forty five minutes in a City shirt for some time.
I'll always remember Dave Jones saying that he was confident City were going to score in their Fifth Round game with Wolves on their way to their FA Cup Final in 2008 when he realised it was Peter Whittingham who had been put through on goal against Wayne Hennessey inside the first two minutes. Our former manager's inference was that it was one of the best and most composed finishers at the club who had been presented with an opportunity that many would have made a hash of.
Whitts has kept on scoring as the years have gone by, but the nature of his goals have changed now, with the large majority of them coming from penalties, along with the occasional spectacular long shot and free kick – it's easy now to forget how good a finisher he was when he used to find himself in the opposition penalty area far more often than he does now.
Funnily enough I was reminded of this a few minutes before his goal when the again impressive Joe Bennett I think it was+ chipped a clever ball through to an unmarked Whitts  about fifteen yards from goal. It wasn't the easiest of volleys to perform, but it still came as a surprise for someone as talented as Whittingham to take a complete air shot at the ball – a lot of the shock I felt was down to that player at the club probably best equipped to execute such a technique had messed it up so much, but there was also the feeling that, such is his finishing ability, he probably would have scored if he had connected properly.
Whittingham again found himself in space in a similar position in the seventy sixth minute, but with an easier ball to control this time. The problem for him was that his shot would have to be with his weaker right foot when it came, but it made no difference as the ball winged unerringly into the corner of the net – the finishing ability is still there alright, even if he gets a lot fewer opportunities to demonstrate it these days.
Before I leave the subject of our second goal, I should give two of our other players credit for their part in it. In both cases, the men produced qualities that aren't always obvious when watching them play. First there was a patience from Harris as he worked to get himself the best opportunity to cross and then, when it came, Kenneth Zohore revealed an awareness and aerial ability that demonstrate the improvements in his game over the past four months as he provided the assist.
I'll finish on this game with Whittingham though by saying that it seems to be generally accepted now that the contract he has been offered is on significantly lower pay than he currently gets and, even if he does eventually sign it, the likelihood as I see it, is that he will be something of a bit part player for us next season. So, the long line of memorable Whittingham moments that have delighted City fans for more than a decade may be very close to their end – yesterday offered the hope that there may still yet be a few more to come though.
Finally, I'd love to have been able to have described a great fightback by our Under 18s after all of their struggles in recent weeks as they came back from 4-1 down to draw 4-4 with Nottingham Forest in their final game of the season yesterday, but I cannot because there was no sign that a game was about to take place as I turned up at Leckwith at the designated kick off time of 11 o clock.
Here's a link to the page on the club's website which shows Academy fixtures and results this season and it is still showing yesterday's match as an 11 o clock kick off – I don't know what time the game did eventually start, but it was not the time the club is still saying it should have done so.
Therefore, I missed my third home Under 18 match of the season. Of the others, I was always going to miss one of them (Millwall on 21 January) because of a prior commitment, but I didn't make the first league match of the season (Hull on 13 August) because the fixture list showed it as an away game (and is still doing so now!) , despite it being played at Treforest.
Futhermore, and at the risk of sounding a total nerd, that fixture list shows the last two away matches at, Coventry and Watford, as being won 2-0, when, in fact, both of them were lost by that score. I usually do a kind of end of term report on here for the Under 18 and Under 23 sides in which I name my player of the season for them, but any end of season report for off the pitch matters when it comes to our Under 18 side has to read "not good enough, must do better".
As for on field matters, one of the scorers yesterday, Sion Spence, has had his moments, while Sam Bowen, who got two against Forest (Cai Williams scored the other one) including a spectacular long range equaliser apparently, would probably have been a contender if he had not missed so many games (presumably through injury) and I like what I've seen of Isaak Davies. However, it's been hard for these younger players (they're all still currently eligible for our Under 16 side) to shine consistently in a team that has struggled so much against mostly older opponents, so I am going to go for someone who only played for the Under 18s in the first half of the season. Jarrad Welch has been playing for Cinderford Town on loan since the turn of the year, but he was excellent in many of the Under 18 matches I saw him in before Christmas – he produced the best football I've saw from a City Academy player in 16/17.
*picture courtesy of http://www.walesonline.co.uk/
+having now watched the highlights of the match on the club website, it was another Joe, Ralls, who played the pass.