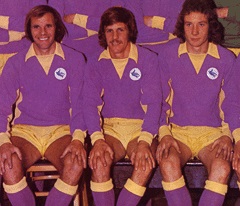 Before yesterday, the previous time City visited the Stadium of Light, they'd suffered a 4-0 hammering late on in our Premier League season. As the saying goes, City needed snookers to avoid a relegation that had seemed fairly inevitable to me for a couple of months already after that, but the manner of the defeat (even if Juan Cala may have been a little harshly sent off) meant that there would be no miracle escape – indeed two more losses consigned us to not just relegation, but also a bottom spot finish.
However, down the years, we've done pretty well on Wearside. The first game I can remember us playing at Roker Park ended Sunderland 0 Cardiff 4 in 1971, a City team struggling badly in the league got a 1-1 draw up there in an FA Cup replay in front of 39,000 (we earned ourselves a Fifth Round tie with Leeds by winning the second replay at Maine Road) in 1972 and it was 1-1 again when we visited the then FA Cup holders and big promotion favourites early on in the 73/74 campaign.
Late in the 78/79 season, a City side in good form went to Roker Park and, essentially, cost Sunderland promotion by winning 2-1 in front of 37,000 and, although the venue may have changed, the scoreline was the same when Michael Chopra's brace of goals gave us a Halloween night win at the Stadium of Light in 2006.
After that last game, City went five points clear at the top of table and long suffering supporters like me were beginning to allow themselves to believe that the almost half century wait for top flight football in Cardiff was coming to an end.
However, hindsight shows that our win that night was, probably, the high water mark of that season as decline set in to such an extent that the early pace makers found themselves in the middle of the chasing pack (we finished thirteenth) by the time the season ended six months later.
If City "enjoyed" something of a collapse that year, I'd still say that Sunderland's turnaround was more dramatic as Roy Keane's strugglers, they were right in the relegation mix after their loss to us, transformed themselves into Champions over the final three quarters or so of the campaign.
So, after we had ended our run of three games without a win with another 2-1 triumph which kept us in a three way tie with Leeds and Wolves at the top of the Championship (we're only in third place because of the superior goal difference of the former and the fact that the latter have scored one more goal than us), is it possible that both teams can have a 2006/07 type transformation eleven years later?
The first thing to say about that is that, with more of the season left to play than there was in 2006, the change in fortunes for either team would not need to be as dramatic to see us end up in thirteenth and Sunderland top – as to whether it's likely to happen, I'll come to us later, but it's hard to see any reasons for hoping for the same outcome this time around if you are a Sunderland fan.
When they beat us so easily back in 2013/14, Sunderland were on their way to defying the convention which said that the side who were bottom of the Premier League at Christmas always ends up getting relegated – only Earnie's 2004/05 West Brom side had managed to wriggle clear from such a predicament before.
At that time, the future for Sunderland going into 2014/15 looked a bright one, but, instead, their Premier League existence became so fraught that their relegation last season seemed an inevitable one – indeed, it could be claimed that it was two or three years overdue.
So, Sunderland prepared for their first season at this level since that 2006/07 campaign with a long run of failure, broken only by the fleeting joy of a relegation avoided, behind them. Not only that, there was also the knowledge that their 2016/17 season had looked like a lost cause for much of it's existence.
Although they managed to remain fairly competitive during the first half of the campaign, Sunderland only won two of their last twenty one matches and, while the fact that they only finished four points behind last but one Middlesbrough meant that they could not be classed as candidates for worst Premier League side ever, the margin of sixteen points between them and seventeenth placed Watford was all the proof needed to see that they were a long way short of being even a mediocre top flight team.
With David Moyes' latest attempt to regain the managerial reputation he had enjoyed at the time he was named as Manchester United manager having ended in another failure, Sunderland appointed Simon Grayson early enough in the summer to give him a decent chance of starting the new season with something like his own side.
With Grayson having turned Preston into unlikely Play Off candidates in the two seasons since he guided them to promotion in 14/15, he had added to his reputation as something of Championship expert and, rather like with us and Neil Warnock, his appointment looked an eminently sensible one by a Board that had hardly distinguished themselves in the field of managerial appointments in recent years.
I still think Grayson will get things right at Sunderland if he is given the time, but I'm pretty sure he didn't think his new job would be as tough as it's turning out to be – after all, when you look at the squad they had out against us, it doesn't strike me as bottom three material.
However, every season there seems to be a few sides (e.g. Blackburn, Coventry and Leyton Orient last season) that, no matter what their squad may look like, have a "culture of failure" about them which makes relegation almost inevitable. We had it last season until Neil Warnock's appointment because, no matter how abjectly we performed under Paul Trollope, ours was a squad that was some way off being one of the three worst in the league and Sunderland do need to snap out of things quickly if they are not to become one of those sides who find themselves playing League One football some fifteen months after they were performing in the Premier League.
One thing Simon Grayson needed to do was turn around a home record that had not seen Sunderland win after Watford were beaten 1-0  a week before Christmas last year, but, instead their lowly current position is primarily down to them continuing their awful home form – after a mildly encouraging 1-1 draw with Derby in the first game of the Championship season, Leeds, Sheffield United and Forest had all come to Wearside and won before yesterday.
Now, I had read that Sunderland had been unlucky in that trio of games, because in each of them, they had competed well only to be foiled by some fine goalkeeping, but they didn't even have that consolation to cling to yesterday as City showed something of a return to form after their recent "wobble" and, by the end, only the most one eyed of Black Cats supporters could claim that the outcome wasn't the correct one.
After having said that he should have made changes for the visit to Preston some three days after playing at Fulham, our manager surprised many by making just the one alteration (Craig Bryson for Loic Damour) for the visit of Sheffield Wednesday last weekend, so I for one assumed that, injuries permitting, it would be same again at Sunderland.
Instead, Lee Peltier, who is picking up yellow cards at such a rate that he already only needs one more of them to receive a one match suspension, after his uncomfortable afternoon against Wednesday was missing as Jazz Richards was given an overdue start. In the event, it later emerged that Peltier's absence from the squad was down to injury, but Sol Bamba, rated as an eleven out of ten last weekend by Warnock, was on the bench and came on for the last few minutes, so the selection of Bruno Manga in front of him could not be put down to injury.
Similarly, Junior Hoilett only saw some action yesterday from the seventieth minute when he replaced Liam Feeney who made his first Cardiff start at the expense of the Canadian international and, even Kenneth Zohore, the man the club were saying would not be sold for less than £30 million a few weeks ago would have missed out if Danny Ward had not contracted a virus on the day before the game.
Now, Zohore needs a goal and is not playing as well as he was a month ago, Hoilett's form has also suffered after a scintillating start to the campaign and, for all of Bamba's inspirational qualities, there have been one or two chinks in his armour showing lately, but I'm pretty sure that all three of them would be in Warnock's strongest starting eleven if he was picking one today.Sometimes it's hard to detect a difference between someone being "rested" and them being "dropped", but I would argue that Hoilett and Bamba were rested yesterday, as would Zohore have been if Ward was fit.
It would be wrong to say that City walked all over Sunderland yesterday. There was a time shortly after they had scored following Sean Morrison's penalty area trip on Lyndon Gooch, when the opportunity was there for the home side to go on and win against opponents whose belief after recent results will have not been at the same level as it was in August.
Instead though, City produced exactly the right response to this setback by reasserting their earlier authority as they reacted, not by shutting things up and trying to turn one point into three by playing on the break, but by taking the game to Sunderland at a time when they might have been allowing themselves to think they could exploit the opportunity for a turning point in their campaign.
To mix my regional stereotypes up, I think Neil Warnock uses a bit of the old blarney at times as he says things for public consumption that he may not believe himself – all managers do it to differing degrees – and I must admit that his frequent claims that his bench for this season is as strong as he's ever seemed like just a way of keeping morale up among those who were not starting every week.
However, when you consider some of the players who aren't even getting into the eighteen regularly, others like Lee Camp, Callum Paterson and Kadeem Harris who I would have thought will be on the bench at least when they recover from long term injuries and the ones who were missing with minor knocks yesterday, then you have to concede that our manager might mean what he is saying this time.
Even allowing for Sunderland's somewhat fragile psyche, it is impressive that City could go there while making the sort of changes they did and still win relatively comfortably. If Sunderland truly have not been getting what they deserve from their home games because of the performance of visiting goalkeepers then it's a claim they could not make this team as Neil Etheridge had a very quite time of it – City were the better side and passed the ball better than they have been doing lately.
As someone who has been concerned about our passing for large parts of our last two home games and also in the match at Preston, I noted with interest this story from the local press during the week. Hardly surprisingly, Neil Warnock was questioned on the subject in his pre game press conference and responded in fine style as he related how he was once asked by Norwich Board members about the Warnock style of football – he admitted to not knowing what this meant, but asked if they were talking about winning or having more shots than your opponents!
Nevertheless, I'm sure that he will have been pleased by the better passing on show yesterday and delighted about the twenty goal attempts (seven of which were on target) that his side had as they consolidated their position near the top of those respective tables – for the record, we are second to Brentford in both charts.
If I could second guess what those Norwich Board members meant, I would have thought something like our first goal at Sunderland would exemplify at least some of it,as a goal kick by a keeper was headed on by the target man to another attacker who passed the ball on to the scorer who put it into the net.
The whole thing was all pretty basic football and so could attract the sort of patronising attitude that things like set piece goals can attract- sometimes I'm guilty of this as well. However, there are skills involved in the sort of goals from free kicks and corners that we've been pretty good at scoring in recent years and there certainly were instances of good skills, technique and footballing intelligence to admire in our first goal.
First of all, Etheridge landed a sixty yard goal kick on the head on the head of Zohore which the striker (who is often, rightly, criticised for not being as good in the air as he should be) flicked into the path of Nathaniel Mendez-Laing. The winger's goals may have dried up recently, but he is the one of what was a rampant front three in August who is maintaining his level of performance best through September and here he showed that he has the skill to go with his pace and power as he hooked a first time pass on to Craig Bryson who had timed his run to perfection to get beyond the last defender and guide a fine volley into the net – I timed the whole thing from Etheridge making contact with his goal kick to the ball hitting the net on this video and it took nine seconds.
Bryson showed an appreciation of the art of "third man running" attacking midfield play that I don't think any other member of our squad possesses in scoring his first goal for the club and, in doing so, offered evidence of something that had been missing from our play without me realising it – again, more than at any time since we were relegated, we have a squad capable of coping with all eventualities.
If there was a criticism of yesterday's display, it was probably that we had to rely on the game's second penalty (finally, Morrison was on the right end of one of those decisions when the man marking him thinks just grabbing our captain as a cross is coming in constitutes legitimate defending) to secure our win, when there were sufficient chances from general play to have done so. I've mentioned before that, Joe Ralls never fills me with confidence when he takes a penalty, but he still has a one hundred per cent record from the four he has taken and, last time I looked, that was as good as you can get!
So, that's our away games over until after the next international break. We now face table topping Leeds on Tuesday (apparently, twenty five thousand tickets have been sold for this game already) and then the perennially highly fancied Derby (who signed Joe Ledley on a contract until January last week) next weekend – two more real tests in a run of very tough looking fixtures, but only at Preston in our last four games have we not revealed the differing qualities this squad has which makes me believe that a Cardiff fade out to a thirteenth place finish is about as likely as Sunderland title win in 17/18!