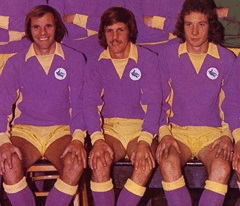 Often, they may be scrappy, bitty and dull, but I've grown to believe that if one scoreline defines successful teams, especially in a league like the Championship, it is the 1-0 win – this applies even more so when the victory is gained away from home.
I have seen some criticism of our display in winning 1-0 at Burton yesterday in our season opener which, it seemed to me, was based on the theory that a team like Cardiff should be blowing a relegation favourite like Nigel Clough's team away – I think this is wrong thinking for all sorts of reasons.
Firstly, apart perhaps from the promotion challenge that hardly ever felt like one which was our 2015/16 season, we've been decidedly mid table, with a performance level worse than that much of the time, since we were relegated three years ago. During that time, there have been plenty of games I've gone to with an expectation that we would win, but not by playing incisive and entertaining attacking football that our opponents couldn't cope with – the last time I occasionally allowed myself to think like that before a match was during the time of Dave Jones' mercurial Chopra/Bothroyd teams and I was invariably proved to be wrong when I did so.
No, even when we were winning this division, we've tended to be grinders who wear our opponents down by securing single goal victory margins – it's not been in the nature of recent Cardiff sides to put together performances, especially away from home, which frighten and intimidate our rivals.
Secondly, the Championship as a whole is not that type of league – a look at the results in this first round of matches should tell you that. With just Bolton v Leeds to come, there have been two matches won by two goal margins (Bristol City's 3-1 win over a Barnsley team that has had the heart ripped out of it by the departure of so many of the players who made them the league's most eye catching side in some ways last season and QPR's surprising 2-0 victory over beaten Play Off Finalists Reading), but the other nine matches  have all finished with one of two scores – there have been six 1-0s and three 1-1s.
Finally, there has been just one away win up to now and the eleven games so far have seen just five away goals scored – for us to have scored one of them, the only one that has ensured three points, is a reason for optimism, not criticism.
Just because we've been able to make what appear to be some canny signings on the basis of the very limited evidence we have so far which should mean that we will carry more of a goal threat, it doesn't follow that the essence of what Cardiff City Championship sides have been since Malky Mackay's appointment six years ago is going to change – especially under a manager who has set his sides out to play in a certain way over a very long career like Neil Warnock has.
Rather like it would be for us if we were able to secure a return to the Premier League, the object of the exercise for a team like Burton Albion in the division they find themselves in is survival pure and simple – we may be operating with a budget that is dwarfed by many of our rivals in this league, but by being able to spend a modest £3 million this summer (according to our manager), we must seem like the very definition of opulence to them!
Given those circumstances, it was terribly bad luck for Burton that they lost their club record signing, Northern Ireland international striker Liam Boyce, whose twenty three goals for Ross County made him the Scottish Premier League's leading scorer last season, to a cruciate knee ligament injury in their pre season programme which will keep him out for most of the campaign
The absence of the man who was carrying so many of the Brewers' goal hopes for 17/18 leaves Nigel Clough with the headache of trying to add to his forward options before the transfer window closes, with a major part of his budget already spent and there were some hints that Burton may be Craig Noone's destination, if and when the winger who has become surplus to requirements at Cardiff does move in August. Burton were in for Noone back in January it seems, but my guess would be that, if he did join up with them now, it would be in a loan move which may well see us paying some of his wages.
So, I think it's entirely fair to say that our new goalkeeper Neil Etheridge and the men in front of him were going to face sterner tests in the future than the one Burton were likely to present yesterday, but their 2-1 win over Leicester in their final pre season game offered proof that Burton did have a goal or two in them and so the news that Warnock had opted to start with a trio of centrebacks in Sean Morrison, Bruno Manga and Sol Bamba didn't come as a complete surprise.
Playing a back three with Lee Peltier as one of the full back/wing backs looked like a cautious selection on Neil Warnock's part, but I'd argue that it showed respect for both the Championship and a Burton team that was good enough to survive fairly comfortably at this level last season.
Rotherham were the exception, rather than the rule, by the way they became tailed off at the bottom of the Championship last season and, even if they do go down this year, I would expect Burton to be competitive and resilient for much of the campaign.
Mention of Morrison earlier takes me on to his post match interview yesterday in which he remarked that Assistant Manager Kevin Blackwell had told him and his fellow defenders that any side looking to win promotion from the Championship should target at least fifteen clean sheets over the course of a season. This almost one in three rate compares to the virtual one in four Morrison and co kept last season with their eleven and, to be honest, there weren't many times when they looked like conceding yesterday as the home side managed just the three goal attempts, none of which were on target.
So, while it's way too early to start drawing any conclusions yet, a clean sheet in our first match is at least a promising first step in that journey towards collecting fifteen of them, but, as the time went by and we laboured to make the breakthrough in a match we were largely controlling (we managed more than five times as many goal attempts as our hosts did as we fired off sixteen efforts at their goal), I found myself comparing what was happening with our opening match of last season.
With hindsight, the 0-0 draw at St. Andrews against a Birmingham side which had flirted with the Play Offs in 15/16 under Gary Rowett, represented one of the high spots of Paul Trollope's brief and ill fated spell in charge.
On that day though, we missed a golden chance which fell to the man who was supposed to be our main source of goals over the coming nine months, but that scuff from about three yards out by Frederic Gounongbe came to be a metaphor for team, player and manager in those desperate opening weeks of 16/17.
One of the most damning football statistics I've heard lately is the one that says we have not yet scored a goal in a competitive match while Frederic Gounongbe has been on the pitch for us. Of course, it's harsh and wrong to blame him entirely for this, but that miss seemed to have such a huge effect – if he'd scored and we'd won 1-0, how much different would things have turned out for him and Trollope over the past year?
Gounongbe was replaced for the last twenty minutes that day by another player we'd signed permanently during that summer, but the opinion that Kenneth Zohore could be any more than a bit part player for us looked ludicrous a few days later when he gave a miserable performance in a League Cup defeat at Bristol Rovers.
Yesterday though it was Zohore who was the forward on the pitch with the big reputation, it was Zohore who had been the subject of unsuccessful seven, or possibly eight, figure bids in the last few weeks and it was Zohore was scored the fine goal which settled the game – credit of course has to go to the player for this, but the man who has made the big difference at Cardiff in the past year was someone stood on the touchline watching who'll be getting his state pension paid into his bank account some time soon!
Neil Warnock is the man who has got Zohore consistently playing at a level that he couldn't reach under Trollope and Russell Slade, but yesterday the Yorkshireman offered another example of what we saw on quite a few occasions last season despite his complaints about the lack of squad depth he had.
Even when we were short on numbers last season, Warnock showed an ability to change games with his substitutions that his immediate predecessors found almost impossible to match – for example, the match against Wolves when we first saw the "new Zohore"and  the games at Bristol City and Derby.
My pre match prediction yesterday was for a low scoring draw, but, if Warnock's team selection may have suggested he'd gladly take a 0-0, what he did in the sixty fifth minute showed that this was not the case.
Although, on the face of it, the introduction of Loic Damour in place of Lee Tomlin was indicative of more caution on the manager's part, it needs to be measured along with the other alteration, which saw the three centreback formation broken up as Manga was withdrawn for Nathaniel Mendez-Laing. As a pair of changes, they definitely signaled a positive intent.
Switching to a back four with Damour given licence to get forward and Mendez-Laing and Junior Hoilett (replaced by Danny Ward for the last fifteen minutes or so) supporting Zohore improved a City team, which had been doing okay as Tomlin gave hints of what he can bring to us, that little bit needed to help turn the one point they had into three.
Damour provided the assist for the eighty seventh minute matchwinner with a neat little flick on the edge of the Burton penalty area and generally reinforced the positive impression he created in his pre season matches. However, with his pace, size, power and no little ability on the ball, Mendez-Laing, the free transfer signing from Rochdale who arrived with little or no fanfare, has so many of the assets needed to succeed at this level and the more he plays, the more I find myself thinking that he could turn out to be a very shrewd addition to the squad indeed.
Mendez-Laing, Damour and, the already proven at this level, Danny Ward appear to be good options to have coming off the bench for a top half Championship side. When you further consider that Jazz Richards, Anthony Pilkington and Greg Halford were all unused subs and that we are missing Lee Camp, Matt Connolly, Callum Paterson and Kadeem Harris (out for up to three months with the ankle problem which forced him off last week against Livingston), then we look like a better balanced squad with more depth to it.
I think I've mentioned before on here that I'm as optimistic about the arrival of a new season as I have been at any time since our relegation, because we appear to have added more goal power to a squad which, take away those first eleven matches under Trollope, achieved results which would have established us in the top ten. If we can defend a little better (judging by the post match comments of Messrs Morrison and Warnock, a lot of work has been put into trying to cut down on the number of late goals conceded compared to last season), then I'm hopeful we'll spend most of the coming months more concerned with what's happening at the top of the league than the bottom of it.
That said, although I still have a sneaking feeling that we may see one more "big" signing before the window closes, I don't doubt that the division will look more daunting on 1 September than it does now, because a Championship transfer market which has been quieter than expected up to now will surely become more frenetic as millions are spent by clubs that are already feeling under pressure with the season just weeks old.
It's daft to talk about crises after only one match, but I bet supporters of Middlesbrough, Sheffield Wednesday and, possibly, Reading and Birmingham, are feeling a little mutinous after opening day defeats. Also, Aston Villa will come here next Saturday already under a bit of that pressure I talked about after dropping two points at home against Hull in a game which left manager Steve Bruce talking about the "Achilles  heel" his team still has that has been present since he first came to the club.
That was the tough thing about City having the match that they did to kick off their campaign. People who are being a bit sniffy about yesterday's match will be saying "it's only Burton", but just imagine the sense of deflation if we had been beaten. There was a thread entitled "Burton game is huge and must go well." on the City messageboard I use this week – how could we have coped with only a possible one hundred and thirty five points still left to play for if it had finished 1-0 instead of 0-1!
.