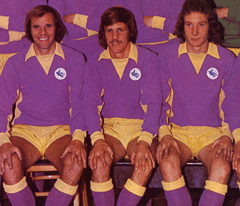 Although the large majority of this piece is going to be about Russell Slade's time in charge, I'd like to start with a few words about the other men to have had managerial responsibility at Cardiff City during the season just finished.
I mentioned before on here that when City led Norwich 2-0 after about half an hour on September 13, Ole Gunnar Soskjær must have felt pretty good about life - his side were playing as well as they had ever done under his tenure and looked well on the way to notching a third consecutive home win to begin the season with. An hour later, after four unanswered Norwich goals, all of the doubts about him remained and, after Middlesbrough held on to the lead they gained in the first minute with few alarms at Cardiff City Stadium the following Tuesday, he was less than twenty four hours away from leaving the club.
What tends to be forgotten by some now is that the official version of events had Ole not being sacked, but leaving by mutual consent – he and Chairman Mehmet Dalman citing a difference in philosophy as the reason for the manager's departure. At the time, my assumption, and that of quite a few others I think, was that Ole had left because he wasn't happy with the notion that a Director of Football type role was going to be created at the club (call it what you like, but I still believe that someone with a foot in both camps so to speak, is desperately needed to act as a buffer between the administration side and football side at the club) , but I'd now say it was more likely that he didn't fancy enforcing the cutbacks in the wage bill that were being insisted upon by the owner.
Ole left with his reputation damaged having been a complete failure as Cardiff manager in the Premier League and there hadn't been much evidence at the lower level that things were going to improve for him as his gigantic squad were limping along in seventeenth place when he departedt. As for Scott Young and Danny Gabbidon, they did okay in the league with a win, two draws and a defeat, but a disastrous home defeat by a largely second string Bournemouth outfit in the League Cup was a sure sign of the need for a permanent appointment.
So Gabbidon, never a natural for a management job in my opinion, returned to his role as rarely used squad member when that appointment was made and Young found himself earning a considerable promotion from his position under previous managers at the club when he was appointed the new man's Assistant. It's fair to say that Young has had credibility problems since then with fans, quite reasonably in my opinion, asking is it right that someone with a managerial CV that includes just AFC Porth and Port Talbot Town should be second in command at a club where a challenge for promotion to the Premier League is the expectation both in the Boardoom and among the fanbase.
This brings me on to Russell Slade and I believe any attempt at a fair and objective assessment of the job he has done over the past seven months should first try to establish just what he was working with when he first arrived at the club – was Russell Slade handed "the best squad in the history of the Championship" as per that now notorious Wales Online article or was it, as some Slade defenders now say, an outfit on it's way to relegation?
The easy part of that question is to totally dismiss the best squad ever claim, but bookies made us favourites and it was unusual to see us placed outside the top six in any of the pre season predictions by various pundits. On the other hand, while we were winning the title a couple of years ago, Wolves were proving that it is possible to drop from the top to the third tier in successive seasons and Cardiff was a club with all sorts of problems (not least a largely disconnected  fanbase).
I don't present my own thoughts as some sort of binding arbitration on the subject (I'm just as likely to be wrong on the matter as the next person), but I never believed we were as good as most thought and expressed a concern that if lessons hadn't been learned from our season in the Premier League and we did not become "streetwise" as to the nature of the Championship, then I could see is finish in a lower mid table position (I mentioned sixteenth). In reality though, I expected us to finish somewhere like eighth – for me, a finishing position of eleventh is an under achievement given the players we had over the course of the season especially because I strongly feel it flatters us given the general level of performance from the team between August and May.
Hardly surprisingly, Russell Slade wastes few chances to raise the examples of clubs who have continued on the downward path and ended up in what is now League One (or even dropped lower) and is almost presenting the fact that we will be playing Championship football next season as some sort of triumph.
If the spectre of relegation is one foe our manager believes he has overcome (all but one of the sides he came out with like Leeds, Southampton and Forest spent at least one season in the Championship before the relegation that followed their drop from the Premier League mind, so I'm not sure how he claim that it won't happen some time in the future because it didn't happen in 14/15), I believe he faces a much tougher fight when it comes to winning around what I believe to be a fairly large proportion of supporters who have been against him right from the moment his name was first mentioned in connection with Cardiff. Now, I can sympathise with those who feel that way to the extent that a manager who has no real playing pedigree in the game and who has never managed at this level on a full time basis before in a twenty year career hardly appears to be a natural choice for a recently relegated from the Premier League club with an, apparently, ambitious billionaire owner.
Slade makes much of his more than seven hundred matches as a manager and it's true I suppose that he must be doing something right to keep on getting jobs in the game, but those 700 plus games don't look so impressive when you qualify them with the rider that they do not include even one game in which he has experienced what it is like to be a promotion winning manager.
However, with many of those who were saying back in October that Cardiff was too big a club for someone like Russell Slade being old enough to remember times when City were what seemed like permanent fixtures in the third and fourth tiers, it seemed to me at the time that there was a degree of arrogance involved in the way our new manager was not even being given a chance to prove himself.
This, together with my natural affiliation for underdogs had me defending our new manager at first and, even now, I feel I have to point out that Russell Slade has won more Championship games than he's lost as Cardiff manager, he's had to oversee a cost cutting exercise that has left the squad looking weaker now (on paper at least) than it did before January's transfer window, he's had two important players leave on loan for "business reasons" and yet he still finished the season with five wins and just two defeats in our last ten matches.
With all of that it mind, that's doesn't look that a bad record to me. In fact, I can't help thinking that a more high profile manager than Slade would not be getting all of the flak he attracts if they had a record like that at Cardiff and yet…….
Until this season, I'd always thought of myself as someone for whom the result was everything – I can remember criticising those City fans who were moaning about the lack of entertainment during the first few months of our Premier League season because I thought it was unrealistic to expect points and entertainment in a league where we were underdogs nearly every time we went on to the pitch. However, in 14/15 I came to the realisation that I do want to be entertained to some extent when I watch my team play – I have Russell Slade to thank for that, although I doubt it if he would be too happy about that.
When I think of all of the poor football I've seen down the years from City teams, it really does bring into some sort of perspective how mind numbingly boring we were to watch at Cardiff City Stadium from the period late November to the end of the season – yes, there was the occasional decent display by City (Bournemouth and Blackburn spring to mind) and I'm always aware that the general downbeat mood there is about the club these days can be an influence when judging what you are seeing out on the pitch, but some of the stuff I watched either side of Christmas was absolutely awful kick and rush (actually forget the rush bit, speed was something you never really got to see from a City team during this period).
From that Blackburn match I mentioned onwards, things did improve a little in terms of the football we were trying to play, but it was somehow typical of Slade's reign so far that the credit for this tended to go more to newly appointed coach Paul Trollope than the manager – to me this is a little unfair, because if Slade was ordering us to play the long ball crap we saw against the likes of Reading in the Cup, Derby and Brighton, then surely he would have cracked down on any attempt to play what I regard as football.
There were encouraging signs at Forest on Saturday of better to come as some neat pass and move football played at a decent pace opened up the opposition pretty often in open play, but it's one thing doing that to dispirited opponents on the final day of the season and another completely doing it to fully motivated opponents in August – I'd also say that our manager and a CEO no doubt worried about dismal season ticket sales would have been ever so grateful for even the merest hint of such fluent attacking play at Cardiff City Stadium.
That's the thing I still don't quite understand about our manager – I can remember another win by a Slade team at Forest when his Yeovil side overturned a two goal deficit in the First Leg to stun the home team to the tune of 5-2 in the League One Play Offs a few years ago – Yeovil counter attacked in devastating fashion that night while playing some nice passing football, in much the same manner as I saw his Leyton Orient side do in the Play Offs last season when they saw off Peterborough and should have beaten Rotherham, but Russell Slade's Cardiff shows nothing to suggest they have  anything like that in them – indeed, the slowness of the passing in general almost suggests that such play is discouraged.
In the past I've given our manager's marks out of ten when doing end of season pieces like this, so, although his results weren't really bad enough to justify such a low marking, I'll give Ole 3 and Young and Gabbidon 5 – as for Russell Slade, he's already done that himself. Although I'm sure that there will be plenty of City fans who think anything between 0 and 4 is more appropriate, I'll go along with our manager's own judgement and give him 5, with a concern that this is as good a mark as he'll get even if stays at Cardiff for as long as Dave Jones did.
Regular readers of this blog may be aware of the contributions of Dai Woosnam who, invariably has something to say in the comments section about the stories that appear on here. I'm pretty sure Dai would agree that he and I differ about quite a few things regarding Cardiff City, but I can't help thinking he will be proved right when it comes to Russell Slade. Dai is an exile who lives in Grimsby and remembers our manager's spell in charge of that club – when he was first appointed at Cardiff Dai contacted me by e-mail or through this site and said, based on what he had done at Grimsby (where he is pretty highly regarded by the locals) Slade would be able to stabilise things, but prove incapable of being able to take the club very far forward – based what I've seen this season, that sounds about right to me.