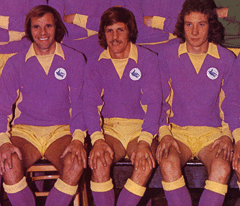 I've mentioned before on here that sometimes you can go along to a match expecting it to be a certain type of encounter and be proved completely and utterly wrong – yesterday's 1-0 home defeat for Cardiff City at the hands of Norwich turned out to be a case in point.
Before the match I'd been ignoring the fact that we never win both games when the fixture computer deems that we should play at Cardiff City Stadium twice in a week (actually, it's not quite true to say we never win twice in a week at home, but it happens so rarely as to make virtually no difference) and was predicting a win.
My reason for this had more to do with our opponents than us really, because, given their financial and playing resources, Norwich have been big under achievers this season. Albeit from a distance, they have struck me as the sort of team who can be very good once they get the foot on their opponents' throat so to speak, but they'll be the ones to take the first backward step when faced by a team which stands up to them mentally and physically – that's to say, a bit like we were around those years when the noughties were turning into this decade.
Norwich's away record going into yesterday's game said so much about the team they have been – three wins, three draws and eight defeats, with goals let in at a rate of two a game and with a five conceded at Brighton, a four at Newcastle and threes at Reading and Birmingham.
Those figures suggested that there was a brittleness to this Norwich side that a home team putting in what I'd call a typical Warnock display could exploit – I saw us winning 2-1 and, if that didn't happen, my next strongest prediction was 2-2.
In other words, I was expecting it to be quite an open and entertaining affair with Norwich coming here and showing a positive attitude. I couldn't have been more wrong, because, for the first time this season, Norwich were able to record one of those, grim, 1-0 away wins that so many promotion campaigns are founded on – to emphasise the point, it was only their second clean sheet in an away game.
After a period early on when we began to look like we were getting on top as Kenneth Zohore forced John Ruddy into a routine save with a header, Norwich were able to keep us at arms length for the majority of the first half and then grab the vital goal just before the break. We had a go in the second half and put our opponents under a lot of pressure. but there'd always be a Norwich defender there to win a vital ball, get a good block in or earn his team a free kick.
Indeed, we were even able to win the possession stats as the BBC rated it 57/43 in our favour. So, it would appear that, finally, Norwich may have discovered the defensive resilience needed to net them an immediate return to the Premier League.
Manager Alex Neil enthused about his team's ability to "win ugly" after the game and, with a visit to a Wigan side who have turned the 1-0 home defeat into something of an art form during their last two seasons at this level on Tuesday, the chance is there for his team to show him that they have turned a corner.
However, if I were a Norwich fan, I wouldn't be getting too carried away, because I'd need more evidence yet that my team's previously porous defence has discovered the knack of keeping clean sheets away from home.
As I watched us huffing and puffing away in the second half without forcing Ruddy into serious action until the game's last ten minutes, I was asking myself whether it was Norwich's good defending or our lack of quality as an attacking force which was consigning us to what was quickly beginning to look like an eighth loss on our ground in all competitions this season?
There is certainly a case to be made that it was more the second of these options than the first, because, let's face it, games like yesterday's have been a common experience in 16/17 for City season ticket holders haven't they.
It rankles with me that, week after week, we have less of the ball than our opponents, but it's even more galling to see that when we finally do have more than fifty per cent possession, the only thing it tends to do is lay bare some of our weaknesses.
To be fair to Norwich, it was only after they scored that they adopted a defensive approach – they were hardly gung ho when it was 0-0, but Allan McGregor was forced into two good saves from Cameron Jerome in the first half. However, when they invited us to try and break them down in the second half, we lacked the wit to do so as well as the ability to get sufficient players into their penalty area in open play,
While you can watch other teams in this league where full backs spend more time near  their opponents penalty area than their own in home games, full backs are very much full backs at Cardiff and, on the rare occasions they may find themselves close to the opposition's bye line, what they produce hardly ever inconveniences defenders,
So, essentially, we are reliant on our front six for our attacking from open play. With us almost always playing with a single genuine striker these days, it usually means that one of those six (Aron Gunnarsson mostly) is more of a defender than an attacker and so a player whose strengths tend to lie in areas other than having the ability to open up defences with a single pass, has a limited contribution to make in an attacking sense.
In essence, therefore, we have more of a front five than a front six. Two of those five are wingers – Neil Warnock tends to use them as wingers, rather than wide midfield players, as well, hence the pitch, effectively, is made wider by the presence of two attacking players on either touchline.
I'm generalising here, but, for me, it's in most "proper" wingers' DNA that they must be inconsistent performers with their performance levels often varying wildly from game to game – the word "mercurial" could have been invented with wingers in mind!
Hence, there is always the feeling that you never know what you are going to get from a winger and I'd say both of ours have had more influential days lately than they did yesterday. That's a little harsh on Junior Hoilett mind who, as on Tuesday, started well, before becoming less of a factor as the game went on. Nevertheless, I was surprised to see him taken off when he was, because he struck me as the most likely of our five attackers to do something "off the cuff" that would shake Norwich out of their defensive comfort zone.
Kadeem Harris, having a frustrating first hour of the kind which gives the critics who feel he is not worth a place in the team plenty of ammunition, seemed the more likely candidate to be withdrawn for Craig Noone to me, but, as it turned out, he became more of an influence after that as he featured in two of the only four instances I can think of where it felt like we might score.
I'll address the two penalty claims that we had later, but, with Norwich dealing well with our free kicks and corners with few alarms, the only two sights of their goal came late on when Sol Bamba headed too close to Ruddy from a decent opportunity and when Noone slalomed past two opponents to work himself into a position where he probably should have scored. Ruddy's save from Noone's shot fell to Harris on the corner of the six yard box, but, when calmness and clear thinking was required, he produced a wild effort that flew high and wide.
That one incident encapsulated another attacking problem we have – if are going to play a system which can be described as 4-5-1 or 4-3-3, then the two wide attacking players need to come up with  a lot more goals than they do currently. If we say that two of Hoilett, Harris or Noone  are the specialist wingers we are going to use most often, then the two goals they've managed between them this season is nowhere near enough.
In one of his interviews last week, Neil Warnock talked about how he and his coaching staff had been working on getting our wingers into the sort of areas Kadeem scored from at Ashton Gate. So, at least he was in the right type of position as Noone was coming in from the other flank, but having seen him finish well during his time as a consistent scorer for the Development team, it was especially disappointing to see how Harris dealt with what was a great opportunity.
While I think our wingers deserve criticism for their lack of goals, I've got sympathy for them when they find themselves in a crossing position for a couple of reasons. First, if we accept that most crosses will be played in the air, yesterday only emphasised again that they have little or nothing to aim for because, although he worked as hard as ever and showed some neat touches when the ball was played to his feet at times, our main target man was turning in another performance where those contributors who talk of his lack of aerial prowess will feel vindicated.
City play a lot of high balls from the back and, as mentioned previously, a few crosses in the air come in his direction every game, but, as things stand, a ball in the air is effectively handing possession back to our opponents. I still say that, to get the best out of Zohore, you need to play it to his feet, but he needs to make life more difficult for centrebacks if we are going to continue with an aerial approach.
The second reason I sympathise with Hoilett, Harris and Noone is that, far too often, they only have Zohore or, possibly, the winger on the opposite flank as potential targets for their cross.
Perhaps a central midfield three of Gunnarsson, Joe Ralls and Peter Whittingham can be effective away from home, but when we are playing at Cardiff City Stadium in circumstances like we saw in the last half an hour yesterday, we need much more than they can offer in terms of getting themselves into goalscoring positions and offering themselves as targets for our wide players.
Whitts wasn't far away from connecting with a Hoilett cross around the hour mark, but I'm struggling to think of another time when we had someone making the sort of run that, say, a Jordon Mutch (who scored for Reading yesterday in the first game of his loan spell with them) would make a as matter of course.
If I was doing a kind of school report on City so far, it would read something like
Goalkeeper – too many used, relationship with defence has suffered
Defence – generally sound.
Midfield (defence) – pretty good
Midfield (attack) – poor
Wingers – okay, but should do better
Striker – improvements made, but still not good enough in comparison to other clubs
If you go beyond the players available yesterday, then Anthony Pilkington looks such an influential player for us – the fact that he has been present for much of the time during a season of struggle which could still end very badly for us, proves he's not a complete answer to our problems by any means, but, certainly at home, I believe he is the man best equipped to play a number ten type role, he's also probably the player who will score most for us this season.
Even with Pilkington though, we look short of goals and an attacking threat and, as Warnock hinted in his post match press conference yesterday, we probably need to prepare ourselves for a few more matches like the Norwich one in the remaining three months of the campaign.
Just a quick word about those penalty claims. There's always a split second between when a ref blows his whistle and he produces a yellow card for diving when you think he's given a penalty and my reaction at that time was to think that it was a harsh decision on Norwich. So, it didn't look a penalty to me, but then I'm not sure Rhys Healey dived either. As for the second one, I'm going to have to do a Wenger and say I didn't have a great view of it and couldn't really tell one way or another.
However, as I was seated directly behind the linesman and only about ten yards further from the incident than him, I fail to see how he could claim to have clearly seen the defender involved make contact with the ball when Harris went down under a challenge – I'll watch the highlights on Cardiff City World with interest later today.
I just want to say a few words on Cameron Jerome to finish on yesterday's game. I must say that I've always found the attitude of many City fans towards him very puzzling. Yes, he did make some comments just before he was sold that he'd have been better off not making , but he was only nineteen at the time and I defy anyone to say that they never said or did anything that they later regretted when they were that age.
This is a player who, together with Jason Koumas, did the most to turn what was a team many thought were heading for relegation in Dave Jones' first season with us into unlikely Play Off candidates. This is a player who had been picked by the club (he was also hung out to dry by them in some respects as well) as the one to be sold during the summer of 2006 to fund the arrival of stalwarts like Chopra, McPhail and McNaughton and, if, as was claimed by one of the many who queued up to have a go at him on the BBC Wales Phone In last night, he did say that Birmingham were a bigger club than us at the time he signed for them, then, as a newly relegated club who went straight back up in his first season at St. Andrews, he was only telling the truth.
Also, although I didn't see it myself, this is a player who did an Ayatollah to the Canton End at the final whistle while also applauding them and I think I heard it said on the phone in that he had thrown his shirt to them as well.
Jerome also stood with City fans supporting the team at Leicester some eighteen months after he had left us and so I just don't understand why he was, and still is, so unpopular.
Yesterday's Ayatollah after he scored for the fourth time in four games for Norwich against us was not a particularly clever move. However, he was being booed by some right from the first whistle and, as someone who saw him tapping his head after scoring and was far more concerned about his goal, rather than his supposed lack of respect, I find it amusing that supporters who would have booed him if he had failed to respond to a chant of "Jerome, do the Ayatollah" are up in arms because he did the gesture that we normally like to see from our former players.
Just a few words about the Academy games which preceded the Norwich match to finish. I watched the first half of the Under 18s match against Coventry at Leckwith and it was obvious that, at 3-0 down,  they were heading for a heavy defeat. For a while they played a neat brand of passing football which Coventry could not match, but, with all of our age group teams having, effectively, stepped up a level since Christmas, this was, to all intents and purposes an Under 16 team and, after conceding a poor first goal, they rather fell apart once they went 2-0 down against much bigger and stronger opponents.
I later found out that we were beaten 7-0, which means that, since the shake up instigated by Neil Warnock, we have had two thrashings at Under 18 level (we were also beaten 6-0 at Charlton) to go with a 1-1 draw against Millwall and a 1-0 win at Colchester. So, there is evidence that a team which only contained Sion Spence (who went off at half time) and Isaak Davies who I recognised from previous Under 18 games I've seen can compete against their seniors and this is a group who were doing very well against the teams of their age that they played before Christmas.
Hopefully, the players will learn and develop as they face older teams over the coming months, but it has to be a delicate balancing act with them at the moment, because I think I'm right in saying that this is the group who Russell Slade and Ken Choo were so enthusiastic about in their meeting with Trust members about a year ago and you wouldn't want to see them suffering a series of thumpings because they have been thrown in the deep end when they weren't quite ready.
Of course,  the Under 16s will now have plenty of below age players as well and they found themselves under a lot of pressure as I watched the final half an hour of their game. In truth, Coventry had the chances to have won the match while I was watching, but there were no goals scored and, so, assuming the bloke who told me that it was 2-2 when I turned up was right, they ended up with a good result.
*picture courtesy of http://www.walesonline.co.uk/