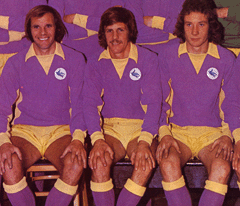 I believe Neil Lennon mentioned he did not want his Celtic side to "do a Cardiff" sometime towards the end of the 2010/11 season (they promptly went ahead and did so, as Rangers ended up with the Scottish Premier League title!). This was after City had lost 3-0 to Middlesbrough at home thereby enabling Norwich to take the second automatic promotion spot a few hours later.
That's the first time the term was used I think, but a much better example of "doing a Cardiff" came a couple of years earlier when City enabled Preston to pip them to the last Play Off spot by virtue of having scored one more goal than us as we only managed to take one point from our final four matches.
I only mention this now because we finished up with seventy four points in 08/09 and that figure has some relevance after yesterday's fine 2-1 victory at Nottingham Forest took us into the first international break of the new season in fifth place with nine points taken and no defeats suffered from a first five matches which were widely reckoned to be very tough when the fixtures were announced in June.
More than that though, the win by the river Trent confirmed that City have been able to carry on their good run of form into the new campaign. In fact, when you look at the stats, merely describing our end to last season as "good" doesn't seem to do it justice.
City's league record since they ended January with three consecutive defeats (four if you include the awful FA Cup loss at home to Reading) is an impressive one;-
P 23   W   9   D   10   L   4   f   29   a   24   Pts   37
This is where that seventy four points figure becomes relevant because, if this form was repeated over the course of a whole season, that is how many points we would end up with -seventy four points have been enough to secure a top six finish in four out of the other nine seasons in the last decade.
The number of draws and the pretty low goals scored figure offer the clue that we may not have always been great entertainers since January, but when you think back to the ways in which confidence at so many levels at the club had been damaged by more than a season and a half of ineptitude on and off the pitch, that becomes more understandable. Morale was so low that it was always likely that any improvement was going to be of the slow, gradual variety.
However, a couple of things should be noted here. First, after a bland 1-1 draw at Sheffield Wednesday and a mind numbing 0-0 home stalemate with Brighton to begin February, the quality of football on offer in the 1-1 draw with Blackburn in the next game was a big improvement on what had gone before. It signaled a shift away from the long ball garbage we'd been seeing for the previous three months ago – by and large, this change of emphasis was continued through to the end of the campaign.
The second point is that, having seen four out of our first six competitive matches, as well as the pre season win over Watford, I would say that only one of them (AFC Wimbledon) was a throwback to last season in terms of general entertainment value and quality of football played.
City manager Russell Slade supported Forest as a youngster and so I'd imagine that he takes satisfaction from having notched up a trio of freakishly similar wins over them in his first year in charge at Cardiff. Each of the matches have finished up 2-1 and, in every case, we have been 2-0 up and looking comfortable before a very late Forest goal saw us having to endure a nervy ending to the match.
The most impressive thing about last week's win over Wolves for me was that we never gave our opponents a sniff once we went 2-0 up, but it's not always going to be as comfortable as that and every time we manage to see out a fraught last few minutes like we did yesterday, it's another small step along the path to where we were a few years ago when we used to be a real power in this league.
Besides those couple of Internationals which could see Wales achieving qualification for France 2016 before City play again, yesterday was the last match we'll play before the transfer window closes and, despite optimistic noises about David Marshall staying, the possibility that an important member of the squad may have left by the time we entertain Huddersfield cannot be discounted.
Speculation regarding Kenwyne Jones is still floating around, while others may see that players like Bruno Manga and Craig Noone are not in the starting line up currently and be tempted to test our resolve with a bid for one of them. There was a time when if "insiders" at the club were saying no one was leaving when there was still a couple of days before the window closed you'd believe them, I'm not certain the same applies now.
So, it's just a case of wait and see for City fans and with Russell Slade talking of there still being a possible signing coming in, generally thought to be a forward, for whom we will have to pay a fee, the nagging doubt that any such deal will be paid for by the sale of one of our better players has to linger.
Anyway, it didn't need any departures to bring about our fourth new arrival of the summer last week when Gabriel Tamas signed on a free transfer. On the down side, apart from some experience as a holding midfield player, Tamas does not play in either of the two areas (central midfield or striker) that I believe we have least strength in depth in and he also has something of a colourful past (Tamas is the man locked out in this clip!).
No, Tamas is yet another centre back, but, besides that defensive midfield experience, he can play as a full back on either side of the pitch and he does know the Championship well having playing in it for West Brom, Doncaster and Watford – besides which, the thirty one year old has won sixty five international caps for Romania.
So, at a push, Tamas could be the player to strengthen the area we were weakest in last season (central midfield), but I'm not going to hold my breath on that one. However, going back to yesterday's match, could it be claimed that we have already made the "new signing" who is transforming us in that area?
Given that he only started one league match last season, Kagisho Dikgacoi feels like a new signing and, as he gets fitter, as evidenced by the fact he has played the full ninety minutes in our last two league matches, he is becoming an increasingly important performer as one of three players (Ralls and Whittingham being the others) who are prepared to come deep and pick up the ball from the back four.
Last year it seemed only Whitts was doing this, but it's as if opponents cannot force our back four to knock it long as much, because of the flexibility that having three doing it gives us. Either way, since Dikgacoi came into the team we see less of those periods where the ball is played between defenders and deep midfield player until it ends with one of the former booting it aimlessly up the pitch.
Not only that, just like an African midfield player from that 10/11 season I mentioned earlier, Seyi Olofinjana, Dikgacoi is a big unit who opponents seem to find it hard to play around or by – we certainly look more secure in that central area in front of the defence.
Dikgacoi's return to fitness may well be one of many small reasons which go some way to explaining City's half season of promotion challenging form, but is there one overriding one?
There are those who will notice that our improvement coincides almost exactly with the appointment of Paul Trollope as head coach. In many, but not all, cases where Trollope is credited with being responsible for our improvement, it comes with the inference that Russell Slade has had nothing to do with it – is this fair?
Well, it does need to be said that the timing of the upturn is a pretty strong indicator that it is and I'd also add that, in my opinion, Trollope has been the main driving force behind the move away from the hoofball we all had to suffer either side of Christmas, but I still believe it's unfair to say Slade has played no part in the improvement.
I accept that there is an argument which says that the training was not of a very high quality before Trollope arrived and, as far as any supporter can be sure about something like this, I tend to agree with it. However, if it is true, then someone will have to have decided that it wasn't good enough and resolved to do something about it – to me, Russell Slade is the obvious candidate to be that person.
So, at the very, very least, Slade saw things weren't working and played a leading part in bringing in the person who has began to make it work – I've my issues with our manager and certainly wouldn't put him in the top five I've seen at the club, but, by the same token, I just don't get the continuing clamour to sack him when we've now had half a season of top six quality results.