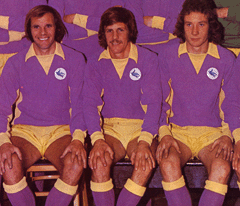 Still unbeaten in the Championship this season and now up to second place after yesterday's 2-0 home win over Huddersfield, there can be no doubt that Cardiff City have started 2015/16 far better than many, including myself, were expecting.
Yet, given what was on offer for all but the final quarter of yesterday's encounter, it was easy to understand first, why only thirteen and a half thousand bothered to turn up and, second, why the atmosphere was as flat throughout as it was at any time last season.
There were so many similarities between yesterday's game and the one with Wolves three weeks ago it was uncanny. A misleadingly bright start which saw Kenwyne Jones have a shot beaten away by visiting keeper Ged Steer within the first two minutes and Joe Mason shoot not too far wide shortly afterwards probably meant that we looked slightly more dangerous in the first forty minutes than we did against Wolves, but it really was turgid stuff again as we fought out a, mostly losing, battle between the two penalty areas against a team who had not won a game yet.
Ironically, I believe the one of our three league matches we didn't win (Fulham) saw us produce our best footballing display at  home so far and we've also played some good stuff at QPR and Forest. However,so many of our home games under this manager, and the previous one, have felt flat and lacking in the sort of things I started going to watch my team play for – of course, it's good to win games, but I come out of them these days without that feeling of elation I used to get when we'd taken the points.
Although the connection between the club and I is as strong as it ever was in terms of me attending matches, I, increasingly, believe that the rebrand, our farcical season in a league I'd waited nearly three score years to see us play in and the thoroughly miserable experience that was season 2014/15 have taken a bigger toll on me than I first supposed – it is still my club and I want to feel like I used to about it, but, despite the promising start, it's just not happening yet for me this season.
Now, I accept that is a harsh judgement after we've just recorded our third successive win and find ourselves in one of the automatic promotion positions (okay, I realise that means very little in mid September, but it should still create a feelgood factor and a buzz around a club which I'm not aware of with City at the moment), but I'm afraid that's how I feel and I'd be very surprised if there aren't others who echo those sentiments.
Just as against Wolves, there were long periods of play where nothing at all was happening from a City point of view, but, unlike in the previous home game, I didn't have the feeling that, at least we never really looked like conceding a goal – we were so ordinary in the first sixty five minutes and Huddersfield were winning so many of the fifty/fifty balls that I feel sure that more confident opponents would have punished us.
Eventually, City emerged comfortable winners against Wolves and the single thing which made that happen was the introduction of Sammy Ameobi for Kenwyne Jones early in the second half. There is no doubt that the same switch around the hour mark yesterday had a similar lifting effect on our level of performance even though it was by no means a wholly popular decision by Russell Slade at the time.
Speaking for myself, although I was not one of those who booed the withdrawal of Jones, I was surprised by it. The easy conclusion to draw when one player is replaced and the team starts playing better (especially when it happens in successive home games) after the change is that he should lose his place in the starting line up, but I don't think it's as simple as that here.
Although not in full couldn't care less mode, there were traces of it on show yesterday from Kenwyne, but, even so, there were also occasional moments of quality like when he beat a man out on the touchline inside his own half and then hit a fifty yard pass that only just failed to put Joe Mason in on goal and how he rolled his marker to set up a chance he should have made more of really just before he was taken off which not many strikers in this league can match. He was also playing well against Wolves – the fact this was not apparent in the team performance had more to do with the failings of those around him than his own shortcomings.
As for Ameobi, he finds himself in a strange position in that while he is making a big impact from the bench, the fact that he is doing so against defences which have been worn down to some extent at least by the physical damage caused by marking Jones and the effects of having to deal with Mason's movement means it must be very tempting for Russell Slade to leave things as they are and keep on using him as an impact sub.
Even though he had cause to be knackered after his fifty yard run which saw him take on three or four opponents and came out on top in what was a test of his speed and strength, the way Ameobi slowly walked back into position while blowing very heavily perhaps suggests that he is still not at peak fitness?
However, it's going to become harder and harder for our manager to justify not starting with Ameobi if he continues to have the impact off the bench that we saw against Wolves and Huddersfield. It's just that with this manager's devotion to the 4-4-2 cause, I don't see it being at Jones' or Mason's expense unless they get injured – I believe it's more likely that he will get that staring place on the wing if it comes.
While there was no denying Ameobi's big part in the first goal (finished in the sort of manner which suggests that Anthony Pilkington should have scored more goals for us in what, to be fair, has been an injury hit first year at the club) and the part he played in the second one, I think the raising of our game in the minutes leading up to the opening goal had an awful lot to do with Peter Whittingham reminding people like me, who have tended to question his place in the team in the last season or two, what he is still capable of giving us.
Whittingham's shot from twenty five yards beat Steer, but also flashed just the wrong side of the post as we entered the phase which decided the game. Following this, he then reverted to his quarterback role as he first found Mason to send the striker on a run which ended with a shot which Steer held easily and then freed Ameobi with a lovely ball which split the visitor's offside trap in the move which ended with Pilkington scoring.
That five minutes from Whittingham was a throwback to the early days of our Championship winning season when he was a leading factor in a series of entertaining home wins (Wolves, Blackpool, Burnley and Hull spring to mind) which have tended to be forgotten about now in many people's rush to label the 12/13 side as boring.
Yes, much of the stuff the title winners produced from about November onwards was far more Roundhead than Cavalier, but the message had been sent out early on that City had the capability of putting opponents to the sword when they wanted to (it shouldn't be forgotten that they did this in late season home wins over Blackburn and Forest either).
At the moment, I see some comparisons with our Championship winning team in the way we have ground out a couple of home wins, but I don't believe Ameobi alone is going to be enough to provide us with that little bit extra which gives a team more than just the option of "winning ugly".
So many Championship matches are a real slog and so the teams who master the knack of winning ugly are always going to have a chance. However, to get to the Premier League, I think you need to be able to sometimes show that bit of quality which your opponents cannot cope with – that something which goes beyond just winning ugly and, based on what I've seen of this group of players during the past eight months or so when results have been largely good, I've not been convinced that they will be able to do that on a consistent enough basis.
Certainly, it will help a lot if Whittingham can have a few more of those spells when he rolls back the years like he did yesterday and if Jones can apply the considerable talents he has by the standards of this league on a more consistent basis. However, I remain to be convinced that this squad has enough "stardust" in it to justify some of the claims being made on it's behalf that I heard on Radio Wales' phone in programme last night about top six finishes.
That's probably why this piece has ended up being more negative than I intended it to be. Of course I'm pleased to see us where we are in the table while still being unbeaten, but I'm not getting that feeling which has me looking forward to the next match as soon as the last one ends at the moment.
Watching us play at home especially is still heavy going and it is at home, not away. that teams seize the imagination of their supporters.
In added time yesterday we had a free kick by the corner flag from which Ameobi was able to work himself into a dangerous position on the bye line, but he then had no option than to blast the ball across goal, presumably in the hope that it would hit a Huddersfield player and rebound into the net, because there was no one within twenty yards of the goal in a blue shirt for him to pick out – they were more concerned with the defending our own goal.
Now, I can fully understand why any side would do that when they were defending a one goal lead, but a two goal one? Why couldn't we go for the jugular and try to provide a bit more entertainment for supporters who have had precious little of that commodity in recent years? It all seemed so typically Russell Slade to me.
Actually, that's not fair on our manager, because we've been that sort of side for as long as I can remember, but I can't help thinking that the club (who, to be fair, are trying to reconnect with their support) as a whole could benefit on so many levels from a more positive on field attitude in matters like this – we always look like a team that is doing just enough to win our home games.
I say that knowing full well that there were times not so long ago when I would gladly have accepted any home win no matter how it arrived and there have also been times a couple of years ago when 20,000 plus were going to be there next game no matter how poorly we played, but those days have gone now.
Despite results getting better, gates are still going down (each home league game so far has seen a decline of around a thousand in the attendance figure), so I'm not sure that wins alone will be enough to see attendances climb to the sort of levels we've got used to at Cardiff City Stadium  - to be more accurate, I'm not convinced that "just doing enough" wins are going to do the trick.
*pictures courtesy of https://www.flickr.com/photos/joncandy/albums/with/72157658111560859