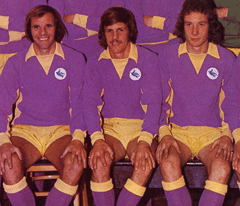 Earlier this week Dave Jones was talking about the need to ship one or two players out before he could bring in any new recruits so, surely, Warren Feeney and Tony Capaldi moving to Sheffield Wednesday and Leeds United respectively on short term loan deals meant that we would see at least one new arrival before the loan window closed yesterday? Trouble is though that our manager was talking pre HMRC court case and so disappointingly, but completely predictably, City didn't sign anyone and now face a month (Feeney's loan ends just after Christmas) where we have to muddle through with what we have got.
On one level the lack of new faces could be a cue for more criticism of those in charge of the club's finances. However, to the best of my knowledge, Peter Ridsdale has only talked of possible signings in January in recent weeks and I can't remember anything from him since the rumours of financial problems started that has suggested we would be going into the loan market this month so, this time at least, I think it is not the Board and, in particular our Chairman, who deserves to be blamed.
No, I reckon we should be looking at a manager who, seemingly, blew his entire transfer budget during the summer on a series of players who, based on performance so far, vary in quality from poor (Taiwo I'm afraid) to quite good (Marshall and Etuhu – when fit) with those in the middle all having question marks of some kind against them (e.g. why does the level of Michael Chopra's contribution seem to vary so wildly?).
The emergence of Adam Matthews this season has made the signing of Paul Quinn in particular look like a pointless exercise and I don't say that with the benefit of hindsight – with our need for more options in central midfield in particular, it seemed odd that we should be signing yet another full back in the summer. I've nothing against Quinn really (in fact I think he is probably the best third choice right back in the Championship!) but what is he doing here?
Earlier in the week I said that we have played virtually no proper creative football in central midfield in our last two matches and we now face at least seven games where, on the face of it, our only options in that area are Ledley and Rae who were found seriously wanting at Swansea and Barnsley. Now, to be fair to those two, this time last year they played a full part in an unbeaten run during which we played our best football of the season, but Rae is 32 tomorrow (happy birthday Gavin) and that is getting pretty old for a box to box midfield player, while Ledley was not being distracted by an ongoing contract saga at that time. Given the way they have been playing this season it's seems to me that, increasingly, the option of "knocking it long to Jay" (always assuming Jay is fit of course) is going to become more and more favoured as December wears on.
Of course, it might be that our manager could come up with something novel like trying the more creative Whittingham in central midfield or even adding another body in there (in defence of Ledley and Rae or whoever else might play there, our central midfielders often find themselves outnumbered three to two), but, based on the past four and a half seasons that would be completely out of character for Dave Jones.
One lesson of the Dave Jones/Peter Ridsdale years should be that, unless you are very lucky with injuries, you win nothing in this division with a squad that isn't big enough but, yet again, we find ourselves in that position. With Ledley and Bothroyd both, reportedly needing operations, a history of injury to the likes of McNaughton, McCormack and Etuhu and Michael Chopra's habit of picking up needless yellow cards we will have to be very lucky to emerge from December unscathed – I'll regard it as a real result if we are still in fifth place going into the new year.