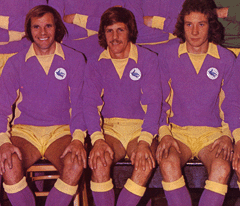 A busy day yesterday and, as this is, first and foremost, a Cardiff City blog, I'll start with the lastest developments in the bonus/Moody/Apsalyamov issue/farce which has pushed Cardiff City to the forefront of national attention in the past ten days or so in a manner in which I'd guess all of the main players in the drama would have preferred it not to be.
The club issued a statement on Friday which, presumably, they thought would see an end to the matter, but it didn't have the desired effect.  Instead, the affair rumbled on over the weekend with, I think it's fair to say, the majority of national coverage it attracted falling into the ridicule or critical categories. With acting Chief Executive Simon Lim recalled from his holiday to attend a Board Meeting on Monday and Malky Mackay's agent assuring the media that his client would not be resigning from his job being seen by many on the messagebords as an admission that he was likely to be sacked, there was a great deal of tension about when said meeting got under way with the manager in attendance and, apparently, Vincent Tan joining in for some of it by a videolink from Malaysia.
The meeting went on for five hours and supporters and the media which had assembled outside Cardiff City Stadium waited for news of the outcome of the deliberations and waited and waited and waited. Finally, at 5.15 pm yesterday (some thirty two hours after the meeting started and twenty seven hours after it finished), this appeared on the club's website. My immediate reaction on reading the statement was twofold;-
1. If you looked at the affair simplistically as a power struggle between Messrs Mackay and Tan, then it looked to me like it was a clear cut victory for the former – that said, I believe we are talking about a battle, not a war and I can't help thinking that possible jobs elsewhere will start looking more attractive to our manager after Mr Tan's recent "intervention".
2. Although the writing off of interest by Mr Tan should be welcomed and applauded, I would have preferred to have seen a confirmation of the promised debt to equity conversion from nearly eighteen months ago rather than his decision not to charge any interest on further loans up to £50 million. It goes without saying that a possible saving of £3.5 million (based on the previously charged 7% interest) is not to be sneezed at, but it seems to me that we are again heading off down the Hammam route except that another nought has been added to the debts being run up this time!
As for the rest, well, I don't think I'm thick, but I spent much of the time I was reading it scratching my head and wondering what they were talking about. Before Monday's meeting Malky Mackay's agent Raymond Sparkes said
'Malky understands there has been a lack of clarity and will insist at the end of the board meeting that the chairman or other senior directors provide supporters with a clear explanation of what has been going on,'
well, when you consider that there is no mention whatsoever of the bonus row, Iain Moody and Alisher Apsalyamov, if those responsible for drawing up yesterday's statement really believe that it fulfills the criteria set by Mr Sparkes then it shows how divorced from how the ordinary supporter thinks they have become – that's assuming they ever did know.
Actually, I find myself wondering if that statement was primarily aimed at  supporters – this is complete guesswork and I may be miles off beam, but it reads to me like something designed to pacify possible investors who were alarmed at recent developments at the club.
Malky Mackay's press conference before the Chelsea match will make for interesting viewing, but, despite the talk from his agent of letting the fans know what has been going on, I get the feeling he will play a dead bat to any questions about the Head of Recruitment row and I wonder if we'll ever get the true story about what happened from anyone at the club. In the mean time, I think City supporting AM Leighton Andrews' take, i.e " I have heard from a number of sources that there was no overspend, but there were misunderstandings on the details of accounting for the transfers which have had an impact on cash-flow.", sounds as plausible an explanation as any I've heard.
Anyway. on to Wales' unexpected 1-1 draw in Belgium last night. It reminded me in many ways of the 0-0 draw we got in Germany in 2007 when we went to a team which had already won a qualifying group before the final round of fixtures and so the kudos gained by what, at first glance, looks a superb result lessens a little as a consequence. However, any draw in Germany is a result to be savoured and the same can be said about the current Belgium side.
It was always going to be a backs to the wall struggle and so it only follows that we would have to defend well – although the goal attempts figures show that we needed some luck (and some substandard finishing by the home side) at times, to, a large degree we did that. Full backs Neil Taylor and Jazz Richards both did well, but it was Wayne Hennessey's goalkeeping which played the biggest part in frustrating Belgium. Like many others, I have a habit of going over the top when a Welsh youngster turns in a decent performance, but I have always rated Hennessey up there with the best young British goalkeepers around – it looked like his awful injury problems had left him a lesser player when he was loaned out to Yeovil, but he's looked as good as he ever was in these last two games and a Hennessey back to his best is a real asset for Wales.
A word to about Chris Gunter, that game in Germany six years ago was something of  a breakthrough for him at club as well as country level and it's amazing to think he was celebrating his 50th Wales appearance in similar circumstances just six years later. Not only that, he was doing it while playing in an unfamiliar position – there were times over the past two matches where he looked like a full back playing out of position, but it didn't happen too often and when you consider he had to play more than a third of the match without James Collins alongside him I think a player who it's easy to under estimate did a superb job.
A word as well about Harry Wilson who, at 16 years and 207 days took the record for Wales' youngest ever player off Gareth Bale. The Liverpool youngster came on for the dying minutes and, although not making a significant contribution, can claim that he was on the pitch when Wales got the goal which earned them their point. Although his parents are both Welsh, the Wrexham born winger has an English qualification through one of his grand parents, but he has now committed to the country of his birth and if he turns out to be half as good as the player he took the record off, then Wales have got someone who will serve them well for years.
Macedonia were thrashed 5-1 by Serbia to confirm that they would finish bottom of the six team group, but Scotland's win over a Croatia side which seems to have gone to pot since they came from a goal down to beat us at the Liberty Stadium in March means that they overtook us to finish fourth. Fifth place for a side seeded sixth represents some progress I suppose, but the truth is Wales should never have got in a position where a team like the Faroe Islands were rated above them. By scoring nine times against us, Serbia showed they are a class above us, but having beaten the team who finished above us twice, I think a finishing position of fourth was an attainable target – we were missing important players at times, but it was ever thus and I'm afraid this is yet another qualifying campaign that cannot be seen as anything else but a failure.
* pictures courtesy of  http://www.walesonline.co.uk/