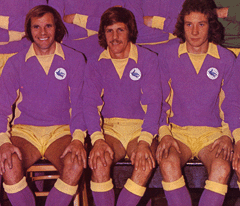 You get the feeling that if the new Development League Cup competition had been regarded as a high priority tournament for City, their Second Round home tie with Chelsea, which resulted in a 4-0 defeat, would not have been arranged for a night when all of the first team squad are up in London preparing for the visit to Crystal Palace.
The Under 21's top their league this season and they always tend to take full advantage of the rule which allows sides to field three over age outfield players. Matt Connolly, John Brayford, Craig Noone and Jordon Mutch are amongst the senior players who have turned out for the Development team in league matches this season, but none of them were involved last night – neither was another regular starter, Declan John.
With Deji Oshilaja and Kadeem Harris, possibly the Under 21 sides best players so far this season, both away on loan along with other possible starters Joe Mason and Rudy Gestede, it was probably the weakest looking side they had put out so far this campaign which did battle with Chelsea. Mind you, whether a side containing four or five of the players listed above would have been able to get the better of the visitors is certainly debatable (I doubt it if they would if I'm being honest).
Chelsea also have an imminent first team match and it's hard to think of a club which loans out more of their younger players than them. so it's an indication of the huge amount of talent at Stamford Bridge that they were able to put out a team which won so comfortably last night – it was also a side which contained only one player (captain Nathan Ake) who had appeared for them at Premier League level. However, getting on an old hobby horse of mine, I wonder how many of this Chelsea team (all of whom would walk into, and improve, our Development team on last night's evidence) will get even close to their first team when the club persists in spending hundreds of millions most years bringing in new, established, players – Chelsea would be a team to avoid if I was ever in a position to have an influence on which club a very talented youngster should choose to start his career with.
Going back to City, it goes to show how bad things were for them that Etien Velikonja actually got a start! I've heard the rumours about him being someone who Malky Mackay didn't want at the club because he didn't think he was good enough and believe there may well be some basis of truth in them, but my over riding feeling is one of sympathy for a player whose promising career at club and international level has completely stalled since signing for Cardiff.
Yes, I'm sure the nice big pay cheque makes life in Cardiff that bit more bearable for him, but could Velikonja have imagined that, eighteen months into his City contract, he would be being substituted (along with another "forgotten man" Filip Kiss) with fifteen minutes left in an Under 21 fixture while first year pros were kept on in front of him? Velikonja is a player who has attracted an awful lot of attention for someone who has featured so rarely at first team level and, whatever your views on him as a player, he is an innocent party in the whole situation who really should be playing first team football somewhere at this stage of his career – it's obviously not going to be at Cardiff, but I hope he gets a move to a club where he is valued more soon.
Any watching scout would have been impressed with one or two nice pieces of build up play and a free kick which didn't miss by much from the Slovenian international, but, in all honesty, he and Kiss were struggling after pretty promising starts by the time they were taken off. In fact, much the same could be said about the whole City team – last night was definitely a game of two halves.
With Rhys Healey showing great determination in making light of the height and weight disadvantage he had against the Chelsea centrebacks, it was City who made the brighter start and it was he who was fouled to gain the free kick which Velikonja narrowly missed from. Chelsea had kept the ball for a minute or so from the kick off, but had been forced into errors by an eager City team after that and had not caused the home defence any problems prior to them being given a very dubious penalty – in fact it was a shocking decision!
I thought referee Simon Knapp had a good game overall, but, for some reason, he blew for a foul when Theo Wharton brought off an excellently timed tackle to dispossess Chelsea's Brown – from where I was sat, I could see that Wharton clearly won the ball  and if proof were needed of this, you only had to look at the direction the ball went in after contact had been made. Baker comfortably scored from the spot to give Chelsea a lead they didn't deserve and that was also my feeling at half time when the score still stood at 1-0. City spent most of the first forty five minutes in possession and on the front foot, but a Bradley Williams header from a Kane Owen cross which keeper Blackman denied with a fine save was all that they really come up with when it came to providing a threat to the Chelsea goal.
City's cause wasn't helped by the fact that Kiss, O'Sullivan, Wharton and Williams are all central midfielders and it was down to full backs Coulson and Owen to provide any penetration down the flanks – this concentration of players in central areas was a factor in City living with Chelsea in the first half, but the visitors came out with a completely different attitude after the break as they began to play in a more direct manner which helped to move play away from areas where City had numbers.
Chelsea soon got  a reward for their more positive approach – again, it was as a fortunate goal as Owen's goal line clearance bounced off keeper Ben Wilson (a new name to me – I assume Simon Moore was with the first team squad?) and into the net. At the time I also thought Chelsea were lucky in the build up to the goal because rebounds off City defenders kept on falling to their players, but that tends to happen to teams who are willing to get numbers into the opposition's penalty area – put it this way, I can't see City being similarly "lucky" in open play this afternoon!
Wilson made a good save at his near post shortly afterwards, but Chelsea were looking dangerous every time they attacked now and Kiwomya cashed in on some poor defending in the middle of City's defence to make it 3-0 just before the hour mark. About ten minutes later, Chelsea substitute Boga burst through a weak challenge and beat Wilson with an angled shot from the edge of the penalty area to complete the scoring.
Although you couldn't help feeling that there were further goals there for the visitors if they wanted them, they seemed happy enough with what they had as they comfortably played out the last quarter. All City could offer in reply was a header which Healey might have done better with from a Coulson cross, but there were one or two encouraging performances despite the heavy defeat.
I'm told that Malky Mackay rates Tommy O'Sullivan highly and his control and awareness in congested areas certainly impressed, along with his perceptive passing. Just like his team, most of O'Sullivan's best work came in the first half and the same could be said of centre back Josh Yowerth who I thought had a very good opening forty five minutes – invariably it was Yorwerth got his head to crosses and he also came up with more than his fair share of tackles and blocks. Yorwerth performed the "traditional" centreback duties well, but also impressed with the quality and range of his passing – after spending time out of action last season and not always featuring at this level this time around, it was a reminder that we do have a very promising Welsh centreback on our hands.