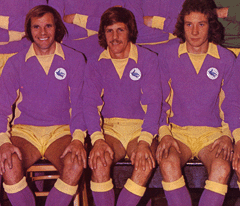 It seems to be happening a fair bit this season, but last night's was another match which I was not able to keep in touch with throughout and so I can only restrict  myself to a few general observations about the 1-1 draw at Reading. Based on what I have heard and read so far, the result was about right because City, with a reorganised defence which needed time to sort themselves out, came back from being second best for much of the first half to look the better side after the break.
What has caused controversy though is the nature of our equaliser which saw a beautifully struck shot from Jay Bothroyd from about twenty yards bounce down off the crossbar very close to the goal line and the linesman signal that it was a goal. Having seen the goals on Sky Sports News, I must admit that my first impression was that, given the way the ball's second bounce came some way infield, it was not a goal, but liberal use of the pause button on my DVD recorder has changed my opinion and I now believe the official got it right (this seems to be backed up by pictures of the incident which have appeared on City messageboards).
The very fact that it was the away team which benefited from such a tight decision though suggests that City got quite lucky on the night and it is somehow indicative of the way that this season is going for Jay (who, apparently, was otherwise pretty quiet) that it went his way – I have this feeling that the decision would have been different if exactly the same incident had happened in his first two seasons with us.
I mentioned earlier about our defence (which had Adam Matthews and Darcy Blake in for the injured Kevin McNaughton and Gabor Gyepes) taking time to sort itself out and the goal they conceded very early on offered proof of this. Speaking as someone who defended Adam Matthews after the Ipswich defeat, he seemed some way away from Noel Hunt (who I presume he was meant to be marking?) when the Reading player received the ball and the shot appeared to get a slight touch off our defender before it went in. Hopefully, Matthews won't be debited with a second successive own goal, but, on the face of it, it is another one we have conceded in which you have to question  his defending.
To come back from conceding after just five minutes and draw at the ground of a good side like Reading is a decent result in my book which offers hope that this won't turn into a typical Dave Jones November after all, but I don't think it's true value can be gauged until after the game at Scunthorpe on Saturday. A victory this weekend in the match which, on paper at least, looked the most winnable of our games this month beforehand and a point at Reading will seem like the night we got our campaign back on track after the shocker of a performance against Swansea, but anything less than that and the fact that we didn't lose last night will count for nothing. Although a point at Glanford Park wouldn't be a total disaster as far as I am concerned, I think it would be reported as one – we would be in crisis with no wins in three as we suffered a distinct case of the November wobbles!
Speaking of Swansea, one of the few bits of live football coverage I heard last night came about ten minutes into the game at the Liberty Stadium as it was reported that Bristol City's Albert Adomah was "creating havoc" down the left hand side of the jacks defence and, apparently, things went on in a similar vein for the rest of the match. It's not very often that I am pleased by a wurzels win but I certainly was last night – in saying that though, it is impossible to get this nagging feeling out of my mind that we gave Alan Tate in particular, and the rest of his team mates in general, far too easy a ride by setting up in a style which didn't make the best of the strengths we have shown this season.