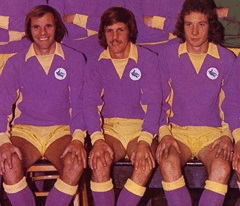 It doesn't always happen by any means, but sometimes I spend the half time interval at matches thinking about what I'm going to write about what I have just watched on here. Last night was one of those occasions as I contemplated how on earth I was going to be able to express my thoughts on what Cardiff City's attitude towards cup football had become over the past four or five years without resorting to streams of abuse!
Yet again, we had given a couldn't care less performance when there weren't league points at stake and, although I partially blamed myself for, naively, believing things would be different this time, the fact that my concession ticket had only cost me a fiver and there were only three areas of the ground open (parts of the Grandstand and Canton Stand for home fans, with the pretty impressive visiting support housed in their usual corner of the ground), rather emphasised the low priority nature of things from the club's point of view.
After flattering to deceive with some lively play in the first few minutes, City had lapsed into their normal cup tie setting and, although Portsmouth were hardly hammering away at our goal when they took a slightly fortunate lead around the half hour mark, they had gradually taken control of proceedings by showing an ability to pass their way through their opponents in a way that we just couldn't match.
Although he was far from the only culprit, Anthony Pilkington personified a City first half performance which simply wasn't good enough – speaking as someone who usually backs Pilks, he looked like he didn't want to be here last night, but, if, as has been hinted at during the summer, City are prepared to let him go during this transfer window, he did nothing in those first forty five minute to persuade any interested parties that he was worth taking a gamble on.
Watching early round Cup tie football (we never get the chance to watch latter round games at Cardiff City Stadium these days!) means that I'll be sat about sixty yards closer to Neil Warnock and his coaching staff than I'd normally be if it were a league match and I was in my normal place in the ground, so I get a better chance to see how they are reacting to their team's display than normal.
The only time I had seen them close up so to speak before last night was for the Fulham FA Cup game in January and I can remember being struck by how calmly they appeared to be taking our inept showing that day, However, with typical honesty, Warnock admitted to struggling to get up out of bed for the 11.30 am Sunday kick off that day as he admitted that the game was hardly what he'd call high priority.
As City lumbered and lurched through an opening forty five minutes while only mildly threatening the Portsmouth goal when Danny Ward, first, had a shot deflected wide, then,  second, headed too close to visiting keeper Luke McGee and then, when the goalie caused a mild scare for his defence by dropping a corner, Messrs Warnock, Blackwell and Jepson largely presented the same stoic demeanour shown against Fulham.
This led me to believe we could expect more of the same from City in the second half and hearing our manager's post match comment that this is a cup competition that he doesn't get too excited about, you might have suspected he wouldn't have been too worried if it had turned out that way as well.
Not a bit of it though, Warnock answered "you could say that" when asked if the riot act has been read to his team at half time and the first clue at the time that the management team had made their frustration at what their side had produced in the first half clear came before a second half ball was kicked, when it was revealed that Pilkington had been replaced by Nathaniel Mendez-Laing.
Once the action the restarted, the way that Bruno Manga attacked a Lee Tomlin free kick with the second half barely a minute old, suggested City would have more to offer from now on and the centreback was unlucky to see his header from around the penalty spot come back off the bar.
Tomlin, like all of our attacking players, became more of a factor in the second half and, when, two minutes later, his flick sent Matt Kennedy sprinting clear of his marker, the young winger's low cross eventually arrived at the unmarked Mendez-Laing's feet some eight yards out.
Now, based on the little I've seen of Mendez-Laing so far, finishing is not a strong part of his game (our manager described his tendency to smash or snatch at his goal attempts nicely be saying "he keeps on hitting them lightbulbs on the back of the Kop doesn't he!"), but this time, his finish was exemplary as he rolled the ball in past the helpless McGee to level things up.
Staying with Neil Warnock's post match comments for a while, his explanation as to why Craig Noone wasn't involved last night, offered a clue as to what is going to happen to him this season, because our manager admitted he had cocked up last year as far as Ben Amos was concerned because he couldn't be loaned out in the second half of last season after having played for Bolton in the League Cup before he joined us – players are not allowed to turn our for three sides in one season.
Warnock went on to explain that this meant that Noone could only go out on a season long deal when he would prefer it to be for six months, so it was important that he hadn't played for us before he leaves City. Therefore, it seems pretty obvious that any deal done for Noone before September will be a loan, as opposed to a permanent one – presumably, this would make it harder to bring in that one additional player our manager has said that, ideally, he would like to have?
So, with Noone seemingly on his way out, Pilkington, possibly on his way out, and looking some way down the pecking order if he stays, and Kadeem Harris out injured for the next few months, it seems only Junior Hoilett of the wingers we had last season is a realistic first team contender at the moment.
Therefore, you might be forgiven for thinking that our manager, who confesses to liking wingers in his teams, may have to change his thinking in the short term at least. However, the two wide attacking players on show at the start of the second period last night both did plenty to persuade Mr Warnock that he can still stick to a two wingers philosophy if he wants to.
Starting with Kennedy, I thought he did okay, but no more than that, when operating on the right in the first half, but he was far more effective when playing on the left and, although he probably should have scored from one of two presentable second half chances he had, it was encouraging to see him getting into such central positions. Based on his pre season performances and what we saw last night, Kennedy's loan spell at Plymouth last season has improved him in a way that his earlier one at Port Vale didn't – he looked like someone who could do a decent job for City at Championship level last night.
The first of Kennedy's chances came from a lovely, short pass threaded through into his path and it was very interesting, and promising, to see who the provider was. Occasional dodgy finishing aside, Mendez-Laing has made a very positive impact in his first few appearances for us, but the strong impression given by him primarily is that he is all about pace, power and strength. However, that fine, subtle little pass slid through to Kennedy offers the suggestion that he has more to offer that that – whatever, Mendez-Laing is showing that he is good enough to be starting games for us, but I have a suspicion that he could be used more as an impact sub in his early months with us at least.
Mendez-Laing went out on to the right when he was introduced and with Kennedy swapping sides, it meant that Lee Tomlin moved into more of a number ten/support striker type position for the second half. When he was being used on the wing, our biggest signing of the summer made his best impression when spreading crossfield balls out to either Kennedy or right back Greg Halford, but, rather as against Livingston, but not always against Burton, he looked to be on the edge of things.
Operating more centrally, Tomlin was a much bigger influence, as he had several almost, but not quite moments where his quick feet and clever passing offered a clue as to what we may well be seeing from City in the coming weeks.
People see Tomlin in the number seven shirt and say he's a replacement for Peter Whittingham, but he's a completely different type of player – Whitt's natural area of the pitch these days when his side is attacking is thirty or forty yards from goal and he still looks to play that quarter back role much of the time, whereas Tomlin operates fifteen to twenty yards further forward and looks to play shorter balls slid through to runners.
One of the best things Neil Warnock did last season was to ensure that City teams had the attacking pace that so many of recent vintage signally lacked – the introduction of Kenneth Zohore, Hoilett and Harris meant that we were far better equipped to prosper through balls played over the top or down the channels.
Of course, one of the things defences can do when facing that sort of threat is drop deeper and last season, with no natural number ten type player in the side, we tended to struggle when confronted by a back four sitting deep and a midfield four stationed not too far in front of them.
There have been encouraging signs that we can give opposing managers and coaches more to think about defensively this season though. A Lee Tomlin at something like his best has it in him to unlock packed defences sitting deep at this level and Danny Ward again showed himself to be an aware and adaptable front runner who would be at home in a team playing more of a short passing attacking game. Mendez-Laing offered promise that he might be the same and I'd like to think that Zohore has the ability to adapt to this sort of game as well.
If we can prove that we have the attacking weaponry to cause problems to defences that play with a high line and those who sit deep, then we really could be in business – yes, more evidence of this new approach is needed yet, but I'm hopeful that there will be what most would see as some unWarnock like football to go with the more blood and thunder approach you would normally associate our manager with.
Anyway, back to last night's game. The diminutive, but impressive Kyle Bennett forced Brian Murphy into a good diving save and the keeper, who had an uncomfortable evening in many ways, had to look lively to deal with another effort, while there was a ball which fizzed across the face of our goal that just cried out for an attacker to tap in, but, generally, City had the measure of their League One opponents now as both sides tried their utmost to avoid extra time.
Rather as at Burton, you got the feeling that our substitutions improved the team – Mendez-Laing for Pilkington was definitely a case in point and while Kennedy did well, he was tiring when he came off for the lively Hoilett who was denied a goal by a fine McGee save in the first period extra time.
After struggling somewhat in the opening forty five minutes, Loic Damort and Stuart O'Keefe becaming more influential and dominant as the game wore on, but the midfield benefited from Joe Ralls' ability to keep things moving in central areas when he came on and while Ibrahim Meite,  making his second first team appearance, still has some way to go, his raw pace was the last thing a tiring Pompey defence wanted to see in those closing stages.
The friend I go to games with was getting his first look at City this season and when I asked him after the game who he thought had been our best player, he answered Kennedy, but added that he was impressed by all of our new signings in their different ways – I agree with that last bit, when you sign seven new players, I daresay you should expect about three of them to turn out to be duds, but of the five we've seen so far, they've all done well as far as I'm concerned.
As is always the case, the new players have a sympathetic audience ready and willing to be impressed when they play in front of their new club's supporters and so they are not going to be too harshly judged at the moment, but I'll finish by talking about two of our longer serving team members who certainly have their critics in the fanbase.
Neil Warnock joked about his team coming up with three good finishes for the goals as he aimed a joke in the direction of captain Sean Morrison who, under pressure from visiting skipper Brett Pitman, volleyed a Kai Naismith cross into his own net to put Portsmouth ahead.
To be fair, Morrison didn't seem to be blamed too much for his og, because, rightly in my view, supporters tended to single out Greg Halford as the culprit for, first, allowing a crossfield pass to go over his head and then letting Naismith get what was a very dangerous cross in.
So, yes I think Halford has to carry the can to a large extent for that goal, but I still say that, right from his first game for us, some City fans have had it in for him – possibly because he is seen a cheap veteran who is here as a Warnock eyes and ears in the dressing room type signing. Certainly, plenty sat around by me were very quick to criticise last night and I thought they were judging him by standards they did not apply to any other City player.
I've said once or twice on here that I rate Halford as a good signing who came in and gave Neil Warnock inexpensive cover for plenty of positions in a squad that our manager thought was lacking in depth in some areas. I also believe that a dodgy first appearance in that FA Cup game with Fulham aside, he's tended to do a decent job for us when called upon – he has a general competence to his game which I would have said all utility players need.
That competence was shown by the goal he scored with seven minutes of extra time left, as a Hoilett corner flew over Morrison and Manga and arrived at Halford's feet twelve yards from goal at the far post. The finish which followed was crisp and efficient as a perfectly struck half volley nestled in the corner of the net beyond McGee's dive – I thought it was a goal quite a few in a blue shirt last night would not have scored.
Halford, who scored for Portsmouth in their previous visit to Cardiff City Stadium, refused to celebrate as a mark of respect to a club and support which, judging by his post match comments, he has a lot of time for, but he had put us into the hat for the Second Round where we will, almost certainly, be facing another lower division team. Most of all, through the belief, desire and fitness shown in the last seventy five minutes of the match, City's players had proved that they do care about Cup matches.
pictures courtesy of http://www.walesonline.co.uk/