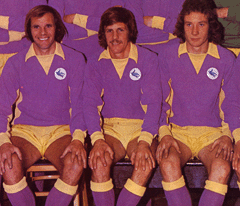 I got into football in the early sixties when, just like in so many other facets of life, it was going through a transfomration as the liberation and changes that has become associated with that decade in, for example, the arts and sexual and political attitudes extended into "the beautiful game".
Although the seeds for the changes in tactical thinking that saw the domestic professional game move away the old "W" set up (essentially 2-3-5 for those of you not old enough to have  a clue what I am talking about) had been put in place before I was born with Hungary's double demolition of England in 1953/54 and then Brazil's World Cup win in Sweden in 1958 when I was just two, such attitudes had not found their way to Pentrebane Junior School in the mid sixties. We used to take to the field with instructions in the arts of left or right wing half play and inside right or inside left play ringing in our ears as the  middle aged, rugby loving teacher who took charge of the school team made sure that we went out to play the game in exactly the same manner as he had done thirty five years earlier!
We certainly did not reflect the changes that were going on in the game at that time as it wasn't just how the game was played that was being transformed. For example, what players wore was changing – shorts were become daringly shorter and where they had previously just been white or black, those of clubs such as Chelsea and Liverpool were now matching the colour of their shirts as the game became more colourful both literally and metaphorically.
If there was one club outside the top flight in the mid sixties which came to encapsulate the way the game was changing on and off the field it was Coventry City. Having spent most of their time as a Football League club playing in the old regionalised Third Division, they were transformed by Chairman Derek Robbins' money and the innovative management of Jimmy Hill. The future television pundit, who had led the PFA into a dispute which saw the old maximum wage scheme dropped in the early sixties as Fulham's Johnny Haynes became the first£100 a week footballer, changed the club completely with his influence not just being limited to what happened on the pitch.
Under Hill, Coventry became the "Sky Blues" as their old blue and white kit was dropped for the colour blue the side still use (the shorts were also sky blue of course) and he also helped pen a club song which is still sang at games to this day, Coventry were the first club to run "football special" trains to take their fans to away matches and I am pretty sure that a Cardiff/Coventry evening match was the first ever "beamback" game which enabled supporters to go to Highfield Road to watch live pictures of the game being played at Ninian Park. Also, a Coventry City programme was a real collector's item around then because, whereas other club's efforts were the size of a piece of A4 paper folded in half, theirs was a "match day magazine" which was the same size of the typical programmes you get nowadays and even featured colour photos!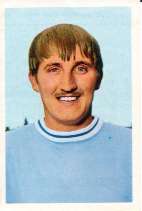 All of what some would describe as gimmickry would have counted for nothing of course if Coventry had not been able back up their bold approach off the pitch with the results on it, but, when they came to Ninian Park on 22 April 1967, the Sky Blues (whose squad included future City favourite Ian Gibson) were clear at the top of the table and were closing in on a first ever promotion to the top flight on the back of a very impressive unbeaten run stretching back twenty one matches.
While Cardiff City had been able to match Coventry to the extent that they had changed the colour of their shorts to blue that year, any similarity between the clubs ended there. Manager Jimmy Scoular had to sell before he could buy as the club struggled to avoid dropping out of the top two divisions for the first time in twenty years with City having started the season in dreadful fashion as they shipped goals left, right and centre. The ageing but classy Brian Harris arrived from Everton and he was eventually able to shore things up at the back, but a run of one win in ten just after the turn of the year left the team in real peril and Scoular reacted by using the money raised from the sale of young Scottish striker George Johnston to Arsenal to bring in midfielder Norman Dean from Southampton and winger Barrie Jones from Plymouth Argyle.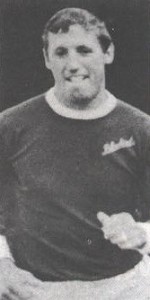 Dean's main impact in a City shirt came a year later when he played a leading role in our run to the Semi Final of the European Cup Winners Cup, but the skilful Jones began to recapture the form which had seen him become the highest priced winger in the domestic game when Plymouth paid Swansea Town £45,000 for him in 1964 almost immediately and, at half the price Plymouth paid for him, he became a real bargain signing for City.
Despite three goals from Jones in his first six games, a defeat at bottom of the table Bury meant that City found themselves just one place above the relegation places going into the game with Coventry and if much of what I have written so far shows how the game was changing forty three years ago, then what follows is proof of how much football, and society, has changed since then.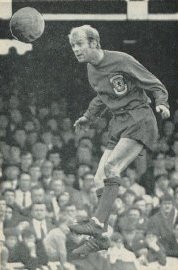 For a start, there is the fact that, at the age of eleven, I had already been going to City matches without my dad taking me for three years. Usually I would go along with friends of my own age, but I had already started going to the occasional match by myself and I was certainly by myself when the incident that I really remember this game for occurred. Although I usually tended to watch matches from the boy's enclosure at the front of the Grange End back then, going to Ninian Park was a huge adventure for someone so young and so, especially if the game wasn't up too much, exploring different parts of what seemed a huge arena at that time offered an attractive alternative to what was happening on the pitch.
Now, apart from the one incident, my recollection of what happened that afternoon is pretty hazy so perhaps someone who remembers it better can correct me if I have this wrong, but it seems to me that boredom with the football cannot be the reason I went wandering from my usual spot that afternoon because I am fairly sure City were turning in a good performance – I seem to remember Coventry scoring quite early on, but then City responding really well with an equaliser from Bobby Brown.
Anyway, for some reason, I found myself alone at the back of the Grange End as City attacked that end in the second half and, being as much of a relative shortarse then as I am now, I was only able to see the top half of the player's bodies as they got close to the Coventry goal. Although I could have moved and found a better view, I was happy to stay where I was because the supporters around me were creating a great atmosphere and, with City doing surprisingly well, I was really enjoying it.
All of a sudden and with City attacking, one of our players went down in the penalty area and, although the large group closest to me seemed to be a bit quiet about it, bedlam broke out as the referee pointed to the spot. With the departed Johnston having been City's penalty taker that year, it was the eighteen year old John Toshack (whose season had been disrupted after an injury picked moving a piano at home over Christmas!) who stepped up to take the penalty which could have secured a tremendous win for us.
From my less than perfect view, I saw Toshack put the ball to Coventry keeper Bill Glazier's right as he dived left and then lost sight of it, but it seemed obvious that it was going to be a goal and so I started jumping about and celebrating with the group around me who had gone absolutely nuts. Eventually, I cast a glance towards the pitch and, to my amazement, noticed that the game had started with a goal kick – it was only after a few more seconds that the penny dropped that the group of fifty or sixty people that I had attached myself to were Coventry supporters!
Back in those pre crowd segregation days, it wasn't too unusual to have pockets of away supporters in the Grange End. I suppose that in my usual place close to the pitch, I wouldn't have seen much of any trouble if it had occurred – I can remember Birmingham and Portsmouth fans standing close by without there being any bother, but there were Coventry fans everywhere that day as the game finished at 1-1, a result which probably pleased both teams.
A few days later Coventry virtually ensured promotion by beating eventual runners up Wolves in a match watched by a crowd of 51,455 which remains a record attendance for them and they then stayed in the top flight for a very impressive thirty four years before their relegation in 2001. As for City, they took heart from their battling draw to beat Birmingham as a couple first half goals from Brown and another from Jones gave them a comfortable 3-0 win in their next home game. That was enough to see them stay up at the expense of Northampton and Bury and was the catalyst for four good years at club which saw European success being followed by three promotion challenges.
22 April 1967
Cardiff City 1 (Brown) Coventry City 1 ( N/A)
City Wilson; Coldrick, Murray, Harris, Ferguson; Jones, Williams, King, Bird; Brown (1) sub (not used) Derrett
Coventry N/A
Att. 19,739