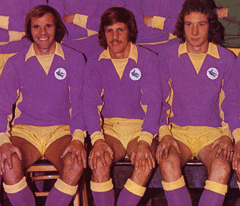 Just a few lines about yesterday's reserve match with Bristol Rovers yesterday (yes, more than two months into the season we played our second reserve team game – it was behind closed doors at the Vale of course!). Michael Chopra played for an hour (as did Steve McPhail and Gavin Rae) and opened the scoring in a 5-1 win so I presume he will be in contention for a place (probably on the bench) on Saturday. However, it would appear that neither Danny Drinkwater or Chris Riggott were involved so there seems to be no chance of them featuring against Bristol City.
The second goal came from Soloman Taiwo and in the second half it was the youngsters who took over with left back Adedeji Oshilala (who, on my limited viewings, looks to be the best of the new intake of Academy scholars) scoring an outstanding individual goal, centreback Alex Evans netting after some quick thinking by Aaron Wildig and Kevin Sainte-Luce rounding off the scoring with a neat angled volley.
Highlights of the game can be accessed here by Cardiff City World subscribers.