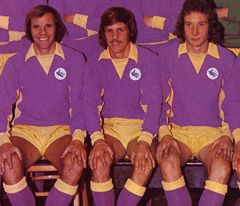 A few weeks ago Russell Slade said this would be the time when you could expect to see more transfers in and out of the club and, with the players having reported back for pre season training last Wednesday, we would, in an ideal world, be seeing these three new players that our manager tells us he is chasing arriving in the next week or so, thereby giving them more or less a full training programme at their new club to help integrate them by the start of the season in six weeks time.
While I understand and, in some ways, sympathise with the view that the grass isn't always greener when it comes to bringing in new players to any club (see Ole's many and varied signings last summer for proof of this), I do believe that, at this moment in Cardiff City's life, it needs the stimulus that a couple of exciting signings which get people talking about an upcoming season can provide more than most times in it's recent history.
In a way I feel sorry for local newspapers in particular during this time of year as they strive to find something worthwhile to say about the clubs they cover and it seems to me that some of the stories you read in the South Wales Echo these days have an air of desperation to them as hacks try, and largely fail, to engender some interest in a subject where, to be frank, little has happened in the last couple of months to raise enthusiasm levels.
Now, I wonder how many read that reference to nothing interesting happening for a couple of months and thought I was being generous – try the last eighteen months, not two! Notwithstanding the encouraging announcement from the club last week about almost 10,000 season tickets having been sold (well,  I thought it was encouraging!), that sort of response typifies the attitude of what seems to me to be many Cardiff fans at the moment – they need something to happen to get them fired up about their team again and they are far from convinced that the current squad, ownership and management have it in them to provide that catalyst.
There are valid reasons why such thinking is somewhat unfair, but an attitude that emphasises the negative over the positive (in fact, any positives are barely acknowledged) has taken hold among vast swathes of City fans, myself included, over the last couple of seasons and, surely, even those who see any criticism of City as disloyalty have to acknowledge that there is an awful lot that the club has got wrong on and off the pitch in since getting promoted.
So, in an effort to accentuate the positive, I say well done again to the club for ensuring that the new blue kits are going to be available by the end of next week and also for getting season tickets out to fans in the last few days – both of these things represent considerable improvements when compared to what has happened too often in the past and tends to add a little credence to my theory that Ken Choo has overseen an improvement in some aspects of the club's administration at least.
That said, something happened last week that didn't put the club in a good light when there was an acknowledgment that it was looking less likely that the training week in the Netherlands next month will include the hoped for couple of fixtures against top rated Dutch clubs. Besides that, with Russell Slade not prepared to see the team play on artificial surfaces in the two matches against junior sides offered as replacements, it seems that our pre season trip abroad this year could be a training only event – just as they were in Malky Mackay's last two seasons with the club.
The reason for this is explained in this piece, but the reference to Swansea having had a match called off for similar reasons in the past, could beg the question as to why no one at Cardiff thought to raise this when the idea of going to the Netherlands was first mooted or is this an another example of the sort of willingness to only judge the club negatively which I referred to earlier?
For the third consecutive week, there was an announcement of a player leaving the club. This time it was Uruguayan centre back Maximiliano Amondarain who agreed to a termination of his contract halfway through what I understand was a four year deal. Amondarain signed after a successful trial in the summer of 2013 after having been a member of the Uruguay squad which had reached the Final of the World Under 20 Championship a few weeks earlier. Amondarain didn't got any game time in that tournament though and never once made it into the City first team – he was largely solid, steady and composed in the fifteen or so Development team games I saw him play for us, but I'd say that Deji Oshilaja and Tom James overtook him in the central defender pecking order at the club during his time with us and so letting him go looks a sensible move for both club and player.
The only other piece of worthwhile info I can think of from last week is that City's Head Coach Paul Trollope will be Wales' new Assistant Manager. There's been no formal announcement yet, but it looks certain that he will be the replacement for Kit Symons, who stood down after the win over Belgium this month to give his full attention to his job at Fulham. Like Symons, Trollope will work with Wales on a part time basis and continue at his club, so, it seems that, despite our conspicuous lack of Welshmen on the pitch, there will be a Cardiff City presence in the parties that link up for international games.
by The other Bob Wilson with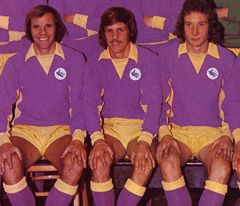 I've never really classed myself as a religious man, but, in the hours which have followed Wales' momentous 1-0 win over Belgium last night, the thought has occurred to me that there was some divine plan at work whereby those of us who also watch their club football at Cardiff City Stadium had to endure a period of torment that would enable them to fully appreciate the glory of what happened at that ground on a humid and drizzly June evening in Leckwith – the Israelites had to wander about lost in the desert for forty years before they found their promised land and us Wales supporting City fans have been doing that for the best part of a year to get to a stage where it feels like we are very close to ours!
When you include development team and Under 18 matches, I think I watched forty four competitive games  at Cardiff City Stadium in the season which finally ended last night and, by an absolute country mile, my top three in terms of quality of football, entertainment, enjoyment and atmosphere (to be fair, a commodity which the non first team City games I watched could never compete against on equal terms) were the three Wales matches I saw – well done and thank you to my country's football team for that, but, even in the dark days of the 80s and 90s, I've never been able to make such a claim before and I truly hope I never do again.
Before finishing with Cardiff City in this piece, I would just like to ask the question as to whether the feelgood factor engendered by the national team may just lead to a small upturn in season ticket sales in the coming weeks? It can only be a guess, but mine is that it won't – the wounds run too deep for too many.
Anyway, back to a more pleasant subject – I found the Bosnia match in October to be a hairs on the back of your neck standing up experience and that would have been the occasion by which I remember 14/15 by in years to come, but last night beat it hands down. This was right up there with great Welsh wins in the past thirty years like Germany and Italy, but, whereas we "outfootballed" our opponents in the latter match, last night was more like the former in that it was what I would call a more traditional type of great Welsh win where backs to the wall defence, determination, a small slice of class and a large helping of hwyl were the main ingredients.
With four matches against them in the past three years, Wales probably know as much about this Belgian team as any opponents the side ranked second in the world going into last night's match may face and, possibly, it was this knowledge which made them decide to sit back and concede possession and territory to them in the first twenty minutes or so.
Alternatively, and this is the version I tend to favour, the quality the visitors showed in those opening stages forced Wales back and saw them defending virtually throughout the whole of that period – for me that spell and a brief few minutes at the start of the second half represented the best football Belgium have produced in those four matches against us.
During this passage of Belgian domination, their most impressive player was not Premier League player of the year Eden Hazard , but AS Roma's holding midfield man Radja Naingolan. Now, as one of the non Premier League players in the Belgium line up, Naingolan is probably one of it's less well known members to a British audience, but those of you who played Football Manager around seven or eight years ago will probably have come across him as someone who was cheap to buy (he was in one or two Cardiff City teams of mine during that period!), but developed into a very good player indeed.
Well, with his sharp passing and clean ball winning, the real life Naingolan made a very impressive start and it was he who forced Wayne Hennessey into his first (and only as it turned out) serious save of the night as his side footed effort from twenty yards was on it's way into the net until Wales' keeper got down to his left to palm the ball away. Naingolan had scored a fine goal in Belgium's very impressive 4-3 win over France in Paris last weekend and looked a player at the top of his game as the visitors bossed proceedings, but then on twenty four minutes, all of his fine work was undone in what I can only describe as a moment of madness.
That may sound harsh, but I can relate to Naingolan to some degree. I think I've said before on here that I thought of myself as a decent to good footballer when I used to play. I was better than many, but, then again,  there were plenty who I couldn't hold a candle to – at no time after the age of about ten did I ever think I could make a career from playing the game. One day though, in a game about a million times less important than last night's, I was playing really well and I knew it. Everything I was trying was coming off, but one of my, many, weaknesses was a tendency to go for the flashy (read dangerous!) option when I was confident – so it was that my attempt at a "Hollywood" type crossfield pass while stood on the edge of the penalty area ended up in a goal for the opposition about two seconds later.
I had it in my mind that the dog who was with the one man watching the game would have been thinking "what a player he is" as my pinged aerial pass arrived straight at our winger's feet and I can't help believing that Naingolan was allowing himself to ponder how the 33,000 present would make a mental note of his coolness and vision as he cushioned a header back to his keeper over the ten or so players who were between him and Thibaut Courtois some twenty yards away.
One of those players was Gareth Bale who had been stood in an offside position, but now became "active" as Naingolan's attempted back pass floated towards him. From my position in the Canton Stand some hundred yards away it was difficult to work out what was happening and I wasn't clear who had scored for us – I figured that someone had cocked up for Belgium, but it was only when I saw the goal repeated on TV at half time that I realised it wasn't quite the tap in I thought it was at the time, Bale made it look simple, but I'm not sure that there were too many in the Welsh team who would have shown the composure needed to put the chance away.
I'll return to Wales' talisman later, but, for now, I'm going concentrate on what a huge moment in Wales' journey through this qualifying group that was. Now they had something to hold on to and, although there had been some proof as to why Wales' recent defensive record is so good in that opening quarter of the game, I'm not sure that they could have defended their goal with the same skill and organisation for the whole ninety minutes without Bale's moment of coolness and Naingolan's aberration.
It wasn't all grim defence though, in fact the rest of the first half saw a far more even contest as Wales showed they had it in them to pass the ball with accuracy and intelligence as they caused a Belgian defence that had only conceded one goal in the qualifying process before last night a few anxious moments. In fact, I'd argue that, shortly after scoring,  Wales produced a move which matched, or even bettered, anything produced by the visitors on the night when, after about fifteen passes, Hal Robson-Kanu's excellent flick left Aaron Ramsey in with a shooting chance which drew a diving save from Courtois, but the ball then found it's way back to the Reading striker who struck what was a fine chance about two yards  wide.
To be honest though, it was not a night when Wales fashioned many chances. In fact, apart from a Robson-Kanu header that drifted some way wide, I cannot think of a time when we really threatened the Belgium goal during the whole of the second half. However, much the same could be said about the visitors as, for all of their possession and territorial dominance, the gradual process that had begun with that Welsh goal which saw Belgium run out of attacking ideas continued as they foundered on the rock that was the Welsh defence.
The final whistle blew to confirm that Chris Coleman had, once again, got his selections and tactical approach spot on. I only got into my seat as the game was kicking off and so did not know the make up of the Welsh team. Within a minute or two I noticed that Chris Gunter was playing as one of three centrebacks, but I found it hard to identify who was out on the right instead of him. Eventually, the penny dropped that it was Swansea's Jazz Richards and I must admit my heart sank a little when this realisation dawned, but, just like the other ten, he was superb on the night and credit has to go to the man in charge for his part in a win he later described as the best of his career as a player or manager.
However, for all of the tactical acumen he's shown, I think what Coleman has done best of all is to instill a club spirit (in the best interpretation of that term) into an international team – nowhere is this more clear than with the aforesaid Mr Bale. Even before his recent problems with some of the Real Madrid support, Bale has always struck me as someone who enjoys his Wales get togethers immensely – there appear to be none of the airs and graces that you might expect from someone who enjoys the sort of reputation that he has earned for himself and he always gives the impression that he "mucks in" completely with everyone else (I loved the way he shooed away that Sky cameraman who tried to join in with the team's post match huddle!).
There was plenty of that mucking in from him last night – in truth, there was little of the usual Bale brilliance, but that could have been because he was determined to put in the same sort of shift as all of his team mates as they put team before individual in a way that our opponents perhaps didn't at times.
In fact. Bale was one of a few Welsh players who was struggling badly in the closing stages because they were out on their feet (it was strange that the television coverage made no mention of this because it was obvious to everyone around where I was sat and the player admitted this himself in his post match interview) and probably the most significant contribution he made in the last quarter of the game was when he motioned to the crowd to up their support as Belgium looked like coming on strong again.
The response Bale's request got was amazing – the support had been superb up until then, but the full throated versions of Land of my Fathers that rang around a stadium which again proved that it is marvelously atmospheric if the people in it decide to make it so, took it on to another level and said to me that those present saw this Welsh side as one which had earned their support, as well as trust, and, as a result of that, they were with them all of the way.
So, having been in with the likes of Andorra, San Marino and Malta in pot six four years ago, Wales will find themselves as one of the top European seeds in pot one for the World Cup 2018 Qualifying groups draw  next month. I've seen messageboard claims that we will be in the top ten of the FIFA World rankings as well and one or two have claimed that we will be above England, but I've also seen calculations that say we'll not be as high as tenth and an England win in Slovenia tomorrow will put them two points ahead of us.
However, even if we don't quite climb as high as some think we will, I'm still tempted to say that we all should enjoy these days while we can because it's not going to get better for Welsh international football than this. That said, in an age where club football and the Champions League appears to hold sway with so many in the "bigger" football nations, a team bound by a common spirit and a fanbase which is with them all of the way may be able to go further than their talent level might indicate.
For further proof of this, Iceland, who were there in pot six with us in 2011, beat the Czech Republic last night (Aron Gunnarsson scored their first goal in a 2-1 win) to move to the top of their group and currently Slovakia, Northern Ireland, Austria and Albania can all entertain serious hopes of getting to France 2016.
With one of our remaining matches being the closest thing there is in this tournament to a gimme when Andorra come to Cardiff in October, I'd say that we only need one other win from our remaining three other matches to ensure qualification. Furthermore, their defeat last night means that Belgium will, hopefully, still have something to play for when they entertain Bosnia and then Israel (the two teams most likely to cause us to miss out) in the autumn – even an old pessimist like me is beginning to believe that we are going to make it this time!
* pictures courtesy of photoshttps://www.flickr.com/photos/joncandy/
by The other Bob Wilson with