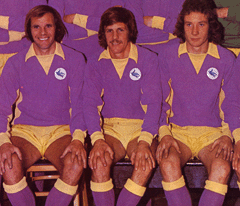 I'm struggling to explain why, but I found last night's Under 21 Development team game between Cardiff City and Queens Park Rangers far more enjoyable than I would have expected considering that it finished goalless and you could count on the fingers of one hand the number of times the deadlock was seriously threatened with being broken at either end of the pitch. I'm not under exaggerating (if there is such a term?) there either – I can only really think of four times (two for each team) when I thought to myself there might be a goal on here.
Yet, somehow, the match kept my attention throughout. Looking at it from a City perspective, perhaps it did so because there was something to admire about the way they managed to keep QPR at bay during spells in the second half in particular where it looked like the visitors were beginning to take control as the play kept on heading towards their goal, perhaps it had something to do with the fact that it was was a very young and somewhat under strength side that was fielded or perhaps it was because there were a couple of excellent performances from home players on the night?
A look at the team sheet as I entered the ground confirmed the suspicion that some members of what would be considered City's first choice Development side would be missing because they were, in all likelihood, going to be included in the first team squad for today's League Cup match at Port Vale. Based on the team fielded last night, I would expect all or most of the following to be in the eighteen for tonight's game – Jazzi Barnum Bobb, Tom James, Deji Oshilaja, Kane Owen, Joe Ralls, Tommy O'Sullivan and Kadeem Harris because none of them were in the sixteen named against QPR.
So, for last night's match, it was a City team some way below the strength of the one I would normally expect to compete at this level. It has to be said mind, that, with QPR having their own League Cup tie at Burton tomorrow night, the same could probably be said about their team. Certainly, there were very few names I recognised in their line up – Frankie Sutherland and Bruno Andrade rang a bell as players who might have featured for their first team and I presumed that right back Darnell Furlong was a relative of their former striker, Paul Furlong.
The game got off to a fairly cautious start with both sides sizing each other up. As so often is the case with our youngsters, they were up against opponents who were, generally, taller than them, but, City's central midfield three of Macauley Southam, Jaye Bowen and captain Theo Wharton were able to nullify this physical disadvantage with some neat footwork and passing which helped launch counter attacks which suggested that City could catch their opponents out as the game went on.
Unfortunately, that never really happened for City – although they were always competitive in the middle of the park, the visitors got stronger in that area and this helped them enjoy a slight superiority which lasted for much of the last three quarters of the game.
However, this was not reflected in terms of efforts on target from QPR. Indeed, for all of their pressure in the opening forty five minutes, a goal only really looked on when Olomide Shodipo forced new keeper Charlie Horton into a sharp low save and then Horton was up quickly to smother a follow up effort at the expense of a corner. Up the other end, Tyler Roche had an effort blocked, but it was when Rhys Healey (looking stronger than last season and generally more aware of what was going on around him) did well to control a high ball and burst clear of his marker, that it looked like City might open the scoring – unfortunately, Healey had to shoot from quite a tight angle and his shot went across the face of goal and wide.
The second half started in misleading fashion when Josh Yorwerth forced QPR keeper Neil Etheridge into his first save of the night when the centreback got his head to a corner – it was a routine catch of a ball that was heading straight at him, but, from memory, it was one two only saves Etheridge had to make all night.
The reason I used the word "misleading" there is because, from then on, QPR were dominant for the next twenty minutes or so. It seemed that they were under instructions to press City more when they were in possession and it bore fruit in that the visitors were able to force us to knock the ball long or gain possession in advanced areas – the upshot was the ball kept on coming back at City and you wondered whether a goal was coming.
However, although there were a few moments when the ball bobbed around dangerously in our penalty area, I can only remember one occasion when I thought we were going to concede and this came when Horton started to come for a through ball and then stopped to leave Jordan Gibbons the chance of a fairly easy lob over the keeper – Gibbons' effort lacked composure though and flew well over the bar.
City's defending at first team level this season has drawn quite a bit of praise and the reason why QPR were unable to cash in on their superiority was that the youngsters followed the example of their seniors and showed a lot of heart, and no little skill, to keep their goal intact. Everyone played their part in the defensive effort, but it was the back four of Ben Watkins (playing out of position at right back), Maxi Amondarain, Josh Yorwerth and David Tutonda who excelled during this period.
In the closing stages, City were able to lift the siege on their goal somewhat. Healey, rather selfishly, went for goal and his bobbler forced Etheridge into his second save, but, when Tyler burst clear down the right as the match went into added time and crossed low into the six yard area, the striker was inches away from making contact – if he had done then I'm sure he would have scored.
That was as close as City came all game and this tends to prove the point that they didn't deserve to win – if either team did, then I'd say it was QPR, but, overall, a draw seemed a fair result in a game between two hard working teams who had their limitations on the creative front.
I'll finish with a few words about three City players. I was looking forward to seeing new signing Danny Johnson play, but, surprisingly, City chose to employ someone who scored more than fifty goals last season in a wide left position in a five man midfield – Johnson ended up making little impact and was eventually withdrawn, but it would be good to see him play in the position where he attracted our interest in the first place.
Three years ago, Declan John had a poor time of it in what turned out to be his final season in the Academy team – the winger, who had been hailed as one of our best prospects, was nearly always substituted in the games I saw him play and, given his lack of impact, it was hard to argue with this treatment. It seemed Declan was struggling to go make the transformation from promising kid to young professional, but his switch to left back did the trick and he is now the closest of our Academy scholars to being a first team regular.
Much the same type of thing happened last season to winger Tyler Roche – the speed merchant who had left full backs floundering in his wake when I first saw him play at Under 16 and Under 18 level had turned into a diffident performer who appeared to lack confidence and, like John before him, was often an obvious candidate to be "hooked". Maybe he wasn't 100% cent fit, but something wasn't right and, to be honest, I was a little surprised when I read he'd been given a pro contract.
Roche's struggles last season were nearly all in the Under 18 side, so you would hardly expect him to prosper when he stepped up a level to the Under 21's, but he was back to his best last night – he had visiting left back Cole Kpekawa on toast most of the time and also looked dangerous when he switched to the left. Roche will have no problems at Under 21 level if he keeps this level of performance up and it was good to see the player who struck me as the best prospect we had in his age group looking more like his old self.
With a performance like that, Roche would have been my City man of the match most weeks, but I thought Josh Yorwerth just shaded him. With about ten minutes left, Yorwerth gave the ball away and QPR broke for an attack which, luckily for him, came to nothing, so he wasn't faultless, but he had been up until then and he was in the time that remained. Yorwerth was a towering presence throughout – composed on the ball, timing his tackles and interceptions perfectly and all in all making life very frustrating for his opponents (on this form, you have to wonder if we really do need another centre back).
by The other Bob Wilson with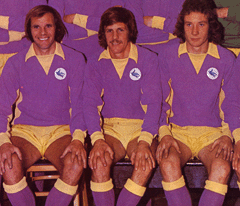 Cardiff City's Under 21 Development team ended their season last night with a very poor 4-0 home defeat in their Play Off Semi Final with Crewe Alexandra and now the Cheshire side face Queens Park Rangers in the Final following the London team's 3-2 win over Northern Section Champions, Huddersfield Town.
There were some mitigating circumstances for the youngsters. Joe Lewis' bizarre selection as substitute goalkeeper meant that City only had one over age player involved in Matt Connolly – everyone else was an Under 21 player who had not experienced any first team football at Cardiff this season. On the other hand, Crewe's side was full of players with Football League experience, with veteran goalkeeper Steve Phillips having played over 600 games in his career. Besides Phillips, the visitors had a core of five players with between twenty and eighty first team games to their name and there were a couple more in there who had played League One football for them during this season as well.
Crewe's reputation for producing good quality youngsters who are taught to play a progressive, passing game probably explains why their Under 21 side was able to feature so many players with what was a considerable amount of first team football for their age. However, let's not lose sight of the fact that we are talking about a club which has been mounting a season long fight against relegation to the Football League's basement division and with a couple of tough looking matches (Bristol City away and Preston at home) to come, there has to be a strong chance that they will lose that battle.
Despite all of that first team experience, only two of those involved last night got on to the pitch in Saturday's 0-0 draw with Colchester, so that puts the team Crewe fielded last night into some perspective – certainly, you would have expected the best a Premier League club had to offer in the Under 21 age group to have been a lot more competitive against them than our team turned out to be.
The sad truth from a Cardiff viewpoint was that City faded badly after a bright start and spent most of the game comfortably second best against a team who played the last half an hour with ten men following what I thought was a harsh red card shown to their captain.
Yet it also started well for City – they used a three centreback system which had Luke Coulson and Kane Owen providing the width as they looked more like wingers than wing backs in the first quarter of an hour. Coulson in particular was worked into some promising looking positions as City frequently hit long, sweeping passes to him out on the right (this went on throughout the game) and he probably put in more crosses than he had done in any other match he has played for the club.
The trouble was that, with Tommy O'Sullivan the only City player getting into the box to support lone striker Rhys Healey, there were only ever a couple of targets to aim for and both of those were giving away two or three inches (at least) to their markers. After a while, I got the impression that Crewe were perfectly happy for Coulson and Owen to keep on firing in their crosses because their defenders preferred that to being moved around by the more mobile Healey and O'Sullivan.
Unfortunately, most of the attempts to attack Crewe on other fronts proved wholly unsuccessful as City's passing was too ponderous and error prone to open them up and so it was that the only time Phillips might have had cause for concern in the first half was when Owen fired a low cross shot in which flew not too far wide with Healey close to getting a decisive touch.
Up the other end, Crewe were gradually causing more and more problems as they fed on errors by Cardiff players – Owen and Josh Yorwerth both gave away possession in dangerous areas which led to free kicks which saw keeper Wilson touch one over and then lose the flight of a cross which was headed not too far wide.
A goal was coming and, although there was a touch of good fortune about it when it did, there could be no denying that it was deserved – Leitch-Smith's deflected effort from fifteen yards easily beating Wilson in the twenty sixth minute. After that, the visitors wasted some decent counter attacking opportunities, but with five minutes of the half left they were able to take a lead that was more in line with the extent of their superiority when  Waters scored from close range – there were appeals for offside from City's back line, but they would have been better served examining their poor defending, rather than looking for a flag that was never going to come.
Fair play to City, they had a go in the second half and they should have had a penalty for a clear handball by a Crewe defender. If City got no help from the officials there, then I think that was balanced up on the hour mark when Crewe's Wales Under 21 defender George Ray was shown a red card for bringing down Healey – Ray was judged to be the last man, but it seemed to me that his centreback partner Mellor could have got across to challenge the City striker as well.
Nothing came of O'Sullivan's free kick, but Phillips had to make good saves from him and Healey in the minutes which followed and Yorweth was able to win a series of headers from dead ball situations which could have led to goals on another day.
Any hopes of City mounting a dramatic late come back though ended when Wilson dived over a shot from right back Baillie with ten minutes left and with time almost up, the other full back Melling completed the scoring.
When the scoreline is as clear cut as 4-0, there cannot really be any doubting it's validity and I'm afraid City got what they deserved last night. I thought Brad Williams did well in the holding midfield role, but no one else shone in the team – for example, Tom James, Yowerth, Theo Wharton, O'Sullivan and Healey are all a lot better than they showed last night.
One poor defeat should not overshadow a season which has seen the City Under 21's win their league and, certainly in the second half of the campaign, they largely did so with a team which, unlike last season, was often made up solely of youngsters. However, having seen all but one of our home matches, it must be said that Under 21 games in 13/14 were not as easy on the eye as they were in 12/13 when the team tended to win matches with a degree of style. This time around there has been less goals and less creativity with matches often being decided by single goal margins.
Invariably, tight games ended up going in City's favour because Rhys Healey again proved that he is a very good finisher at this level – he's not the complete player yet by any means, but, for me, Healey is the clear winner of my award for Under 21 team Player of the Year 2013/14 and I'll just mention in passing that at Under 18 level Curtis Watkins edges out Tom James (who didn't play much for the Academy team in the second half of the season), Robbie Patten and Tom Burridge for the award.
by The other Bob Wilson with