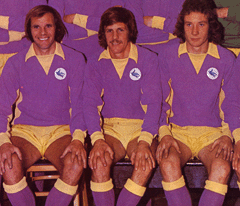 Cardiff City's Under 21 Development team ended their season last night with a very poor 4-0 home defeat in their Play Off Semi Final with Crewe Alexandra and now the Cheshire side face Queens Park Rangers in the Final following the London team's 3-2 win over Northern Section Champions, Huddersfield Town.
There were some mitigating circumstances for the youngsters. Joe Lewis' bizarre selection as substitute goalkeeper meant that City only had one over age player involved in Matt Connolly – everyone else was an Under 21 player who had not experienced any first team football at Cardiff this season. On the other hand, Crewe's side was full of players with Football League experience, with veteran goalkeeper Steve Phillips having played over 600 games in his career. Besides Phillips, the visitors had a core of five players with between twenty and eighty first team games to their name and there were a couple more in there who had played League One football for them during this season as well.
Crewe's reputation for producing good quality youngsters who are taught to play a progressive, passing game probably explains why their Under 21 side was able to feature so many players with what was a considerable amount of first team football for their age. However, let's not lose sight of the fact that we are talking about a club which has been mounting a season long fight against relegation to the Football League's basement division and with a couple of tough looking matches (Bristol City away and Preston at home) to come, there has to be a strong chance that they will lose that battle.
Despite all of that first team experience, only two of those involved last night got on to the pitch in Saturday's 0-0 draw with Colchester, so that puts the team Crewe fielded last night into some perspective – certainly, you would have expected the best a Premier League club had to offer in the Under 21 age group to have been a lot more competitive against them than our team turned out to be.
The sad truth from a Cardiff viewpoint was that City faded badly after a bright start and spent most of the game comfortably second best against a team who played the last half an hour with ten men following what I thought was a harsh red card shown to their captain.
Yet it also started well for City – they used a three centreback system which had Luke Coulson and Kane Owen providing the width as they looked more like wingers than wing backs in the first quarter of an hour. Coulson in particular was worked into some promising looking positions as City frequently hit long, sweeping passes to him out on the right (this went on throughout the game) and he probably put in more crosses than he had done in any other match he has played for the club.
The trouble was that, with Tommy O'Sullivan the only City player getting into the box to support lone striker Rhys Healey, there were only ever a couple of targets to aim for and both of those were giving away two or three inches (at least) to their markers. After a while, I got the impression that Crewe were perfectly happy for Coulson and Owen to keep on firing in their crosses because their defenders preferred that to being moved around by the more mobile Healey and O'Sullivan.
Unfortunately, most of the attempts to attack Crewe on other fronts proved wholly unsuccessful as City's passing was too ponderous and error prone to open them up and so it was that the only time Phillips might have had cause for concern in the first half was when Owen fired a low cross shot in which flew not too far wide with Healey close to getting a decisive touch.
Up the other end, Crewe were gradually causing more and more problems as they fed on errors by Cardiff players – Owen and Josh Yorwerth both gave away possession in dangerous areas which led to free kicks which saw keeper Wilson touch one over and then lose the flight of a cross which was headed not too far wide.
A goal was coming and, although there was a touch of good fortune about it when it did, there could be no denying that it was deserved – Leitch-Smith's deflected effort from fifteen yards easily beating Wilson in the twenty sixth minute. After that, the visitors wasted some decent counter attacking opportunities, but with five minutes of the half left they were able to take a lead that was more in line with the extent of their superiority when  Waters scored from close range – there were appeals for offside from City's back line, but they would have been better served examining their poor defending, rather than looking for a flag that was never going to come.
Fair play to City, they had a go in the second half and they should have had a penalty for a clear handball by a Crewe defender. If City got no help from the officials there, then I think that was balanced up on the hour mark when Crewe's Wales Under 21 defender George Ray was shown a red card for bringing down Healey – Ray was judged to be the last man, but it seemed to me that his centreback partner Mellor could have got across to challenge the City striker as well.
Nothing came of O'Sullivan's free kick, but Phillips had to make good saves from him and Healey in the minutes which followed and Yorweth was able to win a series of headers from dead ball situations which could have led to goals on another day.
Any hopes of City mounting a dramatic late come back though ended when Wilson dived over a shot from right back Baillie with ten minutes left and with time almost up, the other full back Melling completed the scoring.
When the scoreline is as clear cut as 4-0, there cannot really be any doubting it's validity and I'm afraid City got what they deserved last night. I thought Brad Williams did well in the holding midfield role, but no one else shone in the team – for example, Tom James, Yowerth, Theo Wharton, O'Sullivan and Healey are all a lot better than they showed last night.
One poor defeat should not overshadow a season which has seen the City Under 21′s win their league and, certainly in the second half of the campaign, they largely did so with a team which, unlike last season, was often made up solely of youngsters. However, having seen all but one of our home matches, it must be said that Under 21 games in 13/14 were not as easy on the eye as they were in 12/13 when the team tended to win matches with a degree of style. This time around there has been less goals and less creativity with matches often being decided by single goal margins.
Invariably, tight games ended up going in City's favour because Rhys Healey again proved that he is a very good finisher at this level – he's not the complete player yet by any means, but, for me, Healey is the clear winner of my award for Under 21 team Player of the Year 2013/14 and I'll just mention in passing that at Under 18 level Curtis Watkins edges out Tom James (who didn't play much for the Academy team in the second half of the season), Robbie Patten and Tom Burridge for the award.
by The other Bob Wilson with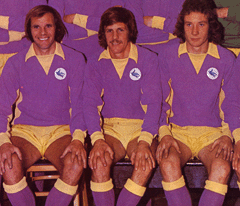 I'd figured out exactly how we were going to stay up this season – all the club had to do was pay for me to get to all of our remaining away matches and we'd be safe. No, this wasn't me trying to con my way into getting to places like Newcastle and Sunderland, this was what looked to be a sure fire method of ensuring we would be in the Premier League next season. The reasoning behind my plan for us dodging the drop hinged on the fact that, suddenly, in football supporter terms anyway, everything I touched was turning to gold!
Somewhere along the line, I'd done or said something which had transformed City's fortunes – as long as I was there in the flesh watching them. In the two days between the Hull City debacle on 22 February and the Under 21′s match with Charlton the following Monday evening, I'd inadvertently done the thing that was going to make all of the difference. What else could explain the fact that, since the Hull game, I had watched six matches (one City Under 16′s, 2 x Under 18′s, one Under 21, a first team match and a Wales international) and the team I had been supporting had won them all, with the one one game I'd not been present at (Spurs) having been lost.
So it was, I set off to Cardiff City Stadium yesterday lunchtime utterly confident that I would see out table topping Under 21 Development side beat bottom of the league Ipswich in their latest home game (the Under 21′s have a formidable record at Cardiff City Stadium as well).
The first inkling I got that things might not go to plan came when I saw the team sheet that was given to me as I entered the ground. Recently it seems that I have to write that the Under 21 side I'd just watched was the most inexperienced I'd seen us play at this level after every match I go to and that trend continued yesterday. Kadeem Harris (who had played for the first hour in that Charlton match I mentioned earlier) was missing, he was replaced by Anthony Bell, and we had someone called Robbie Cotton, a name which meant nothing to me, wearing the number eight shirt – I've subsequently done some research and it seems Cotton was formerly at Blackburn.
So, City's side was, again, without any of the three over age outfield players they are allowed in this competition, but to be fair, there was only one familiar name in the Ipswich line up – Alan Lee, who is now combining playing with a coaching role at their Academy was leading the visitor's attack.
What turned out to be an entertaining match in the Sunday lunchtime sun started off with City looking the sharper as Rhys Healey, seeking to add his excellent goalscoring record at this level this season, did well to get a shot away from a difficult angle which flew not too far wide and then Bell also didn't miss by much with an effort from around twenty yards. With City only looking to have Josh Yorwerth physically equipped to cope with Lee and the two giant centrebacks in the visitor's line up, Ipswich appeared to have an advantage from dead ball situations around the City goal and they came very close to exploiting this when centre half Omar Sowumni got his head to a free kick – it looked like a certain goal as keeper Ben Wilson was beaten and an Ipswich forward closed in to apply the finishing touch, but in a move which was very like Emerson Boyce's matchwinning clearance for Wigan in their win at Man City a few hours later, Tom James did brilliantly to not only stop the ball going in, but also get it over the bar for a corner from only a yard or two out.
Ipswich did threaten at times in the first half after that, but never came as close to getting the first goal again, whereas City got on top in the minutes before the break with visiting keeper Michael Crowe doing well to keep Tommy O'Sullivan's effort out, Healey having his effort blocked for a corner after intercepting a back pass and a combination of Crowe and one of his defenders denying Jaye Bowen.
It was something of a surprise that the match was still goalless at half time and the early signs were that the second period might not be as open as the first had been. The first fifteen minutes or so after the break only produced one opportunity for either side which both featured Ipswich centreback Matt Clarke -the first coming when he missed his header right in front of the City goal from about six yards out when he came up for a free kick and the second when he fired a Kane Owen cross towards his own net only for the ball to fortunately hit Crowe from point blank range and fly to safety.
After that freakish escape for the visitors I began to wonder if the game would ever see a goal when three of them came along in the space of about four minutes! For the first of them, Ipswich right back and captain Kyle Hammond did really well to go past three opponents and cross low from the bye line for Amir Berkane to fire low into the net for the visitors to go into a lead which flattered them on the balance of play. However, within less than a minute, they looked well on their way to the three points when another fine cross (this time from the left) enabled Lee to show his far post heading ability with an effort which was placed to perfection beyond Wilson to double the Ipswich lead.
Lee had been warned for use of the elbows on Yorwerth when they contested a high ball in the first half (it was the sort of incident which would have had the home crowd baying for a red card in a first team match, but in these more "genteel" surroundings, all that happened was that he got a lecture from the ref without seeing a card of any colour) and it typified an interesting physical battle between the two of them in which the City youngster did not back away an inch – Lee went off to applause shortly afterwards and gave the crowd an Ayatollah as he departed the pitch.
Facing their first home defeat of the season, City pushed Tommy O'Sullivan forward from midfield to accompany Healey and he got the goal needed virtually straight away when he broke clear from a Theo Wharton pass to round Crowe and calmly find the net.
With the game still not yet in it's final quarter, it seemed that there was plenty of time for City to turn level things up and even go on to win, but, surprisingly, chances for either side were at a premium after that as the clock ticked  towards the ninety minute mark and, as the match went into added time there had only been a shot which flew just wide with Wilson beaten by Ipwich's impressive winger Darren McQueen which threatened a goal.
For me, City had fallen into the trap of knocking in too many high crosses that were food and drink to the Ipwsich centrebacks and I couldn't see them getting on terms, but, not for the first time (and certainly not for the last!), my opinion was proved to be completely wrong when James touched on a Luke Coulson cross which sub Dane Griffiths volleyed home in style to rescue a point with about a minute left of the four which had been signalled on the fourth official's board.
City had done well to rescue a point which, for now at least, stretches their lead at the top to eight points, but my master plan for keeping us up was in tatters and it's back to the drawing board now I'm afraid!
* picture courtesy of http://www.cardiffcityfc.co.uk/
by The other Bob Wilson with