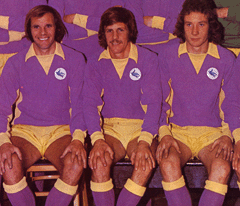 There haven't been many of the goal filled romps we saw last season in home matches for the Under 21 side this time around – they've invariably been tight affairs contested by evenly matches teams. As to why it's been harder going for the Development team this season, I think you only need to look at the fact that in 12/13 there was always a nucleus of experienced over age players selected as the rule that said four over 21′s (one of whom, had to be a goalkeeper) could be selected was nearly always utilised.
Filip Kiss and Etien Velikonja were regular starters in last year's team and at various times you had people like Ben Turner, Craig Conway, Rudi Gestede and Joe Lewis being selected, while first team members who were still young enough to be included like Joe Mason and Jordon Mutch often featured as well. This time around, the reliance has, increasingly, been on youngsters not long out of the Academy – I'm not sure whether this is a deliberate policy, but the large number of players we have sent out on loan probably means that we would be unable to field sides as experienced as last year's even if we wanted to.
It's to the youngsters credit then that, with one exception, they have found ways to win their league matches at Cardiff City Stadium this season. This applies particularly to last night's 1-0 victory over a Charlton side which beat them in the Final of the end of season Play Offs back in May and it was all the more praiseworthy that they did so with the most inexperienced team I've seen us field at this level.
Having Kadeem Harris back for his first start since returning from the injury which ended his very successful loan spell at Brentford helped, but Ben Wilson, Bradley Williams, Dane Griffiths and Tom James are novices at this level (I'm pretty sure it was a first start for the Under 21′s for the last two named) and so the likes of Luke Coulson, Josh Yorwerth, captain Theo Wharton, Tommy O'Sullivan and Rhys Healey found themselves cast as the "old heads" charged with guiding their team through what was something of a new experience for around half of the squad named.
City were immediately into their stride once the game finally kicked off after a delay of twenty minutes or so. The feeling among the people sat by me was that the delay was down to a couple of faulty sprinklers which could not be switched off, but, given the way Charlton started, you got the impression that it was their late arrival which had caused it. The visitors struggled to find their bearings in the first two or three minutes and could have found themselves three down in no time as, first, keeper Dillion Phillips foiled Healey in a one on one, then O'Sullivan fired narrowly wide from twenty yards and then Dillon was grateful to see a short range shot fly straight at him after Harris had beaten his man to get to the bye line and provide the cross.
Maybe Healey's chance came too early in the game, because it was the sort of opportunity he has been putting away all season, but, whatever the reason, it was one of the things that characterised a sloppy start by the striker who constantly misplaced passes to present possession to the visitors. Whatever was afflicting Healey proved to be contagious, as City's fast start soon subsided into a twenty minute period of careless passing (even the usually reliable Wharton and O'Sullivan were affected) that saw them being forced onto the back foot as Charlton took charge.
That said, the only time the visitors got into a threatening position during this period came when James was forced to clear for a corner after a Charlton player had been played in down City's left and when Dillon failed to deal with a Harris corner which seemed to kept out by a combination of a covering defender and the upright, the home side again showed that they carried the greater goal threat. Within seconds, this had been proved when a corner from the other side of the pitch found it's way to Healey and he sent a first time shot low into the corner of the net from around fifteen yards to give his side the lead with around half an hour played.
It was Healey's twelfth goal in thirteen league matches and, once again, he had shown that unerring instinct that all good goal getters have of being able to forget about how the rest of their game is going and react in the correct manner when a chance comes along – it wasn't an eye catching finish, but my guess is that about eighteen of those on the pitch at that time would not have found the net under similar circumstances.
City's (and Healey's) game improved  after that and if there was going to be another goal scored before half time, all of the signs were it would come from them as Charlton survived a series of scares before the break. However, the early stages of the second half saw the visitors have their best attacking spell of the game as they went a bit more direct and forced Wilson into a good diving save and then hit the post from a close range chance that probably should have been converted.
Wilson also had to deal with a far post header when Charlton worked another presentable chance, but, with Yorwerth and James doing a fine job, the last quarter of the game saw City a bit more comfortable. Indeed, as the visitors were forced to take more and more risks in their search for an equaliser,  it was City who began to look the more likely scorers again as they threatened to catch their opponents on the break and it was only an awful offside decision which robbed Healey of a great chance to double the lead with about five minutes left.
Instead of the great chance he should have had, all the striker got was a yellow card for his troubles as he put the ball into the net after the flag had, incorrectly, been raised. Healey was the third City players to be cautioned with the earlier yellow cards for Kane Owen and the hard working Griffiths for fouls both being justified in my opinion – mind you, there was plenty that referee Chris Smith got wrong on the night. Apart from the guy who prompted a pitch invasion by an irate pensioner at the end of a game last year, I've found the referees for these matches to be pretty good on the whole, but that couldn't be said of Mr Smith who couldn't seem to make up his mind whether he was someone who generally let things go or whether he was a card happy character who whistled for everything.
Particularly confusing was his use (or to be more accurate, non use) of the advantage rule as there were plenty of times where he appeared to let the play go on, only to whistle some time later to bring it back for the original foul even though the team in possession had sometimes got themselves into a promising situation. Although I thought Mr Smith favoured Charlton in his general decision making, I must admit that it was the visitors who suffered most through his odd interpretation of the advantage laws.
Anyway despite the sub standard officials, City saw the game out against opponents who had beaten them 5-2 earlier in the campaign, and had only lost twice in the league until last night, to strengthen their hold on top spot in the league. With second placed Brighton being held at home by Bristol City last night, City now lead the table by six points and are at least seven in front of the team in third – if they can make the end of season Play Off's, then I'd say it would be a more impressive achievement than last year, given the, seemingly, weaker sides they've had to field.
* picture courtesy of http://www.cardiffcityfc.co.uk/
by The other Bob Wilson with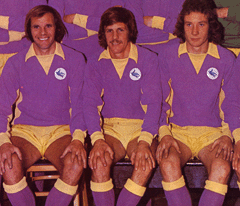 Such has been the Under 21 Development team's outstanding home form over the past season and a half, it's hard not to treat last night's 2-2 draw with Queens Park Rangers like a defeat. Last season the Under 21′s won all but two (a 4-1 loss to QPR , who are something of a bogy side for us at this level, and the 3-1 extra time defeat by Charlton in the Final of the Play offs) of the matches they played at Cardiff City Stadium and they had a 100% winning record there this season before last night.
This was therefore the first home draw at this level for City and over the ninety minutes I suppose this was a fair result, but I would say that if a team deserved to win, it was our youngsters because they had so many more opportunities to get that decisive fifth goal than the visitors did.
It was a strange game, with the first half seeing all of the goals scored – it was very entertaining fare for the opening forty five minutes with both sides eager, willing and able to play good football, but, as the rain emptied down after the break, it became a damp squib as two bedraggled teams tried, and failed, to recapture their first half invention and skill.
City started with two of their three recent Norwegian signings in the starting line up and Mats Møller Dæhli and Jo Inge Berget both played prominent roles in a fast start which, at times, threatened to overwhelm the visitors. City passed the ball crisply and swiftly from the first whistle and, although the first few minutes only saw them get close to opening up the QPR defence, it didn't take too long for the chances to start coming. Left back Kane Owen was not far over the bar with his rasping twenty five yard effort and Rhys Healey's superb lobbed finish after good work by Berget was ruled out by an offside flag – I was in line with the play for this and my feeling was that the linesman had got it wrong, but I suppose I would say that wouldn't I!
Next it was Dælhi who tried his luck as his shot was blocked and fell to Jaye Bowen who shot from eight yards was diverted away by a covering defender, but City were now carving the QPR backline up at will and a goal had to come – when it did around the twenty minute mark, it was quite similar to the earlier disallowed goal with Berget again instrumental as he forced an error from the visitors central defence to play in Healey. This time the flag stayed down and when the young striker gets such a chance at this level there is almost an inevitability about what happens next – Healey opted to take the ball around the advancing keeper Lennox and then slide it into the empty net.
It seemed that this would be the first of plenty of goals in this game and, within two or three minutes, there was another one, but the problem for City was that this one ended up in their net. It has to be said though that it was a beautifully worked goal as Mike Petrasso finished off a neat passing movement with a fine shot placed high into the corner of the net from around the edge of the penalty area – this came from QPR's first worthwhile attack of the game .
The match changed after this as, having been pretty sloppy in their ball retention up until then, the visitors went on to improve markedly in that department for most of the remainder of the game and, while it would be an exaggeration to say they dominated the rest of the half, it would be true to say they had more of the game than the City team. That said, when Petrasso scored  a second, well worked, goal with a shot low into the same corner of the net, it was hard not to feel sorry for Joe Lewis whose only real involvement in the game to that time had been to pick the ball out of the net after being beaten by two shots he had no chance of saving.
Lewis finally made a save when he beat out another Petrasso effort as QPR now enjoyed their best spell of the game, but, that apart, there was only really a header not far over the top from one of their centrebacks which threatened the City goal and, as it turned out, the visitors never came as close again for the rest of the game.
Although City never quite lost their earlier ability to test Lennox – for example, he had to beat out a shot from right back Luke Coulson and Dæhli forced him into a diving save with an angled effort from the right, there was a definite feeling that they needed to get to half time just the one goal down, but, as it turned out, they did better than that as the outstanding Mats Dælhi created a goal out of nothing by beating a defender and then cutting in on goal before finishing in fine style high into the net.
That lovely goal set the seal on a first half in which Dælhi had shown that the extravagant claims made about his potential were more than just hype. Allowances need to be made for the level at which the game was being played of course, but Dælhi's display in the first half was an object lesson in what the term "close control" should mean because when he had the ball, whether it be looking for a pass or trying to take it past opponents, it almost seemed to be glued to his feet – rarely, if ever, did the ball get away from him in the manner that it did with his midfield partners Tommy O'Sullivan, Theo Wharton and Bowen (all of whom have good ball skills in my opinion), Dælhi was another level up.
A textbook tackle to rob an opponent showed that Dælhi can handle the other side of the game as well and made me think that his long term future may lay in central midfield, but, for now, he's probably too slight for such a position and the floating role he was given just behind the strikers suits him fine on this evidence.
Dælhi was one reason why I was genuinely looking forward to the second half during the half time interval – it had been one of the most entertaining matches I'd seen all season up until then and I had no reason to suspect it would be any different in the second forty five minutes.
Quite why games can tail off so much after a very watchable opening period or improve so much after a miserable opening is a mystery to me. I don't think there was any change in attitude from either team, they both still were trying to win the game and not shut up shop, but, for whatever reason, the quality that was there before had now, largely, disappeared. After a sloppy period from both teams, QPR were still able to string lots of passes together for the last half an hour of the game, but,as mentioned earlier, there was little to bother Lewis from them.
What goalmouth action there was came from City – O'Sullivan and Wharton didn't bother Lennox with long range efforts and, unusually for him, Healey failed to get a shot away after being worked into a promising situation, but it was Dæhli again who provided the second half's real talking points. The main one came from a superb run past three defenders which took him into an excellent position, only for him to shoot straight at Lennox. The keeper was not called into action though after neat work by Berget sent Coulson clear down the right, but Dæhli's scuffed effort from his cross was a poor one and went well wide, while his attempt to score a similar goal to his earlier one ended when his attempt to place the ball high into the opposite corner narrowly failed after he had cut in from the left.
Brighton's win over Crystal Palace on the weekend means that City grip on top spot has been loosened a little, but the latest table  shows that they still have a handy lead and they certainly appear to be well on their way to securing the top two place which would see them in the end of season Play Offs again.
by The other Bob Wilson with