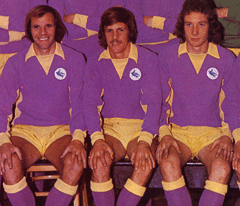 A stubborn Millwall outfit played their part in ensuring that last night's Under 21 Development team match at Cardiff City Stadium saw less of the free flowing entertainment than has been the norm for Kevin Cooper's team since they started competing at this level last season. City managed to maintain the superb record which has seen them win all but two of their home games during this time and their 1-0 victory was a deserved one over the ninety minutes, but it was a close run thing as the team made it fifteen points from their first six league matches and maintained their lead at the top of the table.
Millwall were in third position going into the weekend's fixtures and provided a tougher test than Swansea and Brentford had done in City's two previous home fixtures. Their tenacity meant that their were not as many chances or as much goalmouth action as normal in these Monday night matches, but, what there was tended to come at Millwall's end as it was almost an hour before the visitors came close to threatening the City goal.
That said, the absence of two established and influential members of the team played a large part in leading to the relative lack of a goal threat from the City side. Kadeem Harris has become a very impressive performer at this level and City were always going to miss his dribbling ability, improved crossing and goals once he had moved to Brentford on loan until January (he scored on Saturday after coming on as a sub  in the 3-1 win over Colchester at Griffin Park). While it appears that Filip Kiss has no first team future at Cardiff, he's a powerful and accomplished performer for the Under 21′s and the team took some time in coming to terms with the absence of his strength and know how last night.
A front two of Joe Mason and Rhys Healey also meant that the team were limited to some extent in how they could build attacks – these two players are quite similar in terms of physique and their manner of playing and so their team mates didn't have the different options available to them when trying to build attacks in the game against Brentford a week ago when it was Rudy Gestede alongside Healey.
Kiss' absence meant that there was another over age player spot available for Kevin Cooper to use and he decided to go with Mason, John Brayford and Craig Noone. The latter looked in the mood to put on a show as well with a series of jinking runs which caused the visitors problems early on, but a crunching challenge brought an end to one of them and, eventually, led to his withdrawal after thirty five minutes – Anthony Bell coming on as a Noone's replacement (hopefully the winger who has been unlucky in not being given a Premier League opportunity at all so far was taken off as a precaution).
Declan John came into the side after his international call up to replace Harris and, although he interchanged roles with Kane Owen to some extent, tended to play more in  his old winger role. John provided the majority of meaningful goal threats in a low key first half – his shot from the free kick awarded after the foul which led to Noone's injury didn't come too close, but an earlier effort from twenty five yards as he cut in from the left didn't fly over by much and Millwall keeper Denzell Gerrer might have struggled to keep out another shot from just outside the penalty area if it hadn't got a deflection which sent it not too far wide. However it was Healey who came closest to breaking the deadlock after a fine run which took him past three defenders – Gerrer getting down well to keep out the striker's effort from fifteen yards.
City's young central midfield combination of Theo Wharton and Tommy O'Sullivan had not really stamped their authority on the game in the first half with the latter in particular guilty of losing the ball carelessly at times in situations where you wouldn't expect him to. After the break though, Kiss' absence wasn't felt as much, with O'Sullivan's subtler skills coming more to the fore and, while Wharton had hardly been poor during the first forty five minutes, he was back to his usual, effective,  self.
In saying that, City's apparent control in midfield didn't bring about an increase in chances created – Healey shot just wide after a good run by Bell, but it was Millwall who missed the best chance of the game so far after fifty five minutes when unmarked centre forward Alfie Pavey carelessly volleyed over from ten yards from their first real scoring opportunity. Two minutes later, City's number nine showed Pavey how it should be done – the goal owed an awful lot to O'Sullivan who moved on to an Owen pass and got right to the bye line on the left before pulling back a low cross which looked to be turned in by a City player (think it was Mason), only for Gerrer to do brilliantly to claw the ball out just before it crossed the line. However, the keeper was unlucky in that his clearance dropped to the feet of Healey who netted with a fierce shot from about eight yards.
Healey's sixth goal in six games was not one which will live in the memory for long, but it's a strange how those loose balls which bounce about close to goal invariably seem to fall to the player with the best scoring record – Healey is showing that instinct which goalscorers are born with and, withe his game  certainly having come on, I wouldn't rule out the chances of him getting some first team game time by the end of the season.
Given the way the game had gone until then, you'd have expected City to take control of proceedings now they had the lead, but, credit to them, it was Millwall who reacted better to the goal. The last half an hour saw them play their best attacking football of the game – true, they didn't need to do a great deal going forward to achieve this, but the under employed Simon Moore had to react quickly and impressively after busy number eight Onyedinma was put in  on goal after an impressive passing movement. There were also three or four crosses which flew dangerously across City's goal as the home side came under pressure for the first time in the dying moments and all they could come up with in response after taking the lead was a Bell cross which was almost turned into his own net by a defender and a shot from the subdued Mason which looked to have beaten Gerrer, but fizzed just wide.
Once again, Deji Oshilaja showed that he is a very good defender at this level and there was an encouraging display by Maxi Amondarain alongside him, but there weren't any outstanding performers last night – it was more of a solid team effort which brought to mind several of the first eleven's wins last season.
by The other Bob Wilson with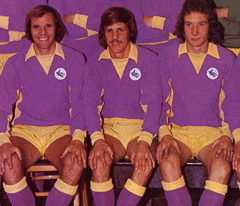 After their narrow defeat at QPR last week, the Under 21 Development side returned to winning ways with what was in the end a comfortable 3-1 over Brentford last night in a match which had far more "bite" to it than your average fixture at this level. While last night's encounter couldn't be described as a dirty one, speaking as someone who has seen all of our competitive home games at this new level over the last season and a bit, it was certainly the most physical match I've seen during that time with Brentford not averse to tripping and obstructing right from the early stages and our side hardly reluctant to reply in kind.
That said, the officious performance of referee Mark Greenwood did put me in mind of that old chicken and egg question – did the game pan out as it did because of the referee's all too frequent use of the whistle or was it one that needed firm control right from the very first whistle? To be honest, I'm not sure of the answer to that question, but I did think the official might have relaxed his stance a bit after he had asserted his authority, but, if anything, he became more whistle happy as the game went on – it was annoying, but, for me at least, it didn't ruin what was another enjoyable night watching a team with a smattering of youngsters who would have been good enough to have been playing every week for City just over a decade ago, but have yet to make a league appearance for the club.
Mr Greenwood certainly didn't keep his cards in his pocket and it's no coincidence that the four visiting players to see yellow all did so for fouls on the elusive Kadeem Harris who is turning into a very effective performer at this level. Operating almost exclusively on the left, Harris caused no end of problems to the visiting defence in the second half in particular and, with him offering more evidence of the improvement in his crossing this season, City definitely had the chances to have added a few more goals to the three they did get.
With Simon Moore, Matt Connolly, Filip Kiss and Rudy Gestede starting and new signing Maxi Amonadarain in at centreback, the City side had a level of experience to it that, left back Scott Barron apart, Brentford couldn't match. Given this and City's formidable home record at this level (it's eleven wins out of thirteen at Cardiff City Stadium now) it was no surprise to see them looking threatening right from the start and Jack Bonham (who had a very tough time of it when he came on to make his debut for Watford in their promotion showdown with Leeds last season and let in four in his only league start so far for Brentford) made the first in what was a string of fine saves when Rhys Healey had a clear sight of goal within the first few minutes.
Gestede then had the ball in the net only for the goal to be disallowed, presumably for a push, and, having got so high above his marker, the Frenchman probably should have done better than nod  a Harris corner a foot or two over a few minutes later. Bonham foiled Healey again and also denied Harris after the winger had beaten a couple of defenders, but, the feeling that City had not cashed in while they were on top grew as Brentford found a foothold in the game as they were given a couple of free kicks in dangerous areas which came to nothing.
Lively centre forward Luke Norris came closest in the first half for the visitors with a well struck volley from the corner of the penalty area which would have given Simon Moore no chance if it had been a few inches further to his left and, although they didn't offer too much else in attacking sense, they succeeded in blunting the City attack to the extent that when they did go ahead five minutes before the break, the goal came out of the blue (if I may be permitted to use that term these days).  Gestede was the instigator and scorer as he worked a one two with Healey by moving on to his co-striker's clever pass and calmly sidefooting past Bonham in one of those moments which shows why some fans (like myself) think Rudy is too easily dismissed by many others in City's support.
Having had a quiet second quarter of the game, City began to reestablish their authority during the third – impressive left back Kane Owen clipped the bar when his cross caused the keeper problems in much the same manner as  Declan John, the player Owen was deputising for, did for Wales on Friday night. Healey then shot inches wide after cutting in from the right and Bonham made a brilliant triple save when he, first, kept out Harris' long range low shot, then got up to block Healey's follow up and, finally, turned captain Deji Oshiliaja's blasted effort around the post.
Despite all of this dominance, the fact that the scoreboard behind Bonham's goal still only showed 1-0 offered his team hope that they could get something out of the game. In truth, apart from one effort from distance which forced Moore  into a fairly routine save, there was little sign that they had the fire power to do so, but they could take hope from the fact that Mr Greenwood was now penalising the most minimal of contacts and when a Brentford forward went down in the penalty area after a half hearted looking challenge by Jaye Bowen, it wasn't really a surprise to see the ref point to the spot. Norris confidently sent Moore the wrong way to equalise and for a short time, City's frustration threatened to get the better of them as they gave away a series of free kicks and Gestede was justifiably booked for a lunge at Brentford's number eight Miller-Rooney who was probably the most penalised player on the pitch.
Gestede was seen in a more positive light when his flicked header sent Healey clear and the youngster made it six goals in six matches this season as he held his nerve to comfortably beat the keeper. The scores had been level for just three minutes and this goal, effectively, ended the game as a contest – where it had looked like Brentford's equaliser might see City lose their discipline, now it was shown that they used it to up their performance a notch and the last quarter of an hour saw the visitors struggling to keep the score down.
Bonham excelled yet again to deny Kiss after Harris had got to the byeline and pulled the ball back to him and then the midfielder saw his angled free kick come back off the upright, but City weren't to be denied another goal and the Gestede/Healey combination came up trumps again when Bonham pushed away the latter's angled shot and deserved better than to see Gestede arriving to tap the ball in from close range. There was time for Oshilaja to shot just wide from a free kick before Mr Greenwood's whistle was able to finally get a rest as he blew it for the last time to signal the end of another in a long line of very watchable Development team games at Cardiff City Stadium.
I've already mentioned Kadeem Harris' performance, others who impressed me were Oshilaja and Theo Wharton in midfield – as I mentioned right at the start, these are players who would have played stacks of first team matches if they had been around in the late nineties.
by The other Bob Wilson with