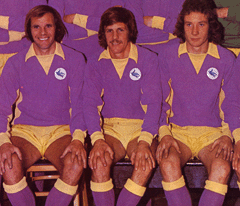 On 15 December Danny Johnson scored the only goal of the game pretty late on to notch a win for Cardiff City's Development team against Crystal Palace. I note this only because it was the last time our Under 21s managed to find the net in a home match. Since then, the Development teams of Colchester, Brentford, Charlton and now Millwall have all gone back up the M4 having prevented Cardiff from scoring, but at least the last named did not head east with all three points like the others did.
Sometimes 0-0 can be a very misleading scoreline because you get the occasional goalless match that keeps your attention throughout – anyone with a high boredom threshold and an awful lot of time on their hands could read through all of the entries on here and find two or three examples of them I'm sure. Sadly, last night's 0-0 at Cardiff City Stadium did not come even remotely close to falling into that category because once Millwall had survived a pretty testing first twenty minutes or so, it never looked like a game that was going to produce a goal.
So, it's still just the five goals I've seen us score in the eight Development team matches I've watched this season. Three of those came in one game when Bristol City were dispatched 3-0 (to put that result into some sort of context, Millwall, the least threatening side I think I've ever seen us play at this level, put seven on them in their previous match), there was a penalty in a 3-1 loss to Huddersfield and that Johnson goal against Palace.
I mentioned about Millwall's lack of an attacking threat earlier – indeed it will only take one sentence for me to describe it. Just before half time in their best spell of the game, their number eight Jamie Philpot hit a sliding shot which forced home keeper Ben Wilson into a good diving save. That's it, apart from that, Millwall never suggested they'd score, but, in the interests of fairness, I should say that Wilson's save was, by some way, the most difficult one either keeper had to make in the ninety minutes.
In saying that, this was a game that City could and should have won. They controlled proceedings for long periods and must have done something like three quarters of the attacking, but they were unable to convert that "dominance" into anything tangible in terms of clear goalscoring opportunites. Actually, that's not quite true because, shortly after Macauley Southam had a well struck twenty yard shot deflected not too far wide, they squandered the game's outstanding opportunity when Abdi Noor, making his first start for the Under 21s, burst on to a Gethyn Hill headed flick to have a clear run in on visiting goalkeeper Harry Girling. It wasn't a sitter by any means, but it was the sort of chance you'd expect a striker to put away on most occassions, instead, Noor sliced well wide.
Noor soon showed what he could bring to the team with a neat lobbed pass that almost put Ben Watkins in on goal and there was a similar clever pass to Tyler Roche that almost worked in the second half.
If Millwall had slowly grown into the first half to the extent that the half time whistle came at just the right time for City, the second period saw virtually all of the play heading in the direction of their goal – there were moments of alarm for the visitors when Tom James (playing at left back in Declan John's absence) looked to have beaten Girling with a shot from the edge of the penalty area that flew just wide and he wasn't too far away with a curling effort just before the final whistle, but it was hard to avoid the feeling that, for much of the time, City were not expecting to score.
The main attacking threat came from Roche on the left who generally had the better of his marker and so was able to get himself into good positions for crosses. Unfortunately the quality wasn't always there when it came to the final ball from the winger, but he was also unlucky when a couple of intelligent passes aimed for Noor missed their target by inches. Roche also laid on a decent shooting opportunity from twenty yards that Southam dragged wide and despite the side's miserable goalscoring record, I think it's been a good first season at this level for the winger.
Roche apart, the better players for City were all defensively minded really, all of the back four could be pretty pleased with their contribution and Watkins was a solid presence sitting in front of them, but their lack of fire power is probably going to cost them when it comes to a top two finish and a place in the end of season Play Offs.
The question has to be asked though as to whether this should be the intention at the start of every season or should a "Development" league be about player development first and foremost? In the three seasons we've been playing at this level, there have been confused signals as to what the intention was.
Under Malky Mackay, there was always a smattering of senior players in our Under 21 teams and this may have explained why there were plenty of high scoring Monday nights wins during that time – the philosophy appeared to be that if you weren't in the first team, then you would, in all likelihood by in the second side. After Malky left though, Ole's approach was different, senior players might feature occasionally, but there was still a pretty strong Under 21 team because the better age group qualified players were still at the club.
Now, under Russell Slade, we are seeing a different approach again as, possibly driven by the need to cut costs, our "senior" Under 21 players have nearly all been loaned out to other clubs .
Slade cops a lot of, often justified, flak for his work with the first team, but I tend to be on his side on this matter. Players such as Healy, Johnson, Oshilaja,  O'Sullivan and Tutonda are better off playing first team football on loan (as long as they are being selected regularly) because, certainly in the case of the first four named, they have not got much left to prove at Under 21 level.
Therefore, although it's hard to think like this when you're freezing cold and getting wet while watching a miserable 0-0, City are probably serving the true purpose of this league by picking the sort of sides they are  (besides Noor, Under 18 regulars Robbie Patten and Dylan Rees got what I believe is their first experience of Under 21 football last night with substitute appearances) than they would do by including, say, Fabio, Adeyemi, O'Keefe and Macheda and winning by two or three goals last night.
by The other Bob Wilson with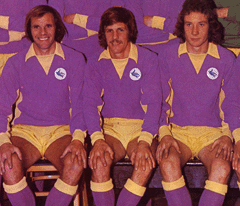 Malky Mackay has, justifiably in many respects, got his detractors amongst City fans, but, with some people now calling for Cardiff City to acquire a discernible identity in terms of club philosophy, I always believed that this was something we were on our way to achieving under the man who is one of just three City managers to have won a league title in the club's history. Okay, Mackay's philosophy may have been too defensive for many, but, despite, hardly surprisingly, finding life in the Premier League a struggle, I always believed the momentum at Cardiff, on the pitch at least, was forward while Malky was here and there seemed to be a structure in place whereby teams below first team level adhered to the club "philosophy".
Back in the first half of last season, Brentford were a team who wanted our players on loan, but, last night, little more than a year later, I saw them win in Cardiff for the third time this season. Last night's 1-0 victory for their Under 21 team at Cardiff City Stadium completed a hat trick for the London side following their Academy team's 2-1 win in October and the first team's thoroughly deserved 3-2 triumph here just before Christmas.
Now I should say a couple of things here, first, the wins by their two junior sides had an element of good fortune to them (their goal led a charmed life in the closing stages last night) and second, there have been plenty of times in the past thirty years when the Londoners have had a better team than us, so there is a danger that what I'm saying about them sounds arrogant and patronising. It's not meant to be, it's just that I'm trying to show that, from being a long way behind us not too long ago, there is now plenty of evidence to suggest that these days they are a better club than us in so many ways.
Brentford spent 2014 working, and prospering, with a philosophy that sees them play in a slightly different manner to many (for example, like their first team, their Under 21's kept two or three players in forward positions when defending corners) – they currently look like a club who know how they want to progress and what they need to do to move forward, whereas we have spent the last thirteen months reeling about like one of those pissed up, cowboy hat wearing, part time rugby fans who will be everywhere on Westgate Street on Friday night!
Anyway, on to last night's game. With senior players such as Alan McCormack, Nick Proschwitz and Marcos Tebar (who played for Real Madrid in La Liga in 2009) in their ranks, a Brentford side occupying a lowly position in the table always represented a potential banana skin for a young City team missing skipper Tommy O'Sullivan who had joined Port Vale on loan for the rest of the season just before kick off.
I think I'm right in saying that only striker Danny Johnson was an over age player in City's team, but, interestingly, they did include Declan John in a midfield role on the left. For those of us who believe that he has more to offer playing in his more natural wing role than at left back, it was good news that there are those at the club who might now feel the same way and, within minutes, John had dribbled past four opponents to work himself into what looked like a goalscoring position only for his shot to be blocked at the expense of a corner.
Unfortunately, this proved to be an isolated moment of excitement in a first half that, from a City perspective anyway, was as depressing to watch as anything produced by the first team in recent months. The visitors were pretty comfortably in control throughout – Proschwitz scored a simple goal on twenty minutes when the right hand side of our defence went missing and the German had a run in on goal which he ended by calmly side footing passed the advancing Charlie Horton.
If you could be critical of Brentford during their period of dominance, then I suppose you could say they had little in the way of an end product – Proschwitz wasn't far away with a shot before his goal and Horton made a couple of decent saves, but, generally, there was little sign of them getting a second goal. Mind you, given what City were coming up with, the visitors could be forgiven for thinking they already had the game won – apart from a 3-0 win over Bristol City inspired by Kimbo's one good performance in a Cardiff shirt in 2014, the Under 21s have now managed just two goals (one a penalty) from six games at Cardiff City Stadium this year.
During the opening forty five minutes, it was disheartening to see the number of times the ball was given away with poor passes and possession was surrendered with bad first touches by City players. Even worse, on the rare occasions when they managed to work themselves into a promising positions, the poor decision making and lack of composure shown reflected poorly on those involved – for example, a lack of precision in passing turned what started as a 3 on 2 into a shot from Theo Wharton (still a long way short of being the player who has looked so good at this level in the past two seasons I'm afraid) from twenty five yards that ended up being closer to the corner flag than the Brentford goal and Johnson, criminally, ignored the far better placed Gethyn Hill by going for glory with a shot that was easily dealt with.
At the time I thought Johnson's withdrawal at half time might have been a punishment for his selfishness, but the subsequent announcement of his one month loan move to Stevenage was a far more likely explanation for his non appearance in the second half. Whatever the cause, the introduction of substitute Tyler Roche was the start of a process that saw the home side produce a far better display after the break, but it was when David Tutonda came on for the injured Kane Owen around the hour mark that City really began to dominate.
Owen's injury meant that John had to switch back to left back, but his somewhat suspect defensive qualities were barely tested as he spent the last half an hour still playing virtually as a winger. Much of the danger to Brentford's goal came from down City's left where John and Roche combined very effectively and Ben Watkins was twice denied by a combination of keeper Jack Bonham and the upright after the right side of the visitor's defence was opened up – Macauley Southam then blasted the rebound from the second of these efforts over from about ten yards out.
Bonham then tipped over a rasping Tutonda shot from nearly thirty yards out and Hill, now playing as a lone striker, showed the same sort of selfishness that Johnson had done earlier when he fired well over from distance instead a playing a simple pass to the sub who would have been clean through on goal.
There was now a pretty steady stream of crosses coming in from City's left and many of them, from both John and Roche, were just crying out for someone to get on the end of them. The fact that no one ever did, perhaps offers a clue as to why this team, despite it's lofty position in the table, finds it's so hard to score at home – even when Bonham palmed a John cross out towards an area around the penalty spot where you would have thought an attacker should be lurking, he had time to get up and scramble the ball away to safety as Southam challenged.
With no one around to finish off promising attacks, it's easy to blame the strikers, but, to be fair to Hill, there were times when, just like Alex Revell on Saturday, he worked hard to be in a position to set something up only for there to be no one bursting forward to get into the penalty area and so momentum was lost and the chance wasted. In saying that though, City could feel hard done by in the end as Bonham denied Roche from Tutonda's fine through ball, John fizzed yet another low cross across the face of goal and Southam was just about crowded out by some frantic defending.
So, despite it being much better in the second half, it ended in another home defeat for the Under 21s who seem to be a much more effective team on the road this season. Best player for me by some distance was Declan John (if performances like this go unnoticed by Russell Slade, I'm sure there are clubs elsewhere who will have noted it), while the two subs I mentioned and central defenders Tom James and Maxi Amondarain were others who did well.
Finally, a word about the ref. I just had to look up his name on the team sheet because he did nothing at all during the match to cause me to do that – well done to Adam Ricketts for an undemonstrative and effective performance which, like all of the best refereeing displays, passed off virtually unnoticed at the time.
by The other Bob Wilson with